[private]When Duke steps onto the field against UNC tomorrow, several seniors will be playing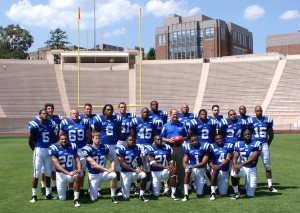 their last game at Duke.  These players deserve your support, so I hope that all of you turn out in force and cheer hard for you know the other guys will.
In the end, this senior class fought with a new coach to see to it that Duke Football has a base for the future.  The Blue Devil Nation salutes the Duke Senior Class for 2008 and hopes they go out with a fabulous win.
Greg Akinyibi (#5 Sr., DE) -
On North Carolina -
Last year losing in overtime ... you don't want to lose to Carolina.  Now we have something we really look forward to ... playing Carolina again - it doesn't get any better than that.  There's a whole much more adrenaline for the UNC game.  It's a rivalry game.  If you can't get up for this one it's no since in coming to play for Duke.  This game carries a lot of weight.
Regardless of who starts at quarterback for them, it's pretty much the same game plan because they are both really good.
On his final game at Duke -
We were really excited when Coach came in to have a chance to change the program and start something special here.  It's unfortunate it took us this long to start winning, but it's really good to see the program heading in the right direction - to see the guys behind us take what we help build to another level.
Being seniors it's unfortunate that we can't go to a bowl game, but we will focus on Duke and what Duke needs to do to win this weekend.
On work habits -
It feels good to see the hard work you put in in the off season in summer and camps pay off.  Coach tells us to empty our tank and go farther than we thought was possible.
On his Duke career -
My career at Duke has played a big role in my maturity.  I've been through a lot on and off the field.  I'm still not satisfied with who I am as a man or a player, but there has been a lot of growth.  I really appreciate what Duke has had to offer me and I've gained a lot from the experience.
Fred Roland (#70 Sr., OL)-
Whatever I could do and whatever capacity that might carry to make this program better than it a was when I came in was key.  I was willing to do that.  Coach Cut tells us to leave the place better than you found it.  My biggest reward since I have been here was the character I've developed over the four years. 
Are you leaving the program better than it was?
We've already done that!  To get a victory this weekend would be the icing on the cake.  We won a total of four games before this year and we've already eclipsed that this season.  We've definitely got it going.  The program is progressing upward and that's comforting to me.
Eron Riley (#5, Sr., WR) -
So, your last game at Duke ...
It's a bittersweet feeling.  Granted I wish we were in a bowl game but we are not.  Going our their against our rival ... there will be a lot of intensity - playing for a lot of pride.
On the Carolina game -
To come out for any game is really intense, but they're eight miles away.  It's one where all the fans have circled the game for us.  The atmosphere and the hype of that game make it different.
We'll go over there to a party and we'll see some of those guys out.  For the most part we're friendly.  Me personally, I do not have too many fans on there team, bit we say hi.  I just go about my business.
We've played close with them, but that's only good for hand grenades and horseshoes (smiling), so we want to go out and get a "W" before I leave.
It was a very bad feeling last year - one I had to get out of my mouth real fast.  I really wish we'd have won, but it didn't turn out for us.  I've thought about that since our last game, hopefully we can get it back this weekend.
On last season missed field goal (s) to win vs UNC -
I was on my way across the sidelines.  I got to the numbers before I saw the miss and went back to the sidelines.
On his four years at Duke -
Coming in four years ago, I really wasn't a highly recruited player.  I just wanted to play football but played a lot due to injuries my freshman year.  After that the snowball just got rolling and I just went out there to make plays and help my team.
I feel at the end of the day, we came in here wanting to start a program and in my time here I feel like we've done that.  If we win our last game this weekend we've accomplished that goal.
I look at the plays I made on my high school team and the plays I've made in college and realize I've gotten a lot better on and off the field.
Suppose you get a shot at UNC late.  Do you feel like the team needs to go for the end zone and not depend on a field goal?
Yes.  I would love to make that play.  It doesn't matter to me as long as we win.  This is our bowl game - I feel that way.  There is some urgency with it being our last game.  To close out with a "W" helps with so many things. 
On the big game falling on the Thanksgiving break and students gone and anticipation -
Carolina is a game you think about from the start of the season, or at least know it's there.  At the beginning of the season, you look at the first game and the last.  I wish it didn't fall on the break with the students gone.  I hope some are sticking around for it or come back early.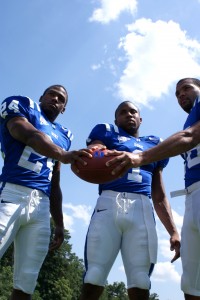 [/private]