Two roads diverged in a wood, and I—
I took the one less traveled by,
And that has made all the difference.
-Robert Frost, The Road Not Taken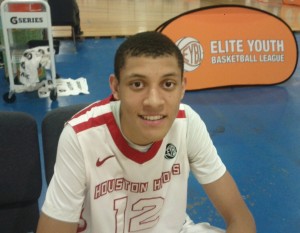 According to the National Center for Education Statistics, there were 1.5 million home-schooled children in 2007 (the most recent year for available statistics) in the United States. Last year, Justin Jackson became the first home-schooled young man ever to make the USA Basketball U16 team.
The 6'7" wing from Spring, Texas has been a bit of a trailblazer for the growing homeschooling movement. In 2011, Justin won the Maravich Award, which is given annually to the best home-schooled basketball player in the United States. This year, Jackson was honored with the Sullivan Award, which is bestowed upon the top home-schooled player who has already won the Maravich Award.
Jackson plays for the Homeschool Christian Youth Association, which is a Houston organization of home-schooled kids that gather to play sports against other programs. Along with Danrad "Chicken" Knowles, Jackson, an efficient and potent wing, helped lead his HCYA Warriors to a 37-13 record, including wins in January at the Flyin' To The Hoop Tournament in Ohio, where the then-sophomore was named to the All-Tournament team. Later in the season, in front of thousands of spectators, HCYA went on to win the undisputed national championship of homeschool basketball by defeating the Oklahoma City Storm 63-50 to capture the National Gold Ball, homeschool basketball's highest team prize. Following the season, MaxPreps named the Texan to its Sophomore All-American team.
At home, Jackson, the oldest of four, is nurtured by his parents Lloyd and Sharon, who met as students at Blinn College in Texas, where his mother played basketball and his father was on the track team. Twice a week, Justin attends classes locally to strengthen his education. Jackson, a cerebral, pious, and poised young man, earned a 4.0 grade point average while taking a challenging class schedule that included Calculus.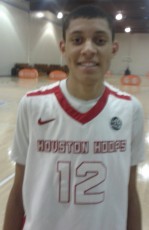 Last summer, Jackson teamed up with Duke recruits Jabari Parker, Theo Pinson, Tyus Jones, and Jahlil Okafor to help lead the USA Basketball 16U team to a gold medal at the FIBA Americas 16U Championship in Cancun, Mexico. Jackson averaged 10.4 points, 3.4 rebounds, and 1.4 steals per game, while his team went undefeated throughout the tournament.
This year,  Jackson, a rising junior, has been the leading scorer for a balanced Houston Hoops 17U AAU team in Nike's EYBL. The Texas sharpshooter has shot 54.2% from the field, including 41.3% from beyond the three-point arc, and 82.4% from the charity stripe. Houston Hoops, the AAU organization which helped develop incoming Duke guard Rasheed Sulaimon (an AAU teammate of Jackson's last season), has won fifteen of its twenty EYBL games and looks to be major contender for next month's Peach Jam Championship in South Carolina.
I recently spoke to Justin about a plethora of issues, including his faith, experience winning a national title, playing with USA Basketball, being a role model for home-schooled kids, and Duke's interest in him.
How do you feel you've played so far during your AAU season with Houston Hoops?
I feel like, individually, I've played really well. Our team has done pretty well. We've lost a heart-breaker or two, but, individually, I think I'm playing pretty well.
How do you compare it to the competition you face on your high school schedule?
 In high school, I'm obviously one of the key guys for my team. I feel like I'm a key part on this team, but we have so many good players. So, I just have to come out here everyday and work as hard as I can and everything will come from that.
For the sake of the audience, can you explain both your affiliation with Homeschool Christian Youth Association and how you currently go about home schooling? 
Yeah, sure, as far as the HCYA team, all of the home-schoolers in the Houston area come try out for our team and then, just like a normal school, they break them into the varsity and the JV and the other levels. Then, for the actual school, I go to private tutoring on Tuesdays and Thursdays.
[private]
That's when you get your science and math, as your mother was saying.
Yeah, that's right. Well, pretty much, all of my classes. They then give you homework for the rest of the week and then I have to complete it before the next class.
What was the experience like to win a national title? I was reading that you played it at Missouri State, in front of approximately seven thousand people.
It was awesome. We actually had a coaching change about halfway through the season and it was a change for the better. So, we ended up going, I think, like 25-3 after the coaching change. We just came together, we became a family after that. So, it was great.
Wow. Who'd you guys hire, Phil Jackson?
(laughs) Yeah, someone like that.
You've won both the Maravich Award and the Sullivan Award, which are normally the two highest awards given in the home-schooling basketball world.
Yes, this year I won the Sullivan Award, which is basically, if a guy wins the Maravich Award before he's a senior, it's just an award that they give out. The Maravich Award is basically given to the best home-schooled player in the country.
You had a 4.0 GPA this year and your mother was telling me that you were taking Calculus as a sophomore. Can you talk about the importance of academics in your life and in your family?
My family has put an emphasis on academics since I played basketball as a little kid. Academics always comes first in our family, basketball comes second, so I just put all that effort into my schoolwork so then I can play basketball.
What do you think are your strengths and weaknesses as a basketball player?
Strength-wise, I feel like I'm a good all-around player. My biggest strength is offense. I can really score with the ball. As far as my weaknesses, obviously, I've got to get stronger and then just lateral quickness for defense. I've got to get better.
How have you gone about trying to improve in those two areas?
 I actually spend time trying to lift weights during the high school season.
At home or in a local gym?
At home. And then for lateral quickness, I just use the ladder, jump rope, and stuff like that.
I've talked to several of your teammates about this, guys like Jabari, Tyus, and Jahlil, but what was your USA Basketball experience like?
The experience was great. Just to go out there with 27 of the best players in your class and be able to say that you tried out for the team is great. And I got the opportunity to be on the team, which is just tremendous.
And you contributed heavily, averaging double-digit scoring.
(pauses) It was probably the best experience that I've ever had...and certainly in basketball.
Was it a grueling tryout period for you? I know that some people even had issues with the altitude.
Oh, yeah, first of all, the altitude up in Colorado. And then we had two-a-days, which your body doesn't want to do, but that's when you have to push through and keep working.
 In terms of visits, have you taken any recently or do you have any planned?
During the high school season, I took a visit to Ohio State. We're trying to figure out if we can get one visit in, if we had an open weekend or something like that, preferably late in June, but the visits may have to come in August.
Now, you haven't always lived in the Houston area. You lived for five years in Cincinnati. I was talking with your parents about that.
It was good. We made a lot of good friends. Obviously though, all of my family is from Texas.
Your mother had mentioned that your parents actually met at Blinn College, where some football fans may remember that Cam Newton went.
Yes, they did, but, yeah, Cincinnati was nice.
 What are you looking for in a program, whenever you do decide?
Academics is first, and then I'd have to become comfortable with the coaching staff because obviously I'm going off for four years and I just feel like I'd have to become comfortable with them. Those are definitely my two most important factors.
Given a choice, are you looking for a coach that is more like a friend or someone that will push you?
Obviously, I want to get better. I'd like to get to the next level eventually, but I still want to have a friend as a coach.
I didn't mean that it necessarily was exclusive, just given a choice. I'm sorry.
Oh, sure. I feel like all of the coaches that I've talked to, well, most of them try to sell the school and I've tried to have a good relationship with all of them. Most of them have said we're not going to be here to tell you how good you are or tell you what you've done is awesome. We're here to try to push you to get you to be better. I hope they're sincere.
Who do you try to model your game after?
Kevin Durant. His body type is a lot like mine, but I think Reggie Miller might also be another one.
I've heard the Miller one, in terms of body type.
Yeah, a lot of comparisons, but probably those two guys.
The next one I haven't discussed with any player outside of maybe just Jabari, but your father was saying that your faith is an important issue to you and your family.
Yep. I think I became a believer when I was about eleven.
That's fairly early.
Ever since, that comes first. My relationship with God has to be there and just...
Is it challenging at times being in your teenage years?
It is challenging, with all of your surroundings and everything like that, but that's when I have to keep my faith even more strong.
As I said, I don't usually ask people about that, but, since your parents mentioned its importance..
That's fine. I'm glad that you did.
Can you give a quick comment on Jabari, Jahlil, and Tyus?
Obviously, they're some of the best players in the country and they're also great guys.
Who was your roommate with the USA team?
My roommate was actually Aaron Gordon.
Obviously, another talented young player.
Yeah, but I talked to Jahlil and Tyus quite a bit. I've also talked to Jabari. They're just good guys. I just think they're really good people.
Jabari's about as good as it gets.
Yeah.
I know it's early for them, but Duke has expressed interest in you. What do you know about the program?
I actually just started talking with Coach Capel. I guess he wants to get us down there, let us speak to the coaching staff and stuff like that. They haven't offered me yet, but they do seem really interested.
What do you know about Coach K and the program itself?
Obviously, Coach K is one of the best coaches to have coached and the program is one of the best programs, so that combined, it offers one of the best options.
What position do you feel you're best suited towards, a two or a three?
 Mainly a two, but I feel like I'm pretty versatile. On the high school level, I've played everything from the one to the four.
What do you feel most comfortable defending?
Oh, probably the two or the three.
I think you're best suited to the three or as a tall two from watching you at various EYBL and camp events.   Basketball-wise, in terms of allocating time, how does home-schooling benefit you?
Well, obviously it gives me more time to go into the gym, but, sometimes I don't even get any time at the gym because there's so much schoolwork. For the most part though, it gives me more time to just hang out and get more work in in basketball.
 Do you play any other sports or are you focused on basketball?
Oh, just basketball for me.
I was speaking with your mother last night about how the scheduling allows you to be more efficient with your time. In terms of basketball, what are you working on primarily right now?
Right now, I'm focused on trying to get quicker and also to get stronger. Those are the main general things.
Those are your two main things. Well, since you mentioned it, how have you been working on your strength and conditioning?
Well, on Monday, Wednesdays, and Fridays, I usually try to do some strength and conditioning.
What does that consist of?
Usually, weights and, if I don't have access to the track, I'll use a treadmill. I'll do some slants or just run a mile as fast as I can. Just trying to improve my speed and shoot for new goals.
Speaking of that, did your dad play as well? Your mother mentioned that she played in college at Blinn.
He actually ran track at Blinn and then he tried out for basketball at U of H (University of Houston) and made a few cuts, but, ultimately, unfortunately didn't make the team.
Well, still he showed initiative and must've had some ability. Is it true that North Carolina was your favorite program as a child?
Well, we just grew up liking North Carolina, but, ever since we've gotten into recruiting, I've taken the position that I need to be really open-minded. You know I've been really open and so that has really nothing to do with the current recruiting process and won't have an effect on my college decision.
Sure, there's plenty of kids that approach recruiting that way. What schools have offered you or expressed interest in you?
I think I've been offered by Texas, Texas A&M, Baylor, Virginia, Virginia Tech, Washington, Georgetown, and Ohio State. Duke, North Carolina, Kansas, Florida, Stanford and some others are just recruiting me at this point.
Oh, Stanford as well. I assume Stanford is also intrigued by your profile as someone who is serious about basketball and academics.
Yes, sir.
What would you like the audience to know about you away from the court?
You know I'm actually a pretty quiet kid. My life is pretty private.
Don't worry. So am I.
Thanks. Not many people really know what's going on in my life, outside of my close family. So, I guess you could say that I'm a pretty quiet kid.
Trust me. It gets easier with age, but this is still challenging for me to even to talk to you.
(Laughs and then pauses) Yeah, thanks, I know what you mean.
How would you assess your defense at this point?
You know I'm long. So, I try to use that to my advantage.
How long is your wingspan at this point, if you happen to know?
I think my wingspan is 6'10" or 6'11," but I haven't measured it recently. I try to use that to get wide, but I obviously need to get quicker. In the meantime, I'm using my wingspan, spacing, and footwork to try to make up the difference. Right now, I try to use my wingspan to make up for some of the quickness that I don't really have.
 I've been trying to monitor your lateral quickness. What style of play would be best suited to you?
I like teams that play together. Obviously, in college, most of them do.
Yeah, I guess that I was wondering if you'd prefer to play in an uptempo offense, half-court..
Yeah, something uptempo, but I feel like I can contribute offensively in either type of setting.
What style of play do you play primarily in high school?
Oh, we play pretty much of a run-and-gun style of play. It's very fast paced, but we're still pretty good in half-court sets and I'm very comfortable playing in either way.
We talked about wingspan before, but what's your current size?
I'm about 6'7" and now about 180.
I saw you, at times, last year in AAU, but I also watched you play as a rising sophomore at LeBron James's Skills Academy.
Last year was a challenge. Obviously, there were some great guys or players in the class of 2012 and they were bigger and stronger than me. It, sort of, woke me up. It woke me up as a competitor and as a player. I walked away recognizing the areas that I needed to get better in and quickly. It was a real wake up call, but very helpful.
Do you know Rasheed Sulaimon pretty well?
Oh, yes. Well, as you know I actually played with him last year. I think that, in the end, he'll be very successful at Duke.
Do you think that he'll be able to make an immediate impact at Duke?
Well, I haven't really looked into their whole rotation or anything like that yet, but I think that he can definitely help them and he'll be a great teammate.
Have you ever met Kevin Durant, by the way?
I haven't, but I've heard he's nice to people and a good role model.
Do you view yourself as a role model for other young people that are schooled at home?
I do. It's sort of crazy, but, when I got to these homeschool tournaments, people are always asking for my autograph and sometimes for advice.
Do you like it? I had heard that you're a bit of a rock star at these events, where you're playing in front of thousands of people.
I enjoy it, but I try to never get wrapped up in it. Obviously, as you know, my parents are always there to tell me not to get wrapped up in it.
They seem very grounded.
Yep, they are and they keep me grounded. (Pauses) For the most part, though, it shows me that I've got to be a leader because there are so many little kids looking up to me.
Who were your role models, growing up?
Oh, definitely, my parents.
Can you give a quick scouting report for the audience on Justise Winslow?
He's a good guy and a great basketball player. I've roomed with him in AAU basketball this year. He's a good guy and I've gotten to know him a little bit. He seems relatively grounded and, on the basketball court, he's one of the best players. He's a great person and a great basketball player.
When you've been in those hotel rooms, have you guys talked about going to college together? Or is that not even in the cards?
Well, I've talked to a few people about that actually, but not him.
Sure, who?
Obviously, I've talked to Jahlil and Tyus, but, right now, I'm still so open and have no idea where I'm going. So, right now, it's just sort of throwing stuff out there and seeing what their thoughts are. It's stuff to think about, however.
When do you think that you'll decide by?
Probably, it will be by the beginning of my senior year.
Who will you look to for guidance, whenever you do decide?
Probably just my parents.
Your parents mentioned that you read quite a lot. What are you reading right now?
My parents bought me this, well, biography of a bunch of NBA players. I'm really reading about a lot of them right now and it's inspiring.
In high school, you may play between fifty and sixty games in a season. I think this year you played exactly fifty games. How do you think that differentiated or, perhaps, helped you, in comparison to some of your peers?
It was tiring, but it all was worth it, once we won the National Championship.
That's all. Thank you very much, Justin. 
Oh, thank you, sir.
[/private]