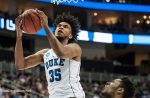 DURHAM, N.C. – Duke freshman forward Marvin Bagley III has announced that he will enter his name in the 2018 NBA Draft.
Bagley is the 12th Duke freshman to declare for the NBA Draft. He joins a group that includes Corey Maggette (1999), Luol Deng (2004), Kyrie Irving (2011), Austin Rivers (2012), Jabari Parker (2014), Tyus Jones (2015), Jahlil Okafor (2015), Justise Winslow (2015), Brandon Ingram (2016), Jayson Tatum (2017), and Harry Giles (2017).
Each of the previous 11 Duke freshmen in the draft was a first-round selection, including nine lottery picks.
"No freshman has done more in his freshman year than Marvin," said head coach Mike Krzyzewski. "He's broken every record and he's really represented us at the highest level. I'm proud of him because he came in late and he adapted at the highest level. We wish him well. He and his family have prepared him well for this move. He's ready. I can only see great things happening for him."
In his one season in Durham, Bagley III etched his name all over the Duke record books. He broke nine Duke freshman records including points (694), scoring average (21.0), rebounds (366), rebounding average (11.1), 30-point games (7), double-doubles (22), dunks (98), 15+ rebound games (8) and 20-10 games (12). The Phoenix, Ariz., native was named both the ACC Player and Freshman of the Year after becoming the 13th player to lead the conference in scoring and rebounding. He was the first Blue Devil and first conference freshman to accomplish the feat.
"I want to thank everyone that supported us throughout the entire year," said Bagley. "The coaching staff and my teammates have made this such a great year and something so special. I've always dreamed of coming to Duke and being part of this tradition under Coach K. I'm just so thankful for the opportunity here at Duke, and to have been part of it."
Bagley III was one of just four players nationally – and one of two freshmen – to average 20.0+ points and 10+ rebounds this season. He ranked third in the NCAA and second in Duke history in double-doubles with 22. Bagley scored in double-figures in 32 of the 33 games he played in, including tying the Duke freshman scoring record with 34 points against Texas. He also broke the Duke single game freshman rebounding record by hauling in 21 against Florida State. His 98 dunks are the single-season Duke record.
Duke has produced at least one first-round NBA Draft pick in each of the last seven years. Coach K has mentored 35 first-round picks, including a draft-record 23 lottery selections. The Blue Devils matched a school record with four draft selections last season, including three first-rounds and two lottery picks.