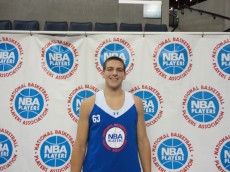 Anytime a prospect comes to the Triangle and both Duke and UNC are recruiting him, you can expect a lot of disinformation on message boards. I am of course talking about Mitch McGary, a bruising and talented post player that is best described as tenacious on the court. McGary visited UNC during the first part of his visit this past weekend before heading to Duke to finish his journey south.
It didn't take long for the rumors to start.
It's certainly understandable for fans to hang on every word or take one might post in that McGary is a very important prospect for Duke, a high priority for sure. Rumors are so rampant these days, that we actually created a separate board for Blue Devil Nation members about two years ago. It had become tiresome for our staff to constantly refute every little mention or statement, especially when said rumors come from a myriad of places.
Sure enough, the rumor mill was in high gear late Friday afternoon and it caused a knee jerk reaction among many fans. I had just finished up interviewing Duke HOF inductees Coach Mike Krzyzewski and Bobby Hurley and was watching the Duke women's soccer victory over Texas A & M thinking what a beautiful day it was on campus while awaiting their speeches later that evening. Then, I turned on my computer on.
What awaited me were 6 PM's from our message board, and 4 e-mails from Duke fans in a panic and all this in two hours time I had been off line. The rumor was that a popular UNC site had posters and or insiders (I'm uncertain for I do not generally go to message boards there) saying that a kid from Brewster Academy had given the nod and wink to UNC, Kendall Marshall and others, stating, "I'm going to be a Tar Heel."  This was automatically percieved to be McGary.
My thoughts were, "Really?," and it took little time for me to think here we go again. Look, he may end up in Chapel Hill but to think it all ended there and like that is hard for me to fathom. Let's examine this for a moment. I had already known that McGary was on the Duke campus the same time I was on Friday.  I learned through a source that he played pick up games with the players earlier that afternoon and that the visit was going well.
For those of you who don't know, it is a violation for any fan based web site to talk to a prospect while actually on campus, so even if I did see him which I didn't, I'd have run the other way.
I did have conversations with Mitch at the NBA Top 100 Camp earlier in the year and his parents to learn more background on their son. While I have not talked to them since, I learned enough about them to realize the rumor was likely a stretch. I mean why would McGary suddenly pick the Heels and then visit Duke for two days?
It's part of my job to keep up with the recruiting front and our staff  does so by working various sources. As most followers of Blue Devil Nation know we go to all the major AAU events in person to get a first hand view of the prospects.  We also cultivate relationships with those in the know while attending said events.
Anyhow, back to the issue at hand.  If one were to think it through or have prior knowledge of the scene, they would have realized that T.J. Warren was also visiting UNC. Warren is a nice talent that transferred to Brewster Academy for his senior season. Warren has most recently been considered a UNC lean.
That said, doesn't it make sense that this is who folks were talking about? I mean he was on their campus as well. Interestingly, once I tweeted Friday that this was likely the case, more freaking out started. Folks were then saying the two prospects were friends and played together, so this means UNC will get both of them for sure. Granted, others were more rational but they couldn't control the fire. They are surely friends playing on the same team, but they have never actually played together at Brewster Academy.
There is certainly a chance that the two could end up together but I personally think both will do what is best for them. Our feeling was that this rumor started from a lack of fact checking and falling hook, line and sinker for rhetoric on a UNC site which is often designed to simply incite their rivals in a ribbing nature.  Look, facts are facts and rumors are rumors, so which would you depend upon?
We will eventually speak with McGary but we would never ask of unsubstantiated rumors. We most recently spoke with him at the Elite 24 and save this visit, little has seemingly changed. It's also a policy of ours to allow the young men as much space as possible.
Good research and fact checking can be done without me seeking out folks that almost always say, "I have no idea what you're talking about." However, separating fact and fiction has become increasingly hard in the wild west atmosphere of recruiting message boards. If fans would be a little more patient instead of having knee jerk reactions, the truth will come out in due time.
It takes but one "Negative Nellie" to set chaos in motion. I call it the "Chicken' Little effect," for in a matter of minutes the sky  indeed seems like it's falling. In fairness, many people have this Chicken Little effect built in as a mechanism for for coping with "recruiting stress." And folks, I am here to tell you that it is sometimes stressful following the recruiting trail.
How many times has a school been considered a leader up until a prospects senior season only to be swayed elsewhere for whatever reason? But, if I were to follow up every rumor that is brought to our board, I would never sleep. I often joke that all pay sites, including my own, are like a men's soap opera for there is no shortage of drama.
Again, things can certainly change on a dime but more often than not rumors play more of a role than research and common sense which if used can help with a lot of undo fan angst for in the end they have no control over the situation.
As for McGary?  Only time will tell where he chooses to go to school and that decision will likely come down the road.