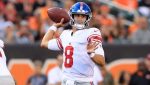 Do you think people will be talking about Daniel Jones this week?  The former Duke quarterback had a story-book debut where he led the New York Giants to an 18 point comeback win.
Jones scored on a seven-yard scamper up the middle with 1:16 remaining in the game as the Giants then held on for a 32-31 win,
The rookie quarterbacks stellar debut makes him the toast of New York.  Jones hit on 23-36 pass attempts for 336 yards with two scores.
His first career NFL touchdown came on an 11 yard rushing play.  The Giants would go into the half trailing 28-10 before Jones ignited a second-half rally.
Jones heorics also came at a time when the Giants lost their star tailback, Sequan Barkley to injury.  This was the first career win for Jones which also provided the first victory of the season for the Giants who now stand 1-2.
Check out every pass and run from Jones -