[private]There is one thing for certain three games into the 2008 Duke Football season, that being Cutcliffe and his staff make masterful adjustments at the half.  The Blue Devils have outscored each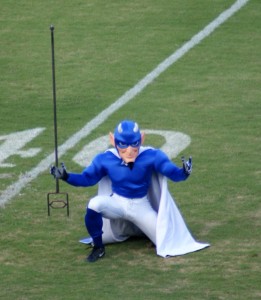 opponent after the break,  Today they throttled the Navy offense in the second half by adjusting the Midshipman's crafty running attack.
Take away one big pass play for Navy and Duke would have shut them out.  Still, they outscored them behind the arm of Lewis and the hands of Riley 21-7 to take a 41-31 win. Lewis had a great game going 25 of 35 for 317 yards, three TD's and added another 49 yards on the ground.
Thad was only as good as Eron Riley.  Navy had no answers for the star senior receiver who made 8 catches, all three of the passing TD's, for 137 yards.  When Duke needed a big play, the combination of Lewis to Riley was dependable.  Lewis also found 9 different receivers in the game.
Duke opened the game on a 12 play 78 yard drive ending with, of course, a Lewis to Riley hook up.  Navy came back with a huge 73 yard scamper by White.  From that point on the game was nip and tuck with Navy taking a 24-20 lead at the half.
But Duke got some huge momentum from Joe Surgan who nailed a 52 yard field goal which cut into the half time lead.  Unlike the SI cover jinx, Surgan made one of the biggest kicks of his career on a day he graced the cover of the Duke Football Game Day program.
As mentioned earlier, Duke came out ready in the second half, especially the defense.  Linebackers Vinnie Rey and Michael Tauliili combined for 23 tackles, making the occasional vicious hit.  Rey made the biggest defensive play of the game when he scooped up a Navy fumble scampering into the end zone.
All in all, it was a huge day for Duke Football and they now have two weeks to prepare for Virginia.  On a hot and humid day, the resilient Devils gave the Wallace Wade crowd a good show making their fans proud. 
Whether you talk chants like "We are Duke!," or you look to the slogan "Dawn of a new day," it's clear that Duke Football is turning the corner. 
Be sure to check back to the Blue Devil Nation for more coverage of this big win, including some photos from the event!
[/private]