Though he admittedly dislikes the label, Duke Head Coach David Cutcliffe is known in football circles as a quarterback guru. Having mentored both Peyton and Eli Manning (who worked out at Duke on Wednesday), along with several other top collegiate signal-callers, Coach Cut's reputation is well-deserved. At Duke, he has continued to develop outstanding quarterbacks, starting with two record-setting years for Thaddeus Lewis and an impressive sophomore year for Sean Renfree, along with freshman Brandon Connette. When it comes to quarterback recruiting, Coach Cutcliffe is understandably selective, carefully evaluating hundreds of high school quarterbacks each year, but only offering a scholarship to a select few. Thomas Sirk, a 6'6" 212 pound athlete from Baker County HS in Florida, is one of those select few. Remarkably, Sirk has never played a full year at quarterback in high school, but impressed the Duke coaching staff in person last Saturday in Durham. With interest from schools like Florida, Florida State, and Tennessee, Sirk's recruitment has officially taken off this summer. His highlight film, which has piqued the interest of several college coaches, can be viewed here. [private]
BDN: Can you start off by describing your strengths for fans who haven't had a chance to see you play?
I guess I'd say I'm versatile, I play all over the field, and quarterback. I'm a big guy, I guess, I'm 6'5" 212 right now and I move pretty good for my size.
BDN: You mentioned playing quarterback, is that the position you want to play in college?
That's what I want to play in college, I've been offered by Duke at quarterback.
BDN: What are some of the things you have been working on this summer?
Right now I'm in conditioning. I've been working with my receivers on throwing, working on my steps a lot this summer. This is my first year at quarterback really, coming into my senior season, I'm not an original quarterback, last year I played wide receiver, so I just need to work on timing with my receivers and trying to get in touch with them.
BDN: What are your goals for your senior year and your first year under center?
I'm looking to take our team to be the first team to be undefeated in our county. I want to pass for over 1500-2000 yards this season, that's definitely one of my goals to have high passing yards and I want to have a completion percentage above 65% this year, too.
BDN: What are the most important things you are looking for in a college?
Right now I'm looking at what's the best place for me, where I'm going to start earlier, going in, looking at their depth chart. I want to be somewhere where I'm going to get a chance to play for the most years.
BDN: Which schools have been recruiting you this summer?
I've been offered by Iowa State as well as Duke. I've been recruited by Florida, Florida State, Tennessee, University of Miami, Georgia Tech, Troy, and Vanderbilt.
BDN: Have you had a chance to visit any schools, and what schools are you planning to visit this summer?
I've visited Florida State, Florida, Duke, Vanderbilt, I visited Vanderbilt last year during the season. I have Tennessee and Vanderbilt coming up the 17th and 18th of July for camps. I've got Florida State coming up again, it'll be my second time visiting Florida State, July 23rd.
BDN: Are you planning to work out at quarterback at those camps?
Yeah, yeah, I'm planning to work out at quarterback at all those schools. I've been in contact with Tennessee's quarterback coach, we talked on the phone last Friday morning, I've been recruited by Tennessee but that's the first time I actually got to talk to their quarterback coach. I recently made a film at quarterback and it's on YouTube now, and if you get a chance you can look at that, but it's on YouTube and some of these coaches are starting to see that and that's where I'm getting contacts from schools at, by seeing that video. I work with a quarterback coach in Alabama named David Morris.
BDN: Sure, he played in college, didn't he?
Yeah, yeah, he played at Ole Miss, he played behind Eli Manning.
BDN: Well that's definitely a great mentor to have.
Yeah, definitely.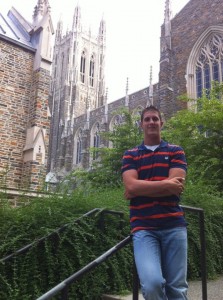 BDN: Do any schools stand out to you, that you have a good relationship with and you feel like there's a good opportunity for you to play early?
Well Tennessee and Duke. I mean definitely Duke, when I went up to Duke and visited them this past weekend, their coaching staff, I came in there and they treated me very good, worked me out at the camp. I got to sit down in person and talk to Coach Cutcliffe and that's when he offered me. I've been in touch with them all week after the camp. And Tennessee, I'm liking Tennessee right now, they've got a new facility going up and I like the town of Knoxville, too.
BDN: Do you have an idea for how or when you would like to narrow things down and make your decision?
Well I'm not making any decisions right now, I'm just kind of taking it all in right now. It will probably be the middle of my season before I make my decision. Right now I'm just trying to take it all in, like I said. Not trying to rush into anything, I'm seeing what's further to come, what offers I get, what opportunities I have.
BDN: Thanks a lot, Thomas, and best of luck to you.
Ok, I appreciate it.
[/private]