[private]I asked Coach Cutcliffe which freshman looked as if they were ready to contribute right away this season. The following is the list he gave BDN.
DB Matt Daniels #40 (6-1, 195)- "Matt Daniels looks like he will be able to contribute on defense," sad Coach Cutcliffe after a recent practice. Daniels will compete for time in the secondary. Set a single game rushing record of 348 yards while at Fayette County HS in Georgia. Tallied 268 tackles in his career and pulled in 7 interceptions.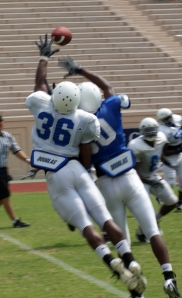 DB Lee Butler #36 (5-10, 180)- Coach Cutcliffe also mentioned Butler as a player who could step in right away. Butler most recently had 4 tackles and cause a late fumble to seal a South Carolina victory over North Carolina in the annual Shrine Bowl which is an all star game. Had 1263 all purpose yards and 11 touchdowns last season for Westside High in Anderson, S.C.
ST, LB Trent Mackey #20 (5-10, 220)- "I expect to see Trent Mackey get some time on special teams and eventually make it at the linebacker," said Coach Cutcliffe. There has been a buzz around Mackey during early practices. Had 103 tackles, 13 for losses as a senior at Carnecro HS in Louisiana.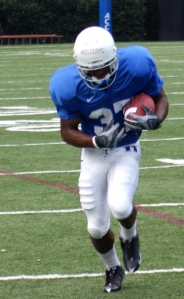 WR Johnny Williams #37 (5-10, 190)- "Johnny Williams has certainly set a strong pace at receiver. He's been one of our leading receivers in every scrimmage we've had," said Coach Cutcliffe. Williams is a very talented youngster capable of making big plays. He ran first team more often than not in many drills. Was a do all athlete at St. Stephens HS in Alabama. One of the true gems in the class of 2008.
RB Jay Hollingsworth #27 (5-10, 185)- With injuries to tailbacks, Hollingsworth will be depended upon to carry an early load. Looks like a pure running back in practices. Was rated the number three running back in the state by RIvals. Played his ball locally at Lee County H.S. in Sanford, North Carolina. "Hollingsworth is getting a lot of snaps at running back. We have major concerns in that area. I think that Jay continues to get himself ready to play," said Cutcliffe.
There are a handful of others who could make this list. It'll be interesting to watch the 08 guys develop as the season moves along.[/private]