[private]
Just minutes after placing his feet on American soil, Mike Krzyzewski addressed a throng of media members and adoring fans at RDU International Airport. Coach K is still immersing himself in the Olympic experience and will continue to do so as the media requests are sure to come in from well, everywhere.
That's the life of the legendary college coach who melded together NBA stars into a cohesive unit which of course made all things golden. While the Chinese media gravitated towards players like LeBron James and Kobe Bryant making them darlings, Coach K is sure to get lots of love in the coming days.
Coach K was flanked by family, in both blood and Duke Blue brotherhood. As he took to the podium, assistant coaches Steve Wojciechowski, Chris Collins and head of basketball operations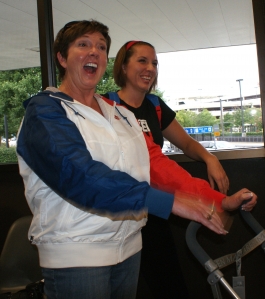 Chris Spatola stood at attention behind their captain with the American flag as the backdrop. His wife Mickie, daughters and their children were just to his right.
In typical Krzyzewski style, he first commented about the players. "The players were amazing, both on the court and off. They represented us so very well." He then gave props to Spain for a competitive game. At that point chants of USA, USA, USA, USA could be heard ringing in the corridors of the airport.
He didn't stop with his praise and commended China on being a good host before joking, "If they had elections there which they don't, and Kobe was a write in, Kobe might win." This brought laughter from the crowd and allowed his staff to crack a smile in the background. He continued on Kobe, "Thank goodness he took over at the end of the game."
He then showed graciousness towards his staff, including new Stanford coach Johhny Dawkins saying they worked tirelessly with no recognition. You can bet that the work proved worthy for each and will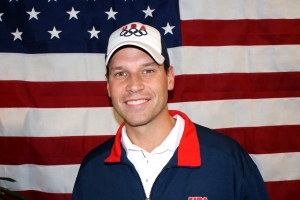 look fabulous on their resumes. "It's definitely the best basketball experience I've been involved with," said Duke assistant Chris Collins.
Knowing Coach K, he was probably already mapping out recruiting plans on the flight. He was quick to quip with a smile, " It's so good now to just be the Duke Coach," which brought about applause from Iron Duke Members and fans alike. He then said, "It's really good being the Duke coach having won the Olympics."
"You don't realize how proud you are to be an American until you are in those settings and you're representing your country, said Kryzyzewski. He then reflected on the awesome accomplishment of winning the Gold Medal, " During the National Anthem before the Gold Medal game, we are all standing there just mouthing the words and all of a sudden you get emotional. You start crying and say "Boy," I wish my Mom and Dad were here ... and how the heck are you this lucky to be representing the greatest country in the world in this fantastic sport."
Well Coach! Duke fans get a bit emotional too. We wonder how the heck we are so lucky for you to represent the greatest program in the world and be our coach 24/7. Congratulations Coach! You've made us all proud.
Note - The Blue Devil Nation will have the Q & A session with Coach K up tomorrow, so please check back that and Coach Cutcliffe addressing the media for the home opener.[/private]