[private]Fresh off his national and ACC player of the week honors, Michael Tauiliili sat down with for an exclusive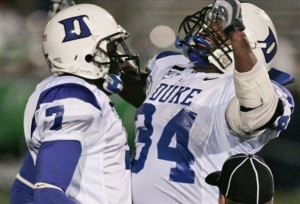 interview with the Blue Devil Nation.  Tauiliili recorded 16 tackles, forcing a fumble, recovering a fumble and grabbed an interception in the red zone versus Virginia.
You had some nice accolades this past weekend.  Did you feel as if you had to take it upon yourself to go in there and disrupt the Virginia offense?
Not really.  I Just wanted to make sure I had my assignments down and we knew they would come in with high intensity looking to get their season back against us.  They have big offensive linemen - their backs are big and I just wanted to prepare for what they would attack us with.  I wanted to be prepared and play physically because you can't be intimidated at all with those kind of guys.  I just wanted to come on the field and hit em in the mouth.
What happened on the interception you made ... what was going through your mind or how did you play it?
Well it was a formation we had seen in practice.  Coach Mac (Intyre) and the LB coach had been teasing me a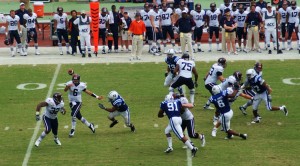 little bit because we knew this was a formation they went to.  A couple I had missed it early in the week and as soon as they came out - we were in the red zone at the time - I knew exactly where to go, just like Coach Mac said.
I then showed him a play on the computer where he forced a fumble and asked him to describe the play and what happened. (see picture left)
This was a play where there was a fumble recovery.  I guess their was a miscommunication between the QB and center.  There was a blitz called and the center snapped the ball without the rest of the offense being ready.  I continued to come with the blitz and forced him to throw it out.
You forced him to get rid of that ball early ...
(smiling) Yeah.  I was going for the sack, but then I saw him throw it behind him.
A fumble is better than a sack in this case for sure.  Georgia Tech!  They run a similar set to Navy, but they are more physical and athletic.  You have to watch their wide outs and well, what are your thoughts on them?
Oh Yeah.  We definitely understand that Paul Johnson has brought the Navy mentality there.  It's Navy with ACC calibre athletes and we will have to be prepared for the speed and the physicality.  We will continue to work on the schemes we did with Navy making sure people are accountable for their responsibilities.
The coach has really challenged the seniors.   During the teleconference he stated that they were really happy in the locker room last Saturday.  Also, I believe he challenged you guys after the Northwestern game.   As a senior and a leader, what do you do to keep this team prepared or on the edge?
We are just constantly reminding them and guys know the situation that's at hand for the seniors and that we are getting ready for the last stretch, giving it our old and we ask them to do the same.  We constantly demand to give the most and everything that we have and we lead in that way to the younger players.  As a senior, I'm just living in the moment.
I know you don't pay a lot of attention to the media, but some insist that Virginia wasn't that good.  Do you still feel like you have some work to do or that you have to beat a team like Georgia Tech which is a pretty big favorite over you guys this weekend?
I think that we are never going to be satisfied.  Like you say I really don't get into the media.  I could care less what people think about who we've played or who is coming up.  We are the ones who have to play and the ones preparing week in and week out.  We just have to go do what we have to do taking one game at a time.
Is there a bit of a swagger or a quiet confidence with the team this season?  Do you see things this season you may have missed in the past and that it is now coming together?
I would say that it is some strong confidence going on with this team.  We've tasted success and see the things we can do when we rise to the occasion or play the way we are capable of playing.  It's not going to happen just because we've done it before.  we will constantly have to work and get better.  We are working on getting better each week.  We are not getting complacent at all.
An off week!  Good thing or bad thing?
I think it's a good thing from a technique standpoint.  for me, I work on tackling, fundamentals and key reads.  At the same time we are also looking at film to prepare.  At the same time, I don't like it becasue I feel kind of out of the loop watching other games and as a football player you always want to play when possible.
There is going to be a hostile atmosphere in Atlanta - your first road game this season.  Is this something you look forward to ... being in a position where the crowd will be cheering against you?
Yeah.  I always like going on the road.  Especially going in 3-1.  It will be interesting and there will be a lot of people down there, some even cheering for us.
(Vince Oghobasse walked by going to the team elevator)  Tell me about your relationship with this guy.  You two are friends?
We met in the fifth grade and ever since then we have been best friends.  We went to the same intermediate school and the same middle school.  During high school everything is so close that it was done by random draw and we ended up at rival high schools.
He got a little annimated on the field this past Saturday ...
(smiling) Yeah, it was funny.  We joked about it and he does a great job of getting into it.  We feed off each others energy on defense, so it was a good thing to see.
Good luck this weekend!
Thank you.
Be sure to stop back in this week for exclusive one on one interviews with Duke OL Fred Roland and Thaddeus Lewis.  The Blue Devil Nation is your source for Duke Football coverage.[/private]