[private]On Navy - 
They will come at us hard every down.  You'll never play against anyone that comes at you harder.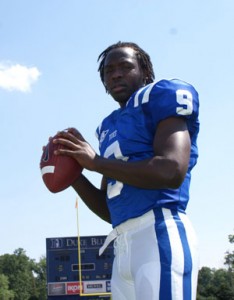 They are disciplined and sound and they do all the little things correctly.  They will use the cut block, so we'll have to stay up and fight all the time.
On the Northwestern game -
We were very upset with last week.  The guys ... nobody had their heads down, we just all said "next week."  We are going to practice well and make sure that doesn't happen again.  The guys aren't going to let anybody slack and that's a great thing.
We learned if you are there you have to make the play.  A couple of things happened during the game ... finger tipped balls ... problems in the open field.  We're a real good offense right now but if we make those big plays we could be a great offense
We could have easily gone into a shell, bit that's not happening.  Guys are confident in what we're doing and we have to go out there and come together as a team and show this week and play better and get us over the hump.
On the Seniors - 
The seniors are not going to let anybody slack up and we'll have to help them out.  We've had some guys in the past moping around, but that's not it - they say are you ready to go watch some film?  Coach Cutcliffe challenged them after the game and they will make sure we get better this week.
What was Cut's message? 
He just said two turnovers to none and if you didn't turn the ball over the outcome of the Northwestern game would have been different.[/private]