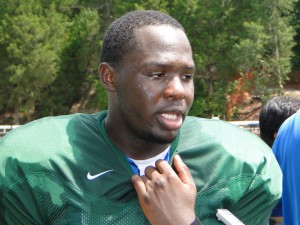 Durham, N.C. - The Duke Blue Devils showed a lot of heart on a beautiful Saturday afternoon but came up short against the defending ACC Champions Virginia Tech.  The Hokie 34-26 win boosts their record to 3-1 while Duke falls to 2-3 on the season.  The Hokies made some big plays on the day which proved to be the difference.  Most of those plays were made in their passing game where Tyrod Taylor was deadly accurate going 17 of 22 for 327 yards and two touchdowns.  His main target was Jarrett Boykin who pulled in 6 passes for 144 yards and a touchdown.
But it was a controversial call that had many turning their heads when the ACC officials awarded Boykin a touchdown calling it a simultaneous catch.  But the real catch is that his feet were clearly out of bounds in post game pictures, yet the replay crew did not overturn the call.  Regardless, that one play wouldn't have changed the outcome but it would have made the score closer.
Duke was impressive standing toe to toe with a team most feel will win the ACC.  Thaddeus Lewis has a huge game throwing for 359 yards and completing 22 of 40 passes, two for scores.  Like Tech, Duke had some big plays of their own.  True freshman Conner Vernon, Donovan Varner and Brandon King had catches of 74, 55 and 48 yards respectively.
The Devils struggled in their running game, but another true freshman Desmond Scott continued to give fans a glance of the future averaging 4.9 yards per carry on his way to 39 yards.  It was also the rushing game that came alive for the Hokies late which helped them put the icing on the cake.
After the game, Coach Cutcliffe was pleased with his teams effort and there were few people going into this game that could have envisioned the Devils playing a spirited and tough game.  In fact, Duke had a chance at recovering an onside kick with second left and a score and a two point conversion would have tied the game.
"We don't believe in moral victories," said Cutcliffe after the game, but Duke fans that showed up for the contest were entertained and there is reason to think that if Duke can be consistent then they can turn the corner in upcoming ACC contests.
Team Stat Comparison
1st Downs
21
17
Total Yards
477
397
Passing
327
359
Rushing
150
38
Penalties
12-105
7-44
3rd Down Conversions
8-12
7-19
4th Down Conversions
0-0
3-3
Turnovers
1
0
Possession
29:25
30:35
Check back in for Cutcliffe audio and a photo gallery from the game.