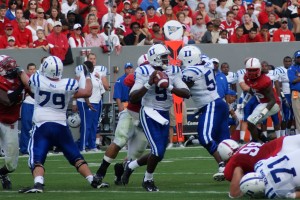 Thaddeus Lewis is now the all time leading passer in the history of Duke Football. He broke the record in his penultimate college game by throwing for 303 yards against the Miami Hurricanes to bring his career total to 9,678 yards. The record was previously held by Ben Bennett with 9,614 yards.
As a senior, Lewis has excelled by breaking multiple career passing records. In addition to becoming the all time leader at Duke in career passing yards, Lewis set records for touchdown passes thrown, career pass attempts, career pass completions, and career total offense. Lewis has thrown for 64 touchdowns during his career, attempted 1462 passes, completed 849 passes, and rolled up 9,599 yards of total offense eclipsing Spence Fisher's previous mark of 9,110 yards.
The 303 yard performance against Miami was Lewis' 10th career 300 yard game, which ties him with Anthony Dilweg for the school record.
After completing 40-50 passes for 459 yards and five touchdowns, against North Carolina State, Coach Cutcliffe stated, "I believe that was the finest game I've had a quarterback have in college." That is high praise coming from a coach who previously coached Peyton and Eli Manning.
But Lewis wasn't finished; he went out and completed 30-43 passes for 371 yards and two touchdowns in leading Duke to a 17-13 victory over Maryland. Then he led Duke to their third consecutive ACC victory, 28-17 over Virginia, by completing 24-40 passes for 343 yards and a touchdown.
Lewis, and the entire offense, has benefited from playing in the same offensive system under the same coaching staff for a second consecutive season, for the first time in their careers. Lewis knows the offense, which allows him to be comfortable and confident on the field. Duke heads into the final game of the season with a 5-6 (3-4 ACC) record in a season that has kept fans in Durham excited about football into late November for the first time in many years.
Lewis' career at Duke started on September 2, 2006, when the true freshman was inserted during the first game of the season against Richmond and completed 15-24 passes for 148 yards in the 13-0 loss to the Spiders. Lewis started the next 11 games and threw for 2134 and 11 touchdowns on the season. However, he was sacked 38 times and threw 16 interceptions.
The Sporting News named Lewis honorable mention Freshman All America as his 2134 yards passing set a Duke record for passing yards by a freshman. Lewis threw four touchdown passes against North Carolina, which was the most thrown by a Duke freshman since Dave Brown threw four against Wake Forest in 1989.
As a freshman, Lewis had his two best games against in-state rivals Wake Forest and North Carolina. On September 9, 2006, Lewis completed 21-32 passes for 305 yards and a touchdown against Wake Forest. Against North Carolina, on November 25, 2006, Lewis completed 20-35 passes for 285 yards and four touchdowns. Unfortunately, Duke lost both games as part of a 0-11 season.
As a sophomore, Lewis would have to learn a new offensive system as Duke brought in Peter Vaas, from Notre Dame, to serve as passing game coordinator. Lewis responded by completing 199-360 passes for 2430 yards with 21 touchdowns and only 10 interceptions. However, Lewis was sacked 44 times during his sophomore season.
Against Navy, on September 22, 2007, Lewis had the best game of his sophomore season throwing for 428 yards and four touchdowns to wide receiver Eron Riley. However, Duke lost the game 46-43 as the Midshipman scored the games final 14 points.
The arrival of Coach David Cutcliffe in Lewis's junior season meant Lewis would have to learn another offensive system. His third system in three years as the starting quarterback at Duke, and Lewis quickly proved he was up to the challenge and proceeded to earn Second Team All ACC honors by completing 62.1 percent of his passes for 2171 yards and 15 touchdowns. Moreover, Duke won four games with Lewis decreasing his interceptions to six and only being sacked 16 times. Those numbers suggested real success for Duke Football was just around the corner.
As a junior, Lewis enjoyed his greatest success in a 41-31 defeat of Navy on September 13, 2008. Lewis completed 25-35 passes for 317 yards and three touchdowns to wide receiver Eron Riley.
Duke hosts Wake Forest at Wallace Wade Stadium next Saturday November 28th in the final regular season contest of the 2009 campaign. Blue Devil Nation encourages all Duke Fans to come out, join in the festivities, and cheer on Lewis and the entire Blue Devil squad.