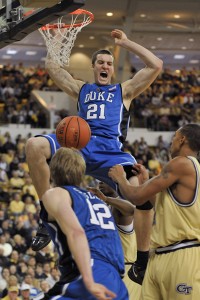 Game 19 l ESPN College Gameday
Duke (15-3, 3-2 ACC)
vs. Clemson (15-4, 3-2 ACC)
Saturday, Jan. 23, 2010 l 9:00 p.m. l ESPN
Littlejohn Coliseum l Clemson, S.C.
The Opening Tip
Duke (15-3, 3-2 ACC), ranked seventh in the AP poll and sixth in the ESPN/USA Today Coaches' Poll, faces Clemson (15-4, 3-2 ACC) at Littlejohn Coliseum on Saturday, Jan. 23 at 9:00 p.m. The Tigers enter the game ranked 17th in the AP poll and 16th in the Coaches' Poll. The game will air on ESPN with Dan Shulman, Dick Vitale and Erin Andrews calling the action.
The Last Time Out
Duke fell to N.C. State, 88-74, on Wednesday for its third straight road loss of the season.
Kyle Singler (22), Jon Scheyer (21) and Nolan Smith (18) combined for 61 of the Blue Devils' 74 points on the night.
The Wolfpack shot 58.2 percent from the field in the game, including 64.0 percent in the opening 20 minutes of play.
Duke posted a commanding 40-28 rebounding advantage in losing for the first time this season when outrebounding the opposition. Senior Lance Thomas grabbed a career-high 12 rebounds, while Brian Zoubek added nine boards, including five of Duke's 17 offensive rebounds.
The Last Time vs. Clemson
Duke posted a 74-53 win over Clemson on Jan. 3, 2010 at Cameron Indoor Stadium. Jon Scheyer and Nolan Smith each had 22 points in the win as the Blue Devil defense limited the Tigers to 12 first-half points on 5-of-30 (16.7 percent) shooting. Duke held Clemson to 32.7 percent shooting for the game and forced 17 turnovers.
Numbers Game
Duke and Syracuse are the only teams in the country to rank in the top 10 in both the AP Poll and ESPN/USA Today Coaches Poll as well as the CollegeRPI.com Ratings Percentage Index (RPI) and Strength of Schedule (SOS). The Blue Devils, seventh in the AP Poll and sixth in the Coaches' Poll, rank first in the RPI with the sixth-best SOS.
The Blue Devils have been ranked in the top 25 of the AP poll for 50 consecutive weeks. Duke has been ranked in the top 10 in each of the last 47 polls.
Duke has had 23 individual 20-point scoring games this season, including eight each by Nolan Smith and Jon Scheyer. The Blue Devils have had multiple 20-point scorers in the same game eight times on the year.
The Blue Devils are 3-1 against ranked opponents with wins over No. 13 Connecticut, No. 15 Gonzaga and No. 21 Clemson. Duke has a +15.3 points per game scoring margin against ranked opponents on the year.
Duke has lost four straight true road games dating back to last season. The Blue Devils have not lost five in a row on the road since the 2002-03 season.
Jon Scheyer is the only player in the ACC to rank in the top 5 in six statistical categories; scoring (second, 19.1 ppg.), assists (fourth, 5.8 apg.), free throw percentage (first, .895), three-point field goals (first, 2.7 3pg.), assist-to-turnover ratio (first, 4.04:1) and minutes (second, 35.8 mpg.).
Nolan Smith is shooting 48.0 percent (106-of-221) from the field, including 50.9 percent (29-of-57) from three-point range, to rank ninth in the ACC in field goal percentage. He is the only guard to rank in the top 10 of the league in that category.
Senior Jon Scheyer leads the NCAA in assist-to-turnover ratio (4.04:1). He has had one turnover or less in 10 of Duke's 18 games, with six contests without a turnover.
Junior Nolan Smith is averaging 20.1 points per game, while shooting 55.2 percent (58-of-105) from the field and 60.7 percent (17-of-28) from three-point range, in the last eight games. He has topped the 20-point mark in six of those games.
Duke has a +10.7 rebound margin over the last three games. The Blue Devils are averaging 42.7 rebounds per game, including 18.3 offensive boards per game in that span.
Big Three Pace Blue Devil Offense
Jon Scheyer, Kyle Singler and Nolan Smith combine to average 53.5 points per game or 63.6 percent of Duke's scoring.
Scheyer is second in the ACC in scoring at 19.1 ppg., while Smith (18.3 ppg.) and Singler (16.1 ppg.) rank third and eighth, respectively.
Texas Southern, Nevada, UC Davis and North Dakota State are the only other schools with three players ranked among the top 10 scorers in their respective leagues.
The trio of Scheyer, Smith and Singler is the highest scoring group in the NCAA this season and the fourth-highest at Duke under Mike Krzyzewski.
Duke Raising Awareness for Haiti Relief
Duke Athletics has joined a national fundraising effort titled "Save Haiti Saturday" to aid in the nation's earthquake recovery efforts. Beginning with Duke's men's basketball contest at Clemson on Saturday night (ESPN, 9:00 PM ET), the 15 Duke teams currently in competition will display "Save Haiti Saturday" patches in the upcoming weeks to maintain high awareness for the relief effort in Haiti.
Three Duke graduates, including former Duke men's basketball manager and current Miami Heat Vice President of Basketball Operations Nick Arison (Duke '03), along with Jenna Green (Duke '08) and Doug Rosenberg (Duke '07) spearheaded the "Save Haiti Saturday" initiative.
"Save Haiti Saturday" is primarily an awareness campaign that benefits Project Medishare for Haiti, Inc. That organization collaborates with Partners in Health (PIH), one of the organizations through which Duke is coordinating its Haitian fundraising relief efforts. Duke alumnus, Dr. Paul Farmer, founded PIH and currently serves as the United Nations Deputy Special Envoy to Haiti.
For more information about or donate to "Save Haiti Saturday," access the website at:  www.savehaitisaturday.com.