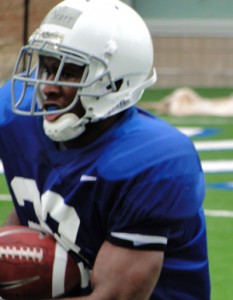 The Duke Blue Devils held their annual spring football game on Saturday in sunny Wallace Wade Stadium. The game featured the first-team offense (white) against the first-team defense (blue). The blue team emerged victorious with a convincing 24-3 victory, which showcased the team's improved running game. Speed and youth were apparent on both teams, though neither offense managed to get into a rhythm through the air. The blue team was able to control the game on the ground and won the field position battle.
The blue team was led by freshman QB Brandon Connette, who finished the day 8/19 for 67 yards through the air and 91 yards on 13 carries on the ground. Sophomore RB Desmond Scott paced the blue offense on the ground, finishing with 97 yards on 13 carries. Redshirt freshman WR Tyree Watkins scored the game's first touchdown on the blue team's second possession in the first quarter when Connette found him open in the corner of the endzone. Redshirt sophomore RB Patrick Kurunwune and Connette each added a touchdown on the ground, and Paul Asack connected on a 24 yard field goal for the blue team.
The white team, led by redshirt freshman QB Sean Schroeder, struggled on the offensive side of the ball. The white team jumped out to a 3-0 lead on a first quarter field goal by senior K Nick Maggio, but were unable to put together a scoring drive again. Schroeder finished 4/20 for 23 yards. Freshman RB Josh Snead paced the white team rushing attack with 99 yards on 9 carries.
On defense, redshirt sophomore DE Kenny Anunike led the way with 9 tackles, including two for a loss. Sophomore LB Austin Gamble tallied 8 tackles, followed by 5 for junior S Matt Daniels and 4 for redshirt freshman LB Kevin Rojas. Despite a few shaky snaps and overthrown passes, the defense was unable to force any turnovers during the scrimmage.
At halftime, the spring practice awards were announced. The most improved players on offense were freshman QB Brandon Connette and redshirt freshman OT Perry Simmons. The most improved defensive player was redshirt freshman LB Kevin Rojas. The heart award went to junior S Jeff Faris.
Duke hosted over 160 prospects and their families on campus this weekend, who all took in the spring game and joined the team on the field for the post-game discussions.