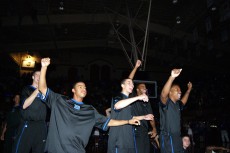 BDN is about to begin it's coverage of many events and I will be heading to Cameron Indoor Stadium shortly as Coach Mike Krzyzewski makes his first appearance since winning #903.  As always, we'll be tweeting from press row to bring you colorful tidbits.  After the game, we'll have some interviews up as well, so be sure to check that out.
Our premium members will get treated to Andrew Slater, our in house recruiting analyst and his unique coverage of some #Duke prospects this weekend.  He will keep us abreast of the happenings at the National Prep Showcase and as we all know, Duke Basketball recruiting never ends.
I will be on hand for the seniors final game against Georgia Tech  in football tomorrow as well and here is to hoping you come out and support their efforts to upset Georgia Tech.
Duke will take on Tennessee in Maui on Monday and BDN will be in the house, as staff member Terry Rains will bring you timely interviews after the games.  Not many folks will make this journey, so our coverage should be quite popular.
Blue Devil Nation  is out there beating the pavement and we are always on the scene to bring you the best coverage available.  If you want to support Blue Devil Nation and gain full site access to our lively and private message board and get the inside scoop, join today!   Lastly, join our new Blue Devil Nation open facebook group and talk with fellow Duke fans while gaining access to some cool pictures.  That's free, so what are you waiting for.
Go Duke!