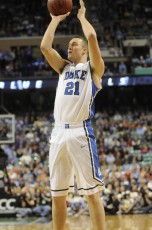 Game 5 • EA Sports Maui Invitational
[6 AP / 6 Coaches] Duke (4-0) vs. Tennessee (2-0)
Monday, November 21, 2011 • 5:30 p.m. (ET) • ESPN2
The Opening Tip
• Duke (4-0) faces Tennessee (2-0) on Monday, Nov. 21 at the Lahaina Civic Center in a second round game of the EA Sports Maui Invitational. Tipoff is set for 5:30 p.m. (ET).
• The game is being televised by ESPN2 with Dave O'Brien (play-by-play) and Jimmy Dykes (analyst) calling the action.
• Duke is ranked No. 6 in both the AP Poll and the ESPN/USA Today Coaches Poll. Tennessee is unranked in both polls.
• Duke topped Belmont, 77-76, in its first round game of the Maui Invitational, while Tennessee defeated UNC Greensboro, 92-63, in its regional site game. The tournament expanded its field to have on-campus first round games in 2011.
• The Blue Devils are 13-0 all-time in the Maui Invitational, including a 12-0 mark at the Lahaina Civic Center. Duke has won Maui Invitational titles in 1992, 1997, 2001 and 2007.
Duke-Tennessee Series
• The Duke-Tennesse all-time series is tied 7-7 entering Monday's contest.
• All 14 games in the series were played prior to Mike Krzyzewski taking over as head coach at Duke with the first contest being played in 1911.
• Duke has won five of the last seven games in the series.
• Seven of the 14 games in the series have been decided by 10 points or less.
Duke vs. the SEC
• Duke is 113-58 all-time against teams currently in the Southeastern Conference.
• Under Mike Krzyzewski, Duke is 21-7 against the SEC.
• The Blue Devils are playing their first SEC opponent since falling to LSU, 62-54, in the Sweet Sixteen of the 2006 NCAA Tournament.
Numbers Game
l Duke is 12-0 all-time at the Lahaina Civic Center with nine of the victories coming by 10 or more points.
l Duke is 31-2 in neutral site contests since the start of the 2008-09 season. The Blue Devils have won one NCAA Championship, three ACC titles and three in-season tournaments in that span.
l The Blue Devils have won 12 consecutive non-postseason (ACC & NCAA Tournaments excluded) neutral site contests.
l The Blue Devils have won 27 of their last 29 non-conference contests. Duke is 55-6 in non-league games since the start of the 2008-09 season.
l Duke has won 32 consecutive games in November, dating back to a 73-62 loss to Marquette in the championship game of the 2006 CBE Classic. The Blue Devils are 112-10 all-time in the month of November under Coach K.
l Duke is 100-28 all-time when ranked No. 6 in the AP poll. The Blue Devils have won seven straight games when ranked sixth overall.
l Seth Curry has scored in double figures in all four games this season and is averaging a team-high 15.8 points per game. He is 10-of-17 from three-point range this season and now has 74 three-point field goals in 41 games a Blue Devil. Curry is shooting 45.1 (74-of-164) percent from behind the three-point arc in his Duke career.
l Duke is shooting 46.4 percent (32-of-69) from three-point range through four games. Seth Curry, Austin Rivers, Ryan Kelly, Tyler Thornton and Quinn Cook have each knocked down two or more three-pointers in a game this season.
l Five Blue Devils (Seth Curry, Mason Plumlee, Austin Rivers, Andre Dawkins and Ryan Kelly) are averaging 5-10 shots per game. Curry and Rivers are attempting a team-high 9.3 shots per contest.
l Mason Plumlee is tied for fourth in the ACC in blocks at 2.3 bpg. He is one block shy of becoming the 15th player in Duke history with 100 or more career blocks.
l Duke's post rotation of Ryan Kelly, Mason Plumlee and Miles Plumlee combine to average 32.1 points and 20.8 rebounds per game. The trio is also shooting 59.5 percent (44-of-74) from the field on the year.
l The Blue Devils scored 42 points in the paint in Friday's win over Davidson. Duke is averaging 29.5 points in the paint per game this season with two games with 40 or more points scoring inside the key.
l Ryan Kelly has scored in double figures in three of the four games this season. Duke is 12-0 when Kelly scores 10 or more points in a contest.
l Duke is averaging 32.0 free throw attempts per game. The Blue Devils have made 16 more free throw than their opponents have attempted.