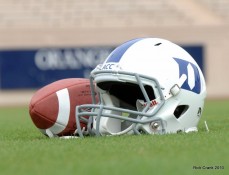 DURHAM, N.C. – Duke University head coach David Cutcliffe announced on Thursday the hiring of John Latina as an assistant coach on the Blue Devil football staff. Latina, who served on Cutcliffe's staff at Ole Miss from 1999-2004, will coach the offensive line.
"We're excited about the addition of John Latina to our staff," Cutcliffe said. "John is one of the premier offensive line coaches in the country, and his track record for developing young linemen speaks for itself. He is obviously a veteran coach who has had a great deal of success, and given his ties with our staff, I am confident he will be an immediate fit into our program."
"I've worked with Coach Cut before, and I know his expectations," Latina said. "I know how he operates the program, and I know all the staff. In that sense, to me, it's a very seamless transition hopefully for me and for Coach Cut and the staff. I think that's always good – even though you have a new guy, there's still continuity because we're so familiar with one another."
Latina replaces Matt Luke, who served as a graduate assistant coach under Latina at Ole Miss.
"Matt was my graduate assistant, and I've helped him through the business," Latina noted. "We've shared a lot of philosophies and teachings over the years. There are going to be some different things as always because we're two different people, but the core and the philosophy and the base teachings are going to be very similar."
Latina will direct a Blue Devil offensive front that returns seven players that started multiple games in 2011 including guard John Coleman (9 starts), tackle Takoby Cofield (2), center/guard Dave Harding (9), center Conor Irwin (2), center Brian Moore (3), tackle Perry Simmons (12) and guard Laken Tomlinson (12). Tomlinson was honored as a first team Freshman All-America pick by Sporting News.
"I feel really good and comfortable, and I know they've been coached very well," Latina said. "So I look forward to coming in and helping them continue to improve and continue to get better as a unit."
Latina joins the Duke staff following two years (2010-11) as the offensive coordinator at the University of Akron. Prior to that, he mentored the offensive line for four seasons (2005-08) at Notre Dame.
During Latina's stint in South Bend, the Notre Dame offensive front opened holes for a pair of 1,000-yard rushing seasons for running back Darius Walker, who became just the fourth Irish running back to eclipse 1,000 rushing yards in consecutive seasons. In 2006, the line helped protect quarterback Brady Quinn as he surpassed 3,000 passing yards for the second consecutive campaign en route to receiving the Maxwell Award and the Johnny Unitas Golden Arm Award.
Latina's six-year (1999-04) tenure at Ole Miss was headlined by five winning seasons and four bowl game appearances. In 2003, the Rebels went 10-3, shared the SEC Western Division championship with LSU and defeated Oklahoma State in the Cotton Bowl as the offense established school records for points scored (442) and total offensive yards (5,631). That squad was led by quarterback Eli Manning, who earned SEC Player of the Year and first team All-America honors before being selected with the No. 1 overall pick in the NFL Draft.
No stranger to the ACC, Latina spent five years (1994-98) at Clemson, helping the program to three bowl games. While with the Tigers, he coached six All-ACC offensive linemen. Latina also spent five years (1989-93) at Kansas State where, in 1993, the Wildcats went 9-2-1, defeated Wyoming in the Copper Bowl and finished the year ranked 20th in the Associated Press poll. The bowl win capped Kansas State's most successful season in over eight decades.
Before his time at Kansas State, Latina served on the football staffs at both Pittsburgh (1982) and Temple (1983-88).
A 1981 graduate of Virginia Tech, Latina lettered four seasons as an offensive lineman with the Hokies. The New Castle, Pa., native spent the 1981 season as a graduate assistant coach, helping the squad to the Peach Bowl.
Latina and his wife, Michele, also from New Castle, have two sons, John and Michael.