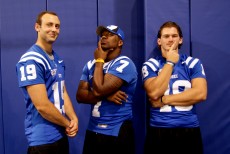 Mark your calendars for October 19th and 20th, for that will be a heck of a weekend for Duke Athletics. On Friday, October 19th the always popular Countdown to Craziness event kicks off the basketball season, and the following day Duke hosts arch rival North Carolina in football. While schools can kick off the basketball season a week earlier with Midnight Madness-type events, Duke is not doing that this year, so CTC was moved back a week in Durham. Regardless, there will be little sleep for the BDN staff as we cover all the events, as we have in seasons past.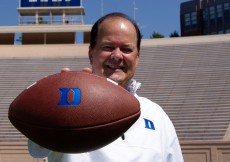 The Meet the Blue Devils football event went down this past weekend, as 1500 Duke fans turned out to meet this season's team. Fans got a chance to mingle with players and coaches while seeing the positive changes in the football facilities. Duke unveiled its team posters (ripe for autographs for the youngsters) along with the new helmets and new season ticket plans.
Duke Women's Soccer is hot and ranked #2 in the nation. The team crushed Elon this past weekend, and they next take to the field in the UNC Nike Classic on August 24th at Fetzer Field in Chapel Hill.
Be sure to check out our BDN Open Group Facebook Page where we load a lot of photos in an environment that more or less acts as our free message board. Of course, BDN's only true message board is reserved for premium members, who have full site access where they get all the latest inside tidbits and nuggets on the program, as well as a place to discuss recruiting with other members. Here is a link to the Facebook site, where you can see photos from the latest scrimmage and Meet the Devils Day. BDN Facebook Group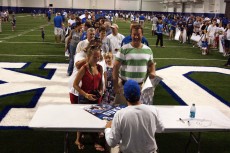 Speaking of photos, BDN has long used our own photographers, and we do not mind others using our pictures -- provided proper credit is given. All of our photos are copyrighted, and we enjoy bringing you up close and personal with Duke Athletics through the medium. But far too many other sites are now using photos without permission and without crediting the original source. If you want to use our photos, please contact us beforehand. Most recently, we had to remove two photos from a gambling site whose operators felt it was their right to swipe them and tag them as their own.  It's not.
On a related subject, it's becoming more apparent to me that on today's web, it can be hard to tell the difference between opinions offered without benefit of real on-scene access and reporting, and opinions offered by those who do have the benefit of firsthand views of a program.  The BDN staff regularly attends all Duke athletic functions and media events. Our team is in the trenches doing the work, enabling us to present an "eyes on" view of the subject matter. Why am I mentioning this? There is a growing trend out there of "reporters" and self-styled "insiders" offering what I'll generously term "borrowed information." A recent blog post came to our attention that consisted of BDN reports being simply copied verbatim, with a few minor word changes, and being passed off as the blogger's own work. The bottom line is that you can trust what you read here as being original in every way. We like what we do, and we make the effort to get out there to cover Duke athletics in a comprehensive, professional, and honest way.
Back to the on-the-field stuff:  The September 1 home opener against Florida International looms, and it should be a good one.  For those unfamiliar with the Panthers, they return 18 starters from a season ago, when they were a bowl team.  The problem with playing an upstart program is that many fans underestimate teams they haven't heard that much about, setting themselves up for surprise and disappointment when they realize these guys can play.  I can tell you firsthand that Duke will have to bring their "A" game to beat this team.  Adding to the pressure is that, given the difficult schedule the Blue Devils face this year, many are already coining this a "must win."  I think Duke will be ready but they'll need the 12th man, meaning a fired-up home crowd, to come out of the gates strong this year and get a win against a quality opponent.
Have a good Monday folks.