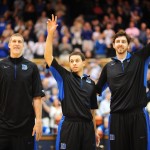 Duke finally gets a break
I will be th first to admit that I expected a bit more from last nights Duke win over Virginia Tech. Perhaps I expected too much in that Duke was celebrating the last game in Cameron for what has been amazing careers for Mason Plumlee. Seth Curry and Ryan Kelly. A sportswriter friend of mine said he thought it would be a trap game, while i expected a blowout, but we got something sort of in between. Duke was only six points well into the second half before they hit the gas and coasted to an 85-57 win but their performance was at times mildly and surprisingly uninspired. But then came the reality that this was indeed a trap game where they were playing this game just hours after and emotional home win over Miami in a game the nation seemd to be watching per TV ratings released today. I really think this Duke team was a bit spent with the mental aspects of the game and after all, UNC lies ahead and they have not lost since the last time they faced Duke and they deserve some attention and a ranking at this point. Anyhow, they now know whwne they are playing having sewed up the second seed in the ACC Tournament and the team took today off before prepping for UNC on Thursday. They should be revitalized as a team and will likely leave it on the court Saturday evening in Chapel Hill knowing they have a six day break before the ACC Tournament begins.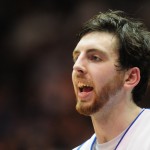 Kelly continues to prove his value
Of the three senior day speeches, Kellys was by far the best in my humble opinion if for no other reason than he propped his parents and even his girlfriend. There were times when Kelly looked exhausted, yet he pushed through fatigue to score a critical 18 points but that killed his average. I mean in the last two games since his return he is only averaging 27 ppg now and I hope you can detect the tongue in cheek sarcasm. Anyhow, Kelly is once again allowing for more opportunities in that he stretches the court with his ability to hit the three point shot and his defense is very, very underrated. Too bad Kelly didn't play all season long for he would likely be getting some first place votes for All ACC this coming Sunday evening. I am still in awe of his performance against Miami where he dropped 36 points. In short, there are not enough words to properly describe that performance and it's not like we can stop time long enough for it to come to us.
It's the end of the world as we know it
If you are keeping up with the latest news, it looks as if Notre Dame could join the league next season alongside Pitt and Syracuse. I have already warned people that ACC Tournament tickets will once again be a most coveted thing once the other teams are in, so this is the last season we will go down a familiar path with the tournament. Winning the regular season will be a bear of a task moving forward and yes indeed, the ACC can truly be called a basketball conference again, especially once Louisville comes in. Just take a moment to imagine some of the ACC matchups next season. And for Duke, they'll be a very talented but young team.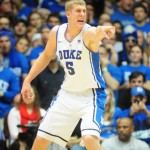 Mason still has a shot at ACC Player of the Year
Mason Plumlee has not had his best games of late. In fact, many felt liek he has played himself out of the ACC POY race in the last three games but take him away from Duke and how well would they have done? And unlike, say, Erick Green, there are a lot of other capable players to take shots away from him on the Duke team. Shane Larkin is making a strong run for the award and me personally? I will wait to see how the last two games shake out for I still see it as a close call. But make no mistake, Mason needs a monster game against North Carolina for the aforementioned to happen. My mailbox is full of ACC SID's pushing their players and for me past three players on first team, nothing is especially clear. That's why i need to see how the teams finish and it will go down to the midnight hour before my votes are turned in.
I will truly miss our seniors
People can accuse me of being a homer all they want, but Duke really recruits classy young men with great character. I continue to b impressed with the type of players the program brings in and as most of you know I am very active on the recruiting trail. This allows me to gt to know prospects or players before they ever set foot on campus if they do at all and sometimes you meet their parents as well. I will sit down later and talk of all the seniors but for now they seem to have more work to do and they hinted as such last evening during senior speeches, but I will especially miss Mason and Ryan who I have known since they were barely old enough to drive. Each of them are high quality young men with bright futures and it was a pleasure to have watched them grow and get to know the parents who raised such fine young citizens.
Tidbits
Coach K won his 401stcareer ACC game and I can honestly say that I have been around for all of them. What a ride and it's not over! Duke won it's fifth straight game over a top 5 opponent over Miami this past week. Duke will play in the 7:00 game next Friday in the ACC Tournament and most folks are hoping to stay in the east in the NCAA Tournament. Duke went undefeated in Cameron this season and the Blue Devils remain the only team in the AP, Coaches polls, the NCAA RPI and strength of schedule.