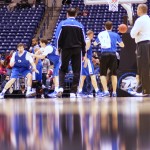 INDIANAPOLIS - As you walk up to Lucas Oil Arena the banks are still covered in snow and that alone makes one realize you are not in North Carolina, but as my stroll continued I started to see the ghosts of games past.
I have returned to the scene of the 2010 National Championship Game and it's hard not to relive those moments where Gordon Haywards' shot caromed off the rim just before the court was filled with joyous Blue Devils who had just won their fourth title under the watch of Duke Coach Mike Krzyzewski.
I can still see Kyle Singler laying on the floor before being mobbed by his teammates after a vicious pick by Matt Howard, an illegal one at that, but a no-call nobody cared about in royal blue, for Duke had just won that wonderful crystal trophy.
My memories from that magical 2010 season are numerous and the only thing that has really changed in the arena are the pictures of Andrew Luck where Peyton Manning used to be. Well, there is a shortened court as well and less seats but the venue is still one of the best out there and Indy is a true basketball town through and through.
Oddly, in a good way for Duke fans, the 2013 Blue Devils are in the exact same locker room as before. But tonight's game reminds me more of  that seasons Baylor game, than it does the Final Four in that Duke will face a tough and athletic team in an early game that can on paper go either way.
In a sense, Michigan State Coach Tom Izzo is due. Coach Krzyzewski owns a 7-2 record over the Spartans and none of those match ups featured a weak team. The "due," bit scares the fan side of me the most here, but on the court itself I feel confident in the Blue Devils ability to win this one.
If one were to conduct a straw poll of media types, Michigan State seems to be the popular pick. Even Dick Vitale who gets unfairly blasted and called "Dukie V," has picked the team in the green shade.
I say unfairly blasted in the case of Vitale because he is one of the few talking heads who recognizes the Duke success under Coach Krzyzewski has been and should be impressive enough to harp about, no matter who you are.
Still, the talking heads are strongly leaning towards Michigan State and that is another reason which could point to a solid effort and win for Duke in that being considered an underdog when you are a slime 2 point favorite in Vegas can sometimes motivate.
Oddly, when Duke wins, they are labeled the team to beat but when there is a bad loss, they suddenly become vulnerable. And there last loss to Maryland was obviously a bad loss if for no other reason than getting stuck in what I have dubbed the "Final Four," regional where one could make a case teams left in the region could have made it to Atlanta had they been blessed with different paths.
At this point and time, Duke will in no way waste any thought process on what could have been. Instead, they will prepare as they always do and show up this evening no matter how to tough the opponent.
While I am very impressed with the Michigan State starting line up, I see their bench as being a little weak and most consider Dukes' weak as well.
That means the game will come down to the starters and Duke features three seniors in Mason Plumlee, Ryan Kelly and Seth Curry. But Sparta features some experience as well, just not quite as much as Duke does and that is one of the reasons I think Duke will find a way to win tonight, but in a close game, one which could test ones nerves until the very end.
In all likelihood, the game could hinge on the way the game is called. There have been games where phantom calls were made to date, limiting Duke to play aggressively, while other tournament games have let the teams play.
It's hard to figure out which way the game is called would benefit Duke in that allowing them to play seems to favor the athletic Spartans but that kind of game may keep Mason Plumlee out of foul trouble.
If the game is called close, Duke may get to the line a lot and such, but as odd as it seems I favor letting the teams play and I think that's what we'll see.
So, I am picking the Blue Devils to advance and make some new memories, ghosts be darned, but it'll be after midnight to know if I am right.
Just throw the ball up already and let's get it on. The game pits to solid teams playing a round too early in my humble opinion, but as they say, that's the way the cookie crumbles.
As for  Duke?  They simply want to go to practice the next day or in this case, the same day the game will end.