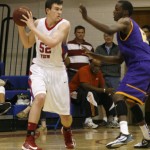 Rising senior Payton Dastrup has had a bevy of high-major hoop programs calling him over the past year. But on Tuesday the 6-foot-10 and 230-pound big man's camp finally heard from a program he's had a strong affinity for: Duke.
"Coach K is legend, maybe one of the best if not the best coach in history," the Mesa, Ariz. native said [private] two weeks ago over the phone. "He's sitting on the top. Overall, the Duke coaching staff and the program is definitely high on my list."
A polished post prospect with an ability to stretch defenses from the four spot, Dastrup saw his recruitment explode after a stellar series of performances last spring on the AAU circuit, which he has since built off of to push his scholarship offer count to 21 at the moment. Describing himself a "rebounding machine," the devout Mormon—who runs with the Los Angeles-based California Supreme squad on the Nike EYBL—holds scholarship offers from the likes of Florida, Virginia, USC, and Arizona, while he continues to garner increasing interest from Kansas, Ohio State, Georgetown and Indiana, among many others. Jayhawk head coach Bill Self attended all of his games in Los Angeles during the first session of the Nike EYBL session.
Despite the heavy interest from a multitude of programs, Dastrup has not narrowed his list of schools down yet.
While healthy, Dastrup has averaged 12.7 points on 54 percent shooting from the field and 7.8 rebounds per game in his first year on the uber competitive Nike EYBL circuit.
Back in April, Dastrup—the No. 38 overall player and No. 7 power forward in the class of 2014 by ESPN—had a golden opportunity to showcase his game to Blue Devil head coach Mike Krzyzewski, who was perched front and center to watch coveted point guard target Tyus Jones of Howard Pulley take on Dastrup and California Supreme in Hampton, Va. during the second session of the Nike EYBL. A dislocated ankle injury, however, kept Dastrup on the sidelines for that entire weekend, an experience that was agonizing.
"It was frustrating. I took it the best I could," Dastrup said in regards to the injury and being forced to sit out. "I had to help be my team's support system. On the bench I was the loudest."
Closing on its primary big-man targets has been difficult lately for the Blue Devils. Tony Parker, Mitch McGary, Austin Nichols, Marcus Lee and Tarik Black are some of the more deflating misses experienced lately. On the surface, Dastrup fits the Blue Devil profile at position that is at a premium. He excels in the classroom and possesses ideal size and athleticism to be a valuable asset in a high-major frontcourt, not to mention his upstanding character and a grounded personality.
A large driver in his humbleness, faith plays an integral role in Dastrup's recruitment. As a deeply committed member of The Church of Jesus Christ of Latter-day Saints, Dastrup is gravitated to the Blue Devil program due to is its receptiveness to Mormon players, in addition to it being one of the premiere academic and athletic intuitions in the country. Krzyzewski coached Matt Christensen, a fellow member of the Mormon Church, in the 1990s. Beginning in July, Krzyzewski and his staff will instruct incoming freshman and devout Mormon Jabari Parker, who is the No. 2 overall player in the class of 2013 according to ESPN.
The Mormon and hoops connection has led to a friendship between Dastrup and Parker.
"I consider us friends. We have texted. We have talked on the phone a little bit, sharing some of the similarities in the recruiting process," Dastrup said. "We have gotten to know each other pretty well. He's an unbelievably humble guy. I have kind of patterned myself a little bit after him I guess you could say. Our relationship has definitely grown over the years."
Unlike Parker, who is not expected to serve on a Mormon mission trip, Dastrup plans to do a two-year mission immediately following his high school graduation, which will delay his arrival on a college campus until the fall of 2016. The hiatus from the hardwood, however, will give a program a mature, 20-year old big man with four years of eligibility remaining. With no social media or use of phones for two years, Dastrup wants to sign with program that has a very stable coaching situation before he departs for his mission.
"The things I'm looking for the most [in a school] is to be able to come in as a freshman and either contribute as a starter or a significant role player," he said. "Also, having a solid relationship with specifically the head coach, but also the entire coaching staff and being assured that the whole staff is committed to that program and not wanting to take a job somewhere else. Academics are really high with me too."
The Duke coaching staff has offered 2014 elite big man Jahlil Okafor, a projected one-and-done player. Hybrid forwards Kevon Looney, who is more of a big wing, and Trey Lyles—another potential one-and-done prospect who seems to be a long shot to end up in Durham—also hold offers from Krzyzewski. So, there looks to be room for more 2014 Duke frontcourt offers to be extended as the staff gets a better feel for the big men in the class.
With the spotlight now brighter and Duke in the picture, Dastrup will compete in this weekend's NBPA Top 100 Camp in Charlottesville, Va.
And luckily for Dastrup, California Supreme eked its way into the Peach Jam thanks to a 53-51 win in the final game of the Minneapolis EYBL session, giving him a chance to prove himself in front of the Duke coaching staff during the most intense live evaluation period of the summer. [/private]