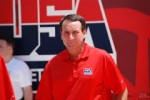 During today's press conference, Duke Basketball Coach Mike Krzyzewski started by saying he would not address a spiteful article from Adrian Wojnarowki.  The article sparked a lot of talk right after Team USA won another Gold Medal.  As the conference continued, he altered his earlier statement and had his say.
Who can blame him.
Fresh off another Gold Medal effort where he led Team USA to the FIBA Championship, he was lambasted with more of an opinion piece from one who ignored several obvious facts.
Among the things Krzyzewski supposedly did, per Wojnarowski, was that he purposefully posed with self-serving intent for a picture with Paul George.
Indiana Pacer star Paul George, suffered a horrific and untimely injury during the USA trials.  It was a freakish accident that sparked talk of whether the NBA should send their stars to USA events.
Krzyzewski waited until the end of his press conference to address the one thing that seemingly disturbed him the most.  "That was a really bad thing to bring up on Paul George," said the Hall of Fame Coach with concern to the controversial article which posted at Yahoo Sports.
Krzyzesski went on to say that he went back to the hospital secretly in that ESPN had camera's were stationed in front of the hospital.  He ended up going through the back entrance and made his way to Paul's room where he spent time with the George family.
Krzyzewski said he did not take any pictures, but Paul's sister was one who he thought took and tweeted a picture out in an emotional moment when he hugged the injured player.
"To say that I orchestrated that and used Paul George is really wrong.  And if you want to think that, you're a bad person," said Krzyzewski.
"For somebody to put it out that way?  Well, you're really reaching."
Who wouldn't be upset when somebody thinks they know your intent?  After all it was Krzyzewski who was instrumental in immediately stopping the scrimmage game after the tragic injury.
The assertion obviously did not sit well with Krzyzewski.  He lost a spirited player who was to have been one of Team USA's leaders and he clearly cared about the young stars well being.
But reaching is nothing new and Wojnarowski implied that Coach K had an unfair recruiting advantage by coaching Team USA in his article as well.  Never mind, there was no mention of Billy Donovan, Jim Boeheim or the many others who coach and have access to players.
If you follow USA Basketball closely, you know that there have been many involved with players they may end up recruiting.  One local outlet made mention of comments made at a recruiting event where it was said that Billy Donovan struggled to see his son play where he supposedly mentioned it to someone.
Well, guess what?  A lot of the coaches whine at these events about one another in the decade plus I have been covering them.  But in fairness, most do so tactfully. Duke has won big under Krzyzewski, so he is an obvious target of these kinds of things as are the likes of Kentucky head man John Calipari and the way he handles his recruiting affairs.  If you seek out this kind of stuff or negative comments, they are not hard to find.
One of the things Krzyewski alluded to today, should have been clear to any Captain Obvious.  Krzyzewski has earned his position with USA Basketball through winning.  It's no secret, that winning certainly has it's advantages and that should not come as a surprise to anyone.
He earned the job in the eyes of Jerry Colangelo and together, they righted the ship which had sailed into embarrassingly rough seas when he took over.  Embarrassing in that the USA Basketball program had taken major steps backwards.
When Krzyewski inherited the Team USA program in 2005, the talk was whether anyone could bring players together to focus on the job at hand.  All you heard was that the world had caught up to USA Basketball and it had.  And nobody would complain about the thought of the team starting to thump it's competition again at that time.  Instead, there was a definitive thirst for victories.
Many want to take their shots by saying anyone could win that with the talent at hand, but why didn't they before?  Some folks memories from 2005 are long gone as is the fact that Krzyzewski dismantled the then used concepts and implemented a new vision alongside Colangelo.  And now, the new way of doing things is obviously a winning one.
Lost in the  criticism from some circles, was that Team USA won with players that many felt could not get the job done.  Instead of struggling, they came together and won all their games by twenty or more points.
USA Basketball is now on as solid a footing  and that was the hope all along.   Most celebrate this, but some are always looking for a way to post their snarky comments.  And most who do that kind of thing have not done their homework nor rely on actual facts or quotes, but assumptions or the views of a few.
Many fail to see how much time Krzyzewski has actually lost in recruiting with his USA duties.  There have been times when he could not go to key AAU recruiting events and sent assistants instead, at times getting down to the head of basketball operations for one of the past Nike Peach Jam event.
You see, Duke is allowed three team representatives out at a time per NCAA rules.  When Krzyzewski had an assistant in tow for USA duties, he missed being seen at major events in the July sessions.  And to think that doesn't possibly hurt in the last few events of the recruiting calendar is to ignore hard facts.
Krzyzewski has actually lost road time with his USA duties and if you add that time up  -- it pales in comparison to his implied advantage of having access to the USA teams.  During his entire tenure with USA Basketball, Krzyzewski claims to have gone to see the younger players on two days.
It only makes sense that Krzyzewski keeps up with the USA Basketball program as a whole.  His job is to not only coach his players but to help to evaluate talent for the future and to establish a base of stability.
Have USA Basketball duties benefitted Mike Krzyzewski?  Of course it has.  He's won Gold and the big games and coached some of the best players in the world.  When prospects see that, it helps with those who buy into the patriotism aspect and want to follow in the foot steps of their idols.
Oddly, for those with short memories, some in the Duke fan base and media types felt his duties would hurt and this was not that long ago.  They made the point of his time away from his team would be a detriment and that really makes the self-serving assertions look even more shallow if true on any level.
In the end, everything is all about opinion and perception, but opinions are by no means facts.  The bottom line is Coach Mike Krzyzewski took a dream job and who wouldn't have?
What many fail to see is the sacrifice said decision required.  There is no bigger patriot in the coaching than Krzyzewski.  My opinion, is that his joining USA Basketball was and is a match made in heaven.  His accomplishments should be celebrated and not picked apart in a pithy manner, but that is again, just another opinion.
The man took on the job on as coach USA Basketball and getting the program back to where it once was, as the clear leader and best hoops in the world.
Mission accomplished.