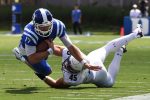 Something has to give when Duke takes on Miami in Wallace Wade Stadium tomorrow evening.  With a game being nationally televised on ESPN both teams will look to give it their best shot for a win which will continue to impress those who follow the programs.
About Miami
Miami has seen a resurgence under second year coach Mark Richt.  Once again, the Hurricanes have that swagger and talent.  There has been a major uptick in recruiting since his arrival and as usual there is an overabundance of team speed.
The Miami offense operates behind a solid offensive front.  That gives starts like quarterback Malik Rosier plenty of time to operate.  And then there is big time running back Mark Walton who is the team's top rusher.  But the dangerous thing about the Miami offense is that if you concentrate on one or two guys, others will burn you.  That is how deep they are with play makers.
The Hurricanes defense is quick and talented, especially in the box up front.  This is the best defensive front Duke will face and they will not hesitate to blitz Daniel Jones all night long.
About Duke
Let's start with the fact that Duke is 4-0 which includes a huge win over their rival a week ago.  The Blue Devils have been solid on defense to date, but Miami will surely test the teams secondary and the teams ability to stop big plays.  Still, if the Duke continues to get contributions up front, they should contend all night long.
The Duke offense has been better this season but is still looking for play makers at the wideout spot.  This has kept some pundits from jumping on the bandwagon despite the teams start.  Duke is still not getting a lot of respect in certain circles, but they have met every challenge to date.
One key for the success this season has been the Blue Devils ability to run the ball.  Duke hopes to iron out special teams issues for one miscue can mean the difference in winning or losing against the best team they've faced to date.
The Bottom Line
Some might ask will Duke face a hangover after their win over North Carolina.  Others may wonder if Miami will be caught looking ahead to their next game with Florida State.  And we most certainly have heard about the last time the two teams met where we all remember the improbable Hurricane win.
I think you can put all that to bed.  Richt did not coach the last time they met on Brooks Field.  Duke has shown an ability to move forward being 4-0 and Miami seems to respect Duke coming into the game, even if their fan base doesn't.
For Duke to win, it will take a mistake free game.  The team must match the big swings that Miami will throw.  When you take on Miami, you have to compete every single play for they can come back from deficits or pad their lead in a fast manner.
Miami can win if they show holes in the Duke offensive front and give Daniel Jones less time to operate.  Their mild weakness to date has been in their secondary, so look for them to send the blitz.  The Hurricanes strength is the Blue Devils weakness.  That would be their ability to score on explosive plays with their team speed.
Sometimes, you just have to  believe.
The pick here is Duke 28 Miami 27