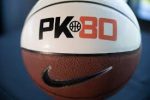 Still Buzzing From Comeback Win
As fans we get wired after big wins and that is exactly what happened to many in the Blue Devil Nation after Duke staged a rollicking comeback win.  Duke moved to 7-0 on the season but not before the emotional meter ran from one end to the other for the team and those who watched.
Looking at twitter timelines show many fans going from ranting on the team to sheer elation in a matter of minutes.  Yes, it was that kind of day and proof that one should never count any Mike Krzyzewski basketball team out.
But even Krzyzewski seemed thrown aback from the turnabout where he admitted his team could have folded being down 16 in the 2nd half with just over ten minutes to play.  Thankfully, Duke saved their best play for when their backs were against the wall and came away with a fine victory.
Marvin Bagley III
One thing for certain is that everybody knows who this young man is now.  It is amazing how many in the media did not seem to realize just how good Bagley not only is but will be.  In short, he is a special player and perhaps, dare I say, the best to wear the royal blue uniform?
Okay, I will back up and not get ahead of myself.  Thankfully, Bagley despite his immense skill set is a humble young man.  In the post game locker room he admitted that he could get better and that he is still learning the game.
So, maybe a new lesson or two will lead to 44 points instead of 34?  Anyhow, his numbers were 34 and 15 against a good team.  And he now has five double-doubles on the season.
Our stinger covering the game got to listen to Bagley answer several questions about his recent eye injury.  Seth Davis peppered the star with multiple questions about that and the incident did indeed bother Bagley more than some might think.
Bagley's play left many media types simply saying he was a pro.  Some fumbled for words when describing his play..  One ESPN announcer said he was a sure top five pick.  Top five?  Maybe he had been watching football.
One More Game to Go and Quite the Set Up
While some of you were cutting z's last evening, Florida and Gonzage were putting on a show of their own.  The Gators remained undefeated with a thrilling and hard-fought double overtime win over the Zags.
In their 111-105 victory, Florida was led by three main scorers which are all guards.  Jalen Hudson led the way with 35 points while playing with foul trouble.  Chris Chiozza added 26 and KeVaughn Allen chipped in with 23.  Did I mention these guys consist of one experienced senior and two juniors?
And to add a little more of a twist to this upcoming game, Duke Athletic Director Kevin White's son, Mike White is the Florida coach.  Yep!  Kevin has had to face this before and insisted it is all about Duke for him when I asked before a previous match up.  But man, his nerves will be in a bunch during what should be a great game between top 10 teams.
Oh, and one last thing.  Florida (5-0, ranked 7th) has scored over 100 point  in 4 of its 5 wins.  That tid-bit translates as they are the highest scoring team in the nation.
Rest?  What rest?
The teams participating in the PK80 have been quite busy with no time off.  All of them visited the Nike Facility upon arrival and have spent most of their time preparing for great opposition.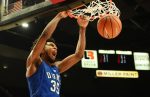 For those who are not familiar, the assistant coaches will take in the next opponents game.  That means Jeff Capel and company were up late last night watching Florida defeat Gonzaga.
Now with that said, Duke had a long journey to get to Portland and left the day after a recent win over Furman.  But Florida had a slightly longer journey per flight logs.  And now we have two east coast teams which will tip-off tomorrows game at 10:30 EST.
Win or lose, celebration or not -- Duke will then board a flight which will put them back in Durham, N.C. on Monday morning around 9:00.  So, if you are thinking about greeting them know they'd probably appreciate a low-key walk to the dorms before class.
Duke basketball will then have to adjust to east coast time again and wake up the next day to leave for Bloomington, Indiana.  And there, they will face an improving Hoosiers team in a game that tips at 9:40 or later.  They will then return to Durham well after midnight and have a little off before facing South Dakota at home on December 2nd.   They will take on St. Francis the 5th and then travel the next day to Boston to face the Eagles at 12 noon in their ACC opener.
That is the way it is when you are a cash cow for Nike and ESPN.  The good news is after the game with Boston College, the team gets ten well needed days off.
#BlueDevilNation Follow us on twitter @BlueDevilNation