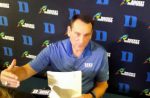 The first Mike Krzyzewski coached Duke team to take an offseason foreign trip was the 1983 group to France.  Freshman at that time could not make the journey per NCAA rules, but that has now changed.
Thank goodness for said changes, in that Duke will rely heavily on freshman this season and two of them in Tre Jones and Cam Reddish will be sidelined for their upcoming Canadian trip.
It was announced earlier today, that Cam Reddish is hobbled by a groin injury and that Tre Jones had yet to recover fully from an issue with his hip.  While both players will be ready to go for the season and are participating in some drills, Krzyzewski will err on the side of caution and sit his prized freshman but did call the injuries minor.
Duke has completed seven of ten allowed practices to date.  "So far, I couldn't be more pleased with the chemistry that has developed and these guys have been really fun to coach," said Krzyzewski.
Krzyzewski also said they have not been pushing conditioning as of yet, stating that his team was in decent shape but the staff did not want to push them too early. "For this trip, it is impossible to put in your entire system, so we are trying to keep it simple and see how our guys play."
As for the veterans, Krzyzewski said that Javin DeLaurier has played great and not just good.  And that Marques Bolden was healthy and adjusting to a new position and how he will be used.
Other notes from his press conference were that Jack White has lost ten pounds and is shooting the ball better per Krzyzewski and Alex O'Connell has been playing well.
The Duke coach also said the team would run a different offense this season with five men out and more motion.  And there was a strong hint that the team would get back to playing some man to man defense.
Before Kryzewsski came out for the media, R.J. Barrett took to the podium.  He was asked if there were instances where he could run the point as a lead ball handler in which he said yes.  Krzyzewski would later say that as well, "Having those two guys (Jones, Reddish) out will hurt our ball handling for the trip and there will be more emphasis with R.J. being out there.  Alex O'Connell will help and Zion (Williamson)  will be all over the place "
Krzyzewski also said this years group would be good defensively and that they would do a lot of things differently than a season ago on offense where he expects the players to have the freedom to create.
Duke will leave for the Toronto area on Sunday where they will play three games in six days.
GAME SCHEDULE
August 15, 2018, 7 p.m. ET Game 1 vs. Ryerson University Hershey Centre 
August 17, 2018, 6 p.m. ET Game 2 vs. University of Toronto Hershey Centre 
August 19, 2018, 3 p.m. ET Game 3 vs. McGill University Place Bell