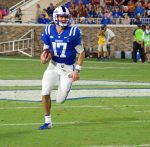 The Duke football team suffered their first loss of the season last evening, where Virginia Tech came away with a 31-14 victory.  Despite the disappointment, the Blue Devils still have a lot to play for and I will break that down while adding some perspective.
Anyone would have taken 4-1
Duke goes into their bye week of the season 4-1 and how many would have gladly taken that record at the beginning of the season?  The Blue Devils played two games without starting quarterback Daniel Jones and every game without multiple starters yet have positioned themselves two wins from bowl eligibility.
Duke is a better team than the one which showed up against the Hokies
The Blue Devils did not play their A-game and Virginia Tech defensive coordinator Bud Foster had a masterful plan against Duke.  He kept the Hokies in mass deep zone coverage keeping everything in front of him.  In other words, he dropped eight players which took away the long ball while allowing his front to get to the quarterback.  Duke also lost the turnover battle, not to mention a key call where the Hokie ball carrier appeared to be short of a first down via his knee touching.  Of course, the defense while playing well for Duke created no turnovers and that happened for the last eight quarters of football.  Still, these things are correctable and with a few different outcomes on key plays and Duke would have been much closer to winning the game.
Off Week Healing
First, the bad news in that running back Marvin Hubbard is out for the season after rupturing his Achilles tendon.  That takes a toll on backfield depth.  But in with the off week at hand, Duke will be allowed healing time for players injuries.  The Blue Devils will be much healthier when they get back to action against Georgia Tech.
The Key Cutcliffe Statement
The key quote from Cutcliffe says it all, "We will win out share if we keep our fight."  He was talking about the upcoming games on the ACC schedule and he was referring to how important it is for the team to remain hungry and play with more of an edge than they did in their loss.  A season ago, Duke went on a tailspin losing streak after going 4-0.  No games in the ACC are a gimme, so the most important game is without a doubt the matchup with Georgia Tech for a win puts the thought of a drought out of peoples minds.
A Little Perspective
Many fans were disappointed with last evenings loss.  Duke had a chance to remain in the top 25 for a few weeks and go for the Coastal Division crown.  Duke will now play for a good bowl game in that they still have road games with Miami and Clemson, making a division crown a tough get.
But this team is capable of playing in a good bowl game against a good team.  And they should get up off the mat after not showing up in the way they wanted to on national television.
You know how far the program has come when fans are in angst over losses and demanding more.  Before Cutcliffe came to Durham, catching wins were akin to a tortoise getting across the street before a car came by on US Highway 15-501.
Duke should be going bowling for the fifth time in six seasons and that was once unheard of.  The program is in pretty good shape and I feel the team may take this last loss personally.
Only time will tell, but Duke can position itself to play in a top-notch bowl game against a power five foe.  But to do so, they have to take it one game at a time and simply improve in the off week.