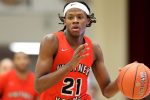 The Duke basketball staff will entertain DJ Steward this weekend for his official visit.  The Blue Devils have been heavily involved with the dual guard since this summer.
Steward is a Chicago native and that, of course, is where head coach Mike Krzyzewski is from.  The Blue Devils staff flew up to visit the star guard earlier this week.
Steward hoops for Whitney Young High School which produced Duke alum Jahlil Okafor.
It is no secret that Steward has been a focus of the Blue Devils staff and they are now moving quickly to state their case.  This will be the Stewart's family first visit to campus.
Steward most recently visited Texas and many have said Louisville has been all-in on him of late.  Both Duke and Louisville visited Chicago this week, but the Blue Devils have moved fast to get him on campus and show him how they envision his use should he become a part of the brotherhood.
Duke continues it's busy September and most recently hosted Henry Coleman and Walker Kessler as they try to round out their class.  The Blue Devils will also host Mark Williams soon as they zero in on their prospects of choice.
For more on Steward and how we think this recruitment will play out, join Blue Devil Nation during our 60.00 for one-year special.  We give you a straight forward take without the fluff on recruiting and views on the team.