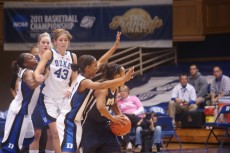 DURHAM - The fifth ranked Duke Women's team settled in after a slow start to defeat a pesky Brigham Young team 69-54 in the season opener for both teams.  Karima Christmas led the way offensively for the Blue Devils tallying 20 points to go with 7 rebounds.
Jasmine Thomas started the game 0-7 from the field but hit the first two buckets of the second half and the rest of the Blue Devils played off her spirited play. Thomas finished the game with 14 points and scurried her way to a team high 11 rebounds.
Duke opened up a double digit lead early in the half, but BYU refused to fold cutting the lead to 6 with just over 12 minutes to go. But Chloe Wells and Jasmine Thomas sparked a run and suddenly Duke was up 60-43 with 4:04 to go.  That sealed the deal for Duke who coasted to a win after wearing down the visitor.
The Blue Devils dominated the paint where they out-rebounded the Cougars by a 52-37 margin and 28-2 scoring edge.  Duke also got help from Kathleen Scheer who scored 13 points and grabbed 8 rebounds.  She switched positions in the off season and looks at home in the power forward slot for Coach P's team.
Sidebar -The Blue Devils are nursing several injuries and Shay Selby sat out the contest.  Coach P was pleased with her teams defensive effort during the post game press conference and the play of true freshman Chloe Wells.  Duke next takes on Southern Cal this coming Monday in Cameron Indoor Stadium with seat available.  Coach P said that aggressive play and making things happen would earn players time on a deep team.  Coach also said that Duke will be better against the press as the season progresses and that she was excited about this teams potential.
Game Notes - Duke won it's 19th straight season opener and improved to 2-0 all time against BYU.  Jasmine Thomas posted her third career double-double.  Kathleen Scheer got her first collegiate start and had a career high 8 boards.  Chloe Wells and was the first Duke freshman since Abby Waner to start as a true freshman.  Karima Christmas scored 20 or more points for the 4th time in her career.  All five members of the #1 rated recruiting class played in the game for the Blue Devils.