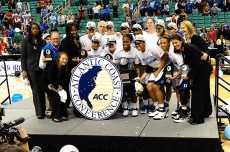 GREENSBORO - The Duke Blue Devils rolled past North Carolina to win their second consecutive ACC Tournament Championship by a score of 81-66 on Sunday afternoon in Greensboro.  Duke was led by tournament MVP Jasmine Thomas who scored 21 points and she was helped by fellow senior Karima Christmas who had 13 points and 9 boards.
But it was the second half play of true freshman Haley Peters that added a huge sprak to the Blue Devils efforts.  Peters knocked down 5 of 6 free throws and scored 14 points, second most on the team to go with 4 rebounds.
"I thought that was the greatest screen  on that play along the baseline where Jazz hit a three and she got the call," said McCallie on a play which Thomas nailed the three and Haley was fouled, went to the line, knocked down two free throws for a 5 point play which in hindsight was a dagger.
"When you sit on the bench, sometimes it's helpful because you can see whats going on out there and see your teams attitude.  When I came in I tried to be an energy player," stated Peters.
Duke had their hands full with Jessica Breland who scored a game high 27 points to go with her 7 rebounds. "I thought we had done a good job on Breland  until I saw here stat line," said McCallie in praise of her play.
Duke had a big lift from the players off their bench, mainly due to the aformentioned Peters where they outscored the Tar Heels 28-12.  The Blue Devils also won the battle of the boards holding a 38-27 edge.
Once again, McCallie utilized here deep bench where 11 Blue Devils got minutes.  This seemed to be a strategic move for the Tar Heels wore down a bit during the stretch run.
"I;m very, very proud of our team, our seniors and the leadership exhibited out there throughout this tournament, said McCallie.  She continued, "We're very excited  to represent Duke and be able to be together and have so much fun."
Karima Christmas joined Jasmine Thomas on the first team all tournament team while Chelsea Gray was named to the second team.  Had the votes not been taken early, you would have likely seen Haley Peters name as well.
Duke won their seventh tournament title, all since the year 2000.  Duke now holds a 5-3 advantage when playing North Carolina for the title.  The Blue Devils have also played in 10 of the last 12 finals, a testament to the programs strength.
The win pushed the Blue Devils record to 29-3 on the season and they were rated as the second best team in the RPI rating before the game. Duke must now wait two weeks for the NCAA selection show to learn of their next opponent and that game will be played in Cameron Indoor Stadium where Duke hosts a first round regional.