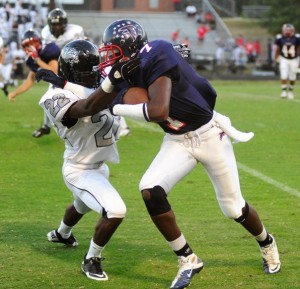 The Blue Devils' secondary has been area of recent concern for many Duke fans, and the coaching staff has worked hard to upgrade the depth over the past two recruiting classes. In the class of 2012, Duke has already been in contact with Durham athlete Phillip Williamson, a 6'2" 210 pound prospect from Jordan High School. The physical safety prospect earned 2010 All-Conference honors, leading Jordan to the state playoffs and a 7-5 overall record. Although it's early in the process, the Blue Devils have stood out to Phillip and are the earlier leader.
BDN: Can you start off by describing your strengths for fans who haven't had a chance to see you play?
I'm a hard worker; I'm the first one on the field, last one out.  Same with the weight room, just a hard worker and a football player.
BDN: What are some of the things you're working on this offseason?
I'm working on my speed, flexibility, and quickness.  And I'm trying to get stronger.
BDN: What are your goals for your senior season?
I want a state championship.  That's all it is, that's all it means to me, it's just team.  I wouldn't mind winning, but I really care about the team more than just myself.
BDN: As you approach your college decision, what are the most important things you are looking for in a school?
Academics and the coaching.
BDN: Is there a specific academic field you are interested in?
Sociology.
BDN: Who are the schools you have heard from the most so far?
Duke, [North] Carolina, Maryland, Wake Forest, Liberty, I got stuff from Clemson, I got stuff from Auburn, Illinois.  I got like 2 things from Oregon.  I heard from Miami, so schools like that.
BDN: Have you had a chance to visit any schools?
Unofficially, I went to Duke.  But I went to like a lot of schools, to their games.
BDN: Have any schools stood out to you at this point in the process?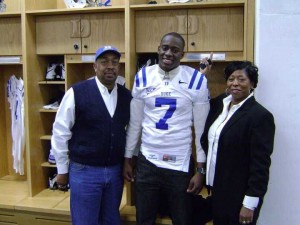 I think Duke, out of all of them, for the academics, and then it's a building process, and I'd like to be part of a building process.
BDN: Do you have any plans for additional visits this spring or summer?
Not really.  Like, me and my parents are looking at schools to visit right now, but right now not really. I'm going to visit Duke and [North] Carolina probably a lot this spring, though.
BDN: Is there anything else you think college football fans should know about you?
I love fans hyping the game up, that really gets me, it's all the emotion of a football game, fans really help with that.  Just keep cheering for the team and that'd be good for me.
BDN: Thanks a lot, Phillip, and best of luck.
All right.