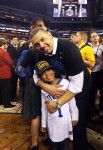 Duke Basketball is coming of another Championship season and their success has a far reaching effect. Duke Basketball truly never stops and the staff hit the road running after the title game.  I caught up recently with Duke Assistant Coach Jeff Capel who shared his thoughts on the title game, recruiting and more.
One of the big late season signings was the addition of Brandon Ingram.  Can you talk about his game?
He's really a 6-10 guard.  He has to get stronger, obviously, but he's been able to have success and is a big time worker who can pass, handle the ball and shoot,  He'll be an instrumental part of this team but we're not sure just how he'll fit.
Talk about the staff you work with.  The chemistry helped Duke win a National Championship and you join a rare club by gaining that honor.
I think our staff is great.  Obviously Coach (Kryzyzewski) is the leader of it.  Jon (Scheyer) brought  a new energy and he's going to be  a really good head coach one day.  I didn't know Jon as a player because I was coaching at Oklahoma.  I knew he was a really good player and I imagine he had a good feel for the game because he does as a coach.  Nate is a big time worker who has energy and passion.  There is no one more loyal and he's always there for our guys.  I think we all bring something unique and work well together. We all have ego's but we don;t have ego problem.  We just fit well together.
What did you guys do to help this team achieve the ultimate goal?
Really it was what all of us did.  Some of the things coach did this year, I know going forward when I become a head coach again that I will benefit from all the mental work in practice,  Just the little buttons he pushed to make us better as a team and to watch each player get better from his coaching played a such a big role.  When we went to Louisville, all of a sudden we switched to zone and won a big game there.  The things coach did in those meetings like keeping everything positive was huge for us. The main reason for success is that our guys just bought in.  There was no jealousy and everyone was about winning.  When you have that and talent, you have a chance to do something special and we did.
Well, you will be able to practice with eleven players next season.   What will it be like to have a full practice roster again?
(Laughs)  It will be like the beginning of the season.  Our practices at the beginning of the season were great.  They were competitive in that we had ten really good players who got after each other.  And then we went to that lull and were down to eight players.  We adjust to what we have.  That is what coach does.  We don't really have a system going into each season.  But what we do is develop our teams strengths with who we have on the roster at that time.
When do you put last season behind you and move forward with next seasons team?
It will start when they get here and they will get here during the second session of summer school in late June.  When you have a young team it's always evolving and that is what will happen with them.  Look at us the last six weeks of the season.  Justise Winslow was arguably our best player and that changed the dynamic of our team and as he got better, out team got better.  Going into the Final Four we added new things for Justise  Throughout the season we kept adding things for Jah.  As players develop we';ll add more to their role,.
Talk  a bit about the returning players.
Amile, Marshall, Matt and Grayson were a part of a championship.  Hopefully, they can instill the work ethic it takes to get there to the younger players we have coming in.
You win a National Championship, get back to Durham and have to hit the recruiting trail in the same week.  Did you ever want to hit the pause button and stop and enjoy the moment a bit?
Would you like to hit the pause button?  Yes.  We were up all night Monday watching the game again.  Then we get back Tuesday for the celebration at Cameron and we're exhausted.  By the time you get your bags are unpacked, it's Wednesday and we are meeting with the team and then Thursday we are out recruiting.  So, yes, it would have been nice to have had more time, but that's the way it is.  It was necessary and I think we've done a good job out on the road. It's tough but necessary.  We have to do it.  We enjoy doing it and have a zeal for it and we like the results.
At what point does the staff put the title game behind them and move forward to next season?
You never put it behind you but you have to move forward.  Every now and then we talk about it.  Every now and then Coach will say to us, hey, just in case you don;t remember, we won the National Championship. We knew we had to get to work.  We knew we had to get these guys,  We knew we had to recruit.  And that's what happened with Brandon Ingram and Derryck Thornton.  We had been working on them for a while.  We had a three-year relationship with Ingram and a year with Thornton, so it wasn't like we were getting to know that, but we did close them.
It was kind of like the perfect storm.  You win the title and then parlayed that into successful recruiting. Duke Basketball never stops, huh?
Yep.