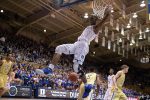 The Duke Blue Devils face the N.C. State Wolfpack in Cameron Indoor Stadium this evening.  Duke is coming off a win over Miami where a line up tweak sparked a stellar second half effort.  After the Blue Devils worst half of basketball this season, Jeff Capel inserted Frank Jackson and Matt Jones at the guard spots.  The team went on a 20-2 run and overcame an 11 point deficit at the break.
Tonight, the Blue Devils face an injured Wolfpack team.  No, they're not injured in the sense Duke has been where players have missed many games with ailments.  They are inured in the fact that there season is on the line with concern to a possible NCAA berth.
The Wolfpack have been an enigma.  They are 12-7 overall and 2-5 in the ACC.  They are a talented team that simply has not put it together on the court.  They will play likely, a pardon the pun, cornered animal and Duke will have to match that intensity.
Some are claiming the Pack have played their way out of the NCAA Tournament already.  However, an  upset over Duke would be something they could hang their hat on.  They also have perhaps the best freshman in the nation in Dennis Smith Jr. It is also worth noting that there are players on the roster that have hurt  Duke in the past.   In short, they match up well with the Blue Devils on paper.
Duke is seeking some momentum and consistency.  They looked just awful in the first half against Miami but great in the second half. That effort is what will be needed to win their second game in  a row. Capel recently said he is not opposed to tweaking the lineup in order for that to happen.
The Blue Devils certainly got a needed shot in the arm with the return of Amile Jefferson.  They also saw what Marques Bolden could do where he had his best game of the season.  This game will be more of a test for Bolden who will face a more talented front court and he will need the help of the aforementioned Jefferson.
Perhaps the layoff Duke had been the culprit of the slow start against Miami.  In that game, the team had zero assists and three pointers in the first half.  Duke needs to avoid such a start moving forward and play with the determination they showed late in their last win.
At some point, Duke needs to come together as a team and develop the continuity it takes to go far in March.  A win tonight would go a long ways in showing that is currently happening.
There will come a time when Mike Krzyzewski returns to coach his team.  Players will get more familiar with one another and get healthier.  As has been said, Duke is playing catch up due to the many set backs.
Many have said Duke hasn't got it this year as some fans sip their glass half full beverages.  To those fans and media alike, I ask when has Duke ever folded in the past.  This is a team that should and likely will get a lot better as the season moves along.
Duke is labeled a 16 point favorite tonight.  I personally think that is a bit much.  At the same time, I think Duke will pull this game out and a win is the key to a better outlook on the season.
Cameron Indoor Stadium was great in the last outing and the team will need a lift again tonight against a cross town rival.  The game tips at 7 and can be seen on ESPN.