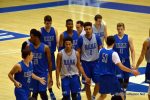 The Duke Blue Devils had a most humbling week with two close losses on the road to Syracuse and then Miami.  After a seven game winning streak where the team seemed to have turned a corner, they now find themselves seeking answers.
While the Blue Devils were certainly in both games until the end, that is little consolation.  The reason is they have almost assuredly played themselves out of a double bye in the coming ACC Tournament.
Duke came into the season ranked number one in the nation.  There has been well documented injuries to not only the team but the staff itself in its coach Mike Krzyzewski.  The expectations have not been met for many varying reasons.
In yesterdays loss to Miami, Duke played more of Harry Giles and Marques Bolden with Grayson Allen on the bench with an injury.   It was painfully obvious to see that the Blue Devils had played little time together.
There were instances when teammates were battling each other for rebounds, bad passes and lapses of communication leading to turnovers.  It was also plain to see that it takes a while for freshman big men to mesh due to a lack of earlier playing time in the season.
Add to that some late game jitters or simply not executing on offense and a loss to a hungry team happened.  That loss will cause the Blue Devils to tumble in the polls this week while playing the top two games in the ACC standings to close out the regular season.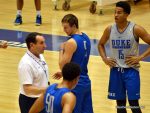 Krzyzeski has mentioned on more than one occasion that the team is seeking continuity.  That remains the case late in the season with March less than a week away.  And that is not ideal for a team many thought could not possibly fail to be a Final Four contender.
Right now, Duke has many more question marks than answers.  They struggle on defense on occasion.  But that was not the case yesterday for the offense was stagnant.  It was as if the team was wading through the thick south Florida humidity rather than be in any kind of flow.  It was as if they were playing their opponent or the man in front of them but not the game.
Many point to the lack of a true point guard as to the issues.  They may be right.  Duke has a bevy of solid offensive players who should be able to score the ball.  But answers with concern to distribution have not worked consistently.  Duke is not as good as the sum of their parts and that again, points back to continuity.
Duke played hard yesterday,  They left it on the court.  But they seem to be making the game harder than it should be at times.  For the Blue Devils to turn this around they have to get on the same page and quick.
The team has not shown the ability to put teams away.  Nor are they playing well in close games with their team execution.  Duke finds itself saddled with seven losses where they could as easily been just four or less.
Right now Duke just doesn't seem to have that ''it'' factor whatever it might be.  Many are doubting them for good reason with selection Sunday two weeks away.  Duke must take the bad taste in their mouth from the two losses and turn it into something positive.
If Duke doesn't step up and learn from the close losses, the season will end and this team will be talked about for what could have been. There is no time to feel sorry for themselves which I don't think a Mike Krzyzewski coached team would do.  But there is a sense of urgency for the team.
Duke has a mere two days to prepare for a Florida State team that wants to further their misery.  The Seminoles smacked Duke at their place and they are deep and talented.  And they are playing better as a unit than is Duke.
In this match up, Duke needs to win their final game in Cameron Indoor Stadium this season.  It will be Senior Day for Amile Jefferson and Matt Jones.  And those two Blue Devils have national championship rings.
Duke was supposed to possibly get Jefferson, Jones and the sometimes embattled Grayson Allen another ring this season.  They came into the campaign with a high ceiling.  There was a mixture of solid veterans and a perceived great freshman class.
For those hopes to come true, Duke must get together both mentally and physically.  The staff will need to push the right buttons and the players will have to concentrate and take advantage of every on court opportunity.
Duke is now the underdog.  They are the team that many expect to fold in the final week of the season.  They could easily be caught looking ahead to North Carolina in the eyes of many.  In short, doubters abound.
Some of this years team will move on to the NBA after the season. The coming contest with the Seminoles could be the last game in Cameron for more than just the seniors.  In fact, it will be.  If the young men want to be remembered in a positive way, they must blend as anticipated with the veterans.  And they will need to fight like there is no tomorrow putting the team first.
Let me clarify that I in no way mean any of these players do not represent Duke in an up standing manner.  The memory with concern to that kind of thing will be solid.  But what they do on the court or their legacy at Duke is on the line.
Teams have come back in the past to right the ship and make a run in March.  There was a North Carolina team in the early 2000's and most recently Syracuse last season.  There is time left for success.
Whether this Duke team is remembered for their in season adversity or their late season success us upon us.  And this is Duke Basketball, so the eyes of the nation will all be watching to see how the story will take place and eventually end.
Duke takes on Florida State at 7:00 PM ET this Tuesday before travelling to North Carolina to close out the regular season on Saturday.  Duke is currently tied for 5th in the Atlantic Coast Conference with a record of  22-7, 10-6.