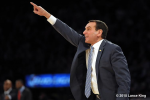 The Duke Blue Devils  used 15 to 3 run to close the first half where they took a 10 point lead into the longer room.  Duke would hanf on to whip the Florida Gators 84-74 in the Jimmy V Classic.
Coach Mike Krzyzewski said, ''It was a huge win for us.''  Duke goes to 9-1 on the season and they avenged an earlier close loss to Kansas in Madison Square Garden.
Duke was aided by three double figure scorers paced by Luke Kennard who ended the game with 29 points.  Kennard was coming off a career high scoring game of 35 points in his last outing and was 7th in the ACC in scoring coming into the contest.
Amile Jefferson added 24 points to go with his game high 15 rebounds which translated into his fifth double-double performance of the season.  Jefferson also had 2 blocked shots in the game showing that he is one of the more consistent performers on this years team with his overall stat line.
Jefferson did not practice the day before in that he went home to attend his grandmothers funeral.  And for the record, the Divinity School graduate student was very close to her where she helped raise him while he was growing up.
It was clear that Jefferson wanted to have a big game and he did as his Father watched from the stands.  Jefferson drew a tough defensive assignment where he guarded Florida big man John Agbubu, the nations leading shot blocker who went just 2 of 9 from the field.
Duke freshmen, Jayson Tatum would come off the bench to add 22 points to go with 8 rebounds.  It was quite impressive that Tatum was able to blend in with the team in just his second game of the season which is a reflection on how good he can be.
'''We sat him a couple of minutes but when he came back in wow, he really played well,'' said Krzyzewski.  He added, ''Welcome back.''
The Duke coach also had high praise for Jefferson where he was clearly happy with his players efforts and what they had been through.  Tatum had actually attended a funeral in his home town as well, so both players came to New York after that business was handled.
Kennard, Jefferson and Tatum scored 75 of the Blue Devils 84 points.  In fact, the three held a 75-74 edge over the entire Gator roster.
Duke hit 13 of 14 free throws which was there best performance from the stripe this season.  The Blue Devils had 8 steals as well with 7 of those coming in the first half and they won the battle of the boards by margin.
Pre season ACC Player of the Year selection, Grayson Allen struggled shooting the ball but came away with a career high 8 assists.  If Duke is to be successful as the season progresses, there will be times when players have to find ways to contribute when they are otherwise struggling a bit with their game.
Duke will now return to Durham where the players will be involved with first semester exams.  They will return to the court on Saturday where they travel to Las Vegas to take on the UNLV Running Rebels in a late afternoon game.  Duke will then go on a nine-day break before returning to Cameron Indoor Stadium to take on Tennesee State.