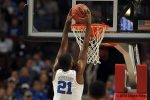 Welcome to the very first edition of your Duke Athletic related questions answered.  Each week , we'll take the best questions via our twitter feed or out Facebook Group or Facebook Page.  You can send those in every Monday.
With the departure of Derryck Thorton, does this mean Frank Jackson will get the ball from day one at the point guard spot?
The general consensus out there would be that this indeed happens, but not so fast.  Jackson is an incredibly talented young man with a good handle but his decision-making needs refinement when it comes to dishing the ball.  He was the man at his high school teams level and now must become accustomed to playing with great players at Duke.  What does that mean?  Enter Grayson Allen into the mix.  Allen led the team in assists a season ago and when a player of his stature barrels down the court, he will draw plenty of defenders.  Allen may want to show the NBA types that he can play both guard spots when needed and his game may end up translating best to scouts if this happens.  I think we see both players sharing the duties.
Do you think Duke can go undefeated in the ACC next season?
No.  As talented as they will be, it is asking a lot to do so in what will be the best league in America.  I recently posted an article with the slate as it is to date.  Duke will face all the toughest teams in the league on the road and that includes UNC, Louisville, Virginia, Virginia Tech, Syracuse, Florida State and Notre Dame.  I think fans should be excited for sure but ground their expectations  in reality.
With a loaded roster will Amile Jefferson still be a starter next year?
One of the things one learns about Duke Basketball is that nothing is promised.  That means you have to earn burn on the practice floor. Fans get caught up with starting when they shouldn't.  Coach Krzyzewski has on more than one occasion called his sixth man a starter.  A look at minutes played shows players off the bench can okay more than starters in the past.  Enough about that.  I do think Amile Jefferson, a senior captain, will start.  He was having a phenomenal year before going down to injury and there is no reason for that not to continue.  What Duke lost in his play a season ago will be gained in 2016-17.  There is nothing like a veteran presence on the court and in the locker room to show others the Duke way of doing things.  I'm very excited that Jefferson will be on the roster next season playing a major role.
What are your impressions of Duke Football this coming season?
Well, Spring practice has completed and it did provide some insight. With a much tougher schedule, I think the goal of making a bowl game to be realistic.  Duke, while talented, has some question marks. The offensive line didn't look that good at times and this has been an area of no worry to the point fans have been spoiled.  Duke is seeking play makers on the outside, while developing quarterbacks who have not seen the field a lot in the past.  They are thin in experience at defensive end and must replace a leader in future NFL stat Jeremy Cash.  The positives are that recruiting is going well, the running backs, linebackers and secondary could all be better positions.  I do think fans will have fun in an almost completed Wallace Wade Stadium and that Duke will continue to compete.  The program foundation is on solid ground, but occasionally there has to be a step back in order to move forward. That is called rebuilding.  I would be quite happy with yet another bowl invitation.