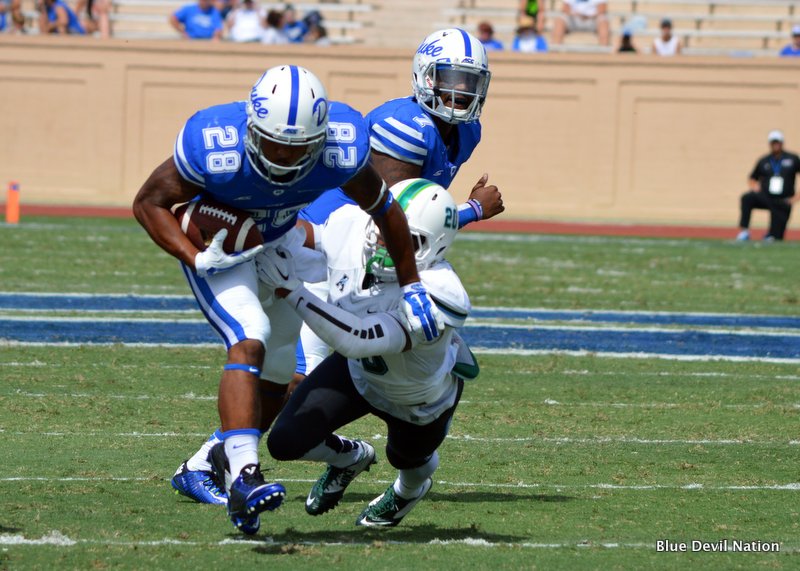 Duke at Tulane
9:30 PM ET
Thursday, September 3
New Orleans, LA
TV: CBS Sports Network
Radio: Blue Devil IMG Sports Network
Duke in 2015: 0-0
Tulane in 2014: 0-0
DUKE INJURIES
OUT – Jela Duncan
OUT FOR SEASON – Bryon Fields
TULANE INJURIES - not available at this time
Duke and Tulane last faced each other on September 20, 2014 in a game Duke won 47-13 at Wallace Wade Stadium. The overall series is tied 2-2. CBS Sports ranks Duke number 52 and Tulane number 106 of 128 FBS teams.
HOW DUKE CAN WIN
Executing on special teams, establishing the running game early and playing solid defense will be the paths to success for Duke on Thursday evening
.
The Blue Devils are positioned to excel on special teams in 2015 behind experienced and talented specialists Will Monday (P), Ross Martin (K), Thomas Hennessy (LS) and DeVon Edwards (KR). Identifying who will handle punt return duties is the only question requiring an answer on special teams. Winning the third phase of the game will give Duke an advantage on offense and defense through superior field position.
Establishing the running game early is a must for the Blue Devils. Duke has a big, experienced offensive line with talented runners lining up behind them. Pounding away at the Tulane defense early will pay dividends late. A base strategy for this game will be to utilize superior depth to create an advantage. Once the running game is clicking, the play action pass becomes a lethal weapon.
On defense, Duke will look to keep plays in front of them, while looking for opportunities to harass the Tulane offense with pressure. There is not a magical formula or secret strategy to discuss here, it is the basic defensive philosophy Duke has adhered to in recent years - don't give up big plays but be opportunistic.
HOW DUKE CAN LOSE
Turnovers and untimely penalties are always a concern in the first game of the season. Duke has minimized both the past few seasons and that trend needs to continue in 2015. In last seasons win over Tulane, Duke was Plus 3 on turnovers with penalty yards being a wash.
Tulane is a much improved team due to the experience gained by their young players last season. The Green Wave played 23 freshmen in 2014. The Blue Devils must avoid turnovers, while simultaneously creating them in order to avoid an upset in New Orleans.
Failing to contain QB Tanner Lee is another way Duke can lose this game. Lee is a talented athlete who possesses the skill sets to burn the Blue Devils if left unchecked. Duke must mix up the defensive looks to confuse Lee, while creating pressure. Pressure will be the difference between Lee making mistakes or making plays!
Failing to prevent Tulane from successfully running the ball is another way Duke can lose this game. Tulane has a trio of talented running backs in Sherman Badie, Lazedrick Thompson and Dontrell Hilliard who combined to rush for 1673 yards in 2014. If the Green Wave achieve success running the ball on 1st and 2nd down, it will prevent obvious 3rd down passing situations shifting stress off interception prone QB Tanner Lee onto the Blue Devils defense.
True freshman running back Devin "Jet" Glenn is another player who could pose a problem for the Blue Devils. Glenn is extremely fast, "dag gone fast" according to Tulane Head Coach Curtis Johnson, has earned rave reviews in practice and projects to be an immediate factor on kick-off and punt returns and possible in the passing game.
WHY DUKE WILL WIN
Superior depth will be a significant advantage in the heat and humidity of New Orleans in early September. Duke will look to play a lot of players early in order to have the starters fresh in the 4th quarter. Duke's better overall talent level will be evident throughout the game and make the difference after halftime.
Special Teams! The Blue Devils will have a decisive advantage in the kicking game with talented and experienced Punter Will Monday and Kicker Ross Martin, and Coach David Cutcliffe will use that advantage to win the field position battle. Duke will convert favorable field position into touchdowns.
Finally, the Blue Devils will win because of more experienced coaching. Head Coach David Cutcliffe and his talented staff will have their team primed and ready to go on Thursday evening. Solid preparation will be a factor.
BOTTOM LINE
Duke's superior talent and depth will take a toll on the Green Wave over the course of the game. Tulane is improving their talent level, but they are still a year or two away from being able to upset a Power 5 team. This game will be tightly contested for three quarters before Duke opens it up in the 4th quarter to win by two touchdowns.
Duke 31, Tulane 17
Game Preview: Duke at Tulane