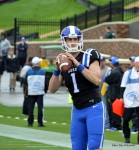 The Atlantic Coast Conference released the 2016 football scheduled and we take an early  look at the Duke Blue Devils slate. Duke draws a very competitive schedule during the season in which they will unveil even more changes to Wallace Wade Stadium.
SEPTEMBER
3 –  N.C. CENTRAL (8-3) - Duke once again opens with the Eagles in Wallace Wade Stadium with the usual Employment Appreciation Day.  No game time has been set but expect a night-time kickoff to the season.  This will be the easiest game on the slate this season.
10 – WAKE FOREST (3-9) - In a stark departure from seasons past, Duke will take on Wake Forest very early on their slate.  The Deacons have become a rival of sorts and this will be a key early ACC match up that is pretty much a must win game for the Blue Devils.  A much improved Demon Deacon program will present a challenge on HOF Day on Brooks Field.
17 – at Northwestern (10-3) Duke hits the road in week 3 against what should be a formidable Northwestern team that finished among the nation's top 25 teams last year.  The Wildcats are not expected to take a major step back and will be the favorite in this contest.  Last season they defeated the Stanford Cardinals in an early home game and later Duke in Durham.
24 – at Notre Dame (10-3) The Blue Devils will have little time to lick any early season wounds before heading to South Bend to take on the Fighting Irish in a game that will be televised by NBC.  Notre Dame will be a pre season Top 10 or better pick and they will present quite the challenge for Duke.  The Irish replaces an FCS team on the schedule in a major upgrade of the overall slate.  It should be a lot of fun for the fan base and team to use this game as an early measuring stick on where the program stands before a difficult ACC slate ahead.
1 – VIRGINIA (4-8) Duke will take on a Cavaliers team sporting a new head coach in Bronco Mendenhall,  What that means is the Duke staff doesn't know what to expect at this time and will have three games of film to base strategy on.  What we will likely see is am improved Virginia team that recruited well under its former coach but the talent didn't always translate on the field.  Make no mistake that counting this game as a sure win would be unwise and the uncertainty of their strategy makes this game as interesting as ever.  Duke wants revenge for sure due to last seasons loss where they didn't show up until late in the game.
8 – ARMY (2-10) Duke will celebrate the 75th Anniversary of the Rose Bowl Game on this day.  Army is improving but this is one of the more winnable games on this years slate.
14 – at Louisville (8-5) The Cards stumbled out of the gate last season before playing good football down the stretch and knocking off Texas A & M in style in their bowl game.  The bad news for Duke here is that three players who could have gone to the NFL Draft have decided to return on the defensive side of the ball.  While Louisville will be picked behind Clemson and Florida State, they will be considered the 3rd best team in the league and ranked in the pre season polls.  You will hear about Duke backing out of a game with the Cards years ago before kickoff when the program was building before kickoff.  Remember where you heard that.  This game will also be held on a Friday evening and televised by the ESPN network.
22 – OPEN DATE - The open date could not come at a better time.  After a stretch of games which include road games at Northwestern, Notre Dame, Louisville  and rival Virginia at home, Duke will need time to mend some injuries and rest.  The break will also allow them to plan for the game ahead against an option team.
29 – at Georgia Tech (3-9) The Yellow Jackets problems a year ago started when Duke took them down in Wallace Wade Stadium and they will seek revenge.  Paul Johnson dissed the Duke program years back during a coaching search but good came out of it in that Duke landed the greatest fit they could possibly have in David Cutcliffe.  Johnson's teams had their way with Duke early in but that has been flipped.  When people count the Yellow Jackets out, they win big.  When the media picks them to win the Coastal, they falter, Folks will pick the Jackets in the middle of the pack next season which by the aforementioned oddity means they'll be pretty good.
5 – VIRGINIA TECH (7-6) The Beamer era is over and in some ways that is bad.  The reason is that Cutcliffe knew what kind of system the Hokies ran, adjusted to it and had success against what had been an ACC powerhouse.  Enter Justin Fuente, who comes from Memphis and who looks to revitalize the Hokies.    On Military Appreciation Day in Wallace Wade Stadium Duke Football will begin the toughest November slate in recent memory.
10 – NORTH CAROLINA (11-3) Everybody wants to forget the Tar Heels hanging 66 points on Duke a season ago.  The bad news is that they return a lot of players from that team with a staff in tact.  Duke has struggled with their rival in the last two outings and this game will be played on a Thursday night and televised on the ESPN Networks.  UNC will be a pre season top 25 team and their program made a major leap last season with a terrific offense.  Duke will have just five days rest after playing a physical Hokies team before kickoff.
19 – at Pittsburgh (8-5) The good news is that Duke will have nine days rest before this game.  The bad news is that Duke closes out the season with two road games against formidable conference foes.  Pitt returns enough players to be one of the better teams in the division and their coaching staff is in tact which is new to the program due to recent departures.  The ACC back loaded the schedule with Coastal Division games where each should be important.
26 – at Miami (8-5) Duke lost this game a season ago, sort of.  Much will be made before kick off of last seasons officiating debacle in Wally World. Gone is Al Golden.  Enter former Georgia coach Mark Richt who takes over a talented roster and a solid recruiting class. No less than three new coaches are in the Coastal Division this season which will present a new challenge in preparation but Duke will have plenty of film to watch before their last game of the season. The Hurricanes will be picked in the upper part of the division in pre season polls.
FINAL THOUGHTS
The schedule is in a word, tougher.  Duke plays just six home games this season while looking to continue that bowl participation streak.  Duke fans will see a more complete Wallace Wade Stadium which should infuse the team and fan base.  A season ago, even the Duke team had to get used to the changes but now they can start to build a home team advantage.  Duke returns  more than half their starters but they lose their special teams kickers which is something to watch with concern of development from newcomers.  The offense will benefit from another year of experience for Thomas Sirk, but this will be a season when a solid backup needs to emerge.  Duke has a solid recruiting class coming in and signing day is right around the corner when we'll hear more on that.  The best word which describes the upcoming football season is "interesting."  Duke may have to scratch out enough wins to be bowl eligible against a tough slate or they could turn another corner and win some game they are not expected to.  Regardless of the outcome, there is more interest in the off season for Duke Football than ever before.  With that said, see you in the new Wallace Wade Stadium on September the 3rd, which can't come soon enough.