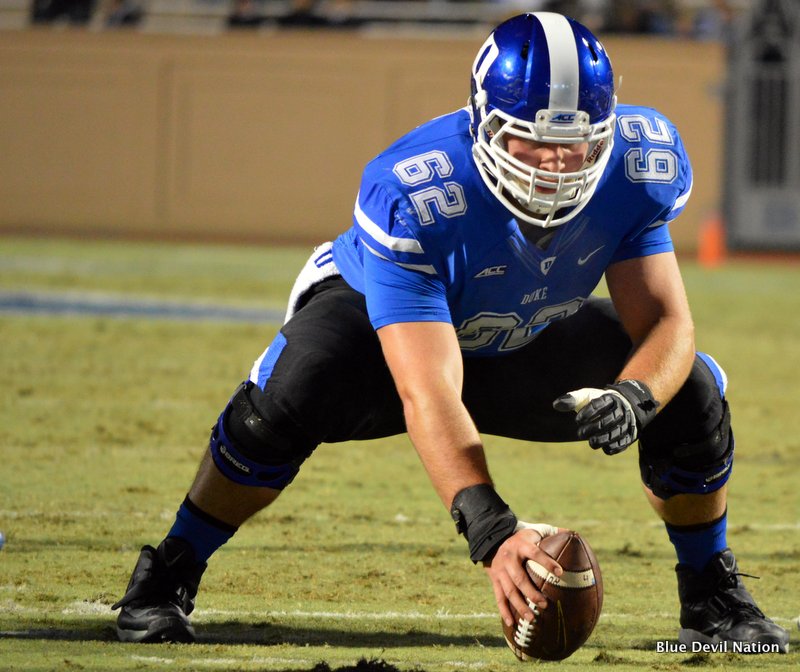 Offensive line performance has been a team strength and primary contributing factor to Duke winning 25 games and playing in three bowl games the past three seasons. The front five is the fulcrum upon which the offense pivots. Whether it is running or passing the ball success starts with the big guys up front and in 2015 the Blue Devils once again have the talent and depth to excel.
Three starters return from 2014: center Matt Skura, left guard Lucas Patrick and right tackle Casey Blaser. The three combined have started 53 games and played 4,042 snaps in their Duke careers. Skura, Patrick and Blaser return from an offensive line which allowed only 41 tackles for loss and 13 sacks last season. The 41 TFLs or 3.15 per game was the fewest allowed in the nation.
Projected to round out the starting five are right guard Cody Robinson (541 snaps) and left tackle Gabe Brandner (58 snaps). Brandner was awarded Co-Most Improved Offensive Player honors following Spring practice.
The second five consists of players who were highly sought after 3-Star recruits coming out of high school. In this video preview of the offensive line, Head Coach David Cutcliffe states the 2015 team will be able to play some depth along the offensive line moreso than at any time since he has been at Duke. Those are strong, encouraging words!
Let's take a look at the 2-Deep Rotation:
Center:
Matt Skura (6'4", 305, RSr) - has started 27 consecutive games and is on the watch list for the Outland Trophy, Rimington Award and Lombardi Award. Voted Preseason All ACC by the media at the ACC Football Kickoff in Pinehurst, NC.
Austin Davis (6'4", 290, RSo) - has played 61 snaps in seven games. Davis was rated as the number six center in his high school class by ESPN.com.
Left Guard:
Lucas Patrick (6'4", 305, RSr) - is a returning starter who has started 13 games, including two bowl games, and played 1,110 snaps in his career.
Jake Sanders (6'5", 305, RFr) - redshirted in 2014.
Right Guard:
Cody Robinson (6'3", 300, RSr) - has played in 33 games with 541 total snaps and one start against Tulane in 2014.
Tanner Stone (6'6", 300, RJr) - has played 78 career snaps in six games. Stone is pushing Robinson for the starting assignment at right guard.
Left Tackle:
Gabe Brandner (6'6", 285, RSo) - has played 58 total snaps in five games during his career to date.
Sterling Korona (6'7", 290, RSo) - has played 62 snaps in five games during his career to date.
Right Tackle:
Casey Blaser (6'5", 290, RJr) - is a returning starter who has started 13 games and played 902 snaps in his career.
Christian Harris (6'5", 290, RFr) - redshirted in 2014.
Offensive Line Coach and Run Game Coordinator John Latina is entering his fourth season at Duke. Under Latina, Duke has almost doubled their Rushing Yards per Game from 94 to 181. He previously served underneath Head Coach David Cutcliffe for six years at Ole Miss from 1999 to 2004.
Expectations for the 2015 season include an increased emphasis on the run game. The offensive line playing to its potential will be huge in meeting that expectation. While it is easy to prognosticate the offensive line taking a step back, due to losing two starters who are currently on NFL rosters, Duke lost two starters off the 2013 team (Perry Simmons/Dave Harding) and one starter off the 2012 team (Brian Moore), but the line not only survived it became better each season.
Coach Latina will lean on his three returning starters to lead the offensive line in executing a "next man up" philosophy to replace the two departed starters and once again develop into a better overall unit in 2015.
Football Friday: Offensive Line Preview