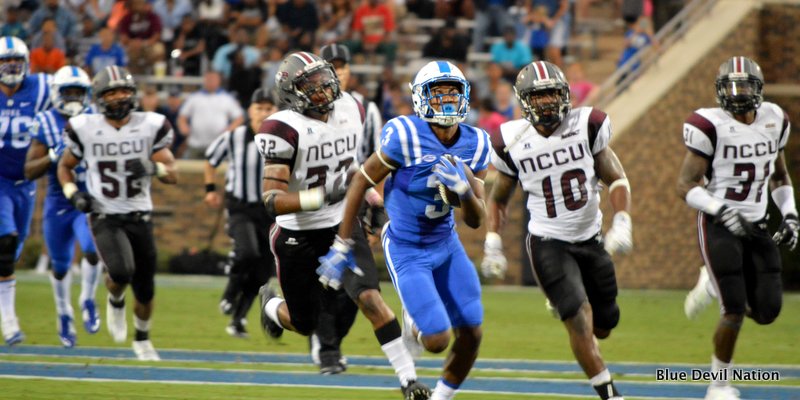 Duke vs. Northwestern
12:30 PM ET
Saturday, September 19
Brooks Field at Wallace Wade Stadium
Durham, NC
TV: ESPN3
Radio: Blue Devil IMG Sports Network
Duke in 2015: 2-0
Northwestern in 2015: 2-0
DUKE INJURIES -
OUT – Jela Duncan (RB), Chris Holmes (LB), Cody Robinson (OG)
OUT FOR SEASON – Kelby Brown (LB), Bryon Fields (CB), Zach Morris (DT), Taariq Shabazz (DE)
NORTHWESTERN INJURIES -
OUT - Adam DePietro (OL), Cameron Dickerson (WR), Matt Frazier (OL)
Duke and Northwestern last faced each other on September 6, 2008 in a game Northwestern won 24-20 at Wallace Wade Stadium. The overall series is tied 8-8. Northwestern is currently ranked #23 in the AP Poll and #24 in the Coaches Poll, while Duke will enter the contest unranked. This is an important non-conference game between two similar teams. Both are well coached, disciplined teams who do not beat themselves with mistakes. This one will be a tough fought, close affair that will be decided in the 4th quarter.
HOW DUKE CAN WIN
Explosive plays! Duke has had a lot of them in their first two games so continuing the trend will result in a win for the Blue Devils. Here are some examples of explosive plays so far this season:
- DeVon Edwards 95 yards kick-off return for a touchdown.
- Shaun Wilson 89 yards reception for a touchdown.
- T.J. Rahming 59 yards reception to the one yard line.
- Max McCaffrey 43 yards reception for a touchdown.
- Johnell Barnes 29 yards reception for a touchdown.
- Ryan Smith 25 yards punt return.
Six explosive plays by six different Blue Devils. Head Coach David Cutcliff and Offensive Coordinator Scottie Montgomery will develop a game plan that utilizes multiple explosive players simultaneously in an attempt to overwhelm Northwestern's defense.
The key to achieving success via explosive plays is solid execution on all plays. The plays preceding the explosive play set the stage by applying steady pressure on the opponent's defense to create a breakdown. Duke will look to establish the running game, mix in short and medium passes, while taking the occasional shot over the top in order to keep Northwestern off balance and guessing.
HOW DUKE CAN LOSE
Duke can lose if they allow Northwestern to dominate the line of scrimmage. The Wildcats had their way with Stanford in the impressive opening day win over the Cardinal. Pressuring talented Northwestern quarterback Clayton Thorson is a must for the Blue Devils so Duke's defensive line is going to have to win their fair share of battles on the line of scrimmage or Thorson will make Duke pay by throwing accurate short passes. Northwestern's short passing game is a major concern.
Thorson's ability to scramble is another concern. He ran for 68 yards and a touchdown against Stanford, and added another rushing touchdown against Eastern Illinois. Once Duke pressures Thorson it is equally important to contain him. This is where Duke's team speed should create an advantage.
Failing to stop Northwestern's running game is another way Duke can lose. Running back Justin Jackson is a talented back who will carry the ball 25 plus times in the game. Jackson has rushed 50 times for 212 yards and a touchdown in the first two games this season. Duke does not have to stop Jackson cold, but they do have to limit his success.
WHY DUKE WILL WIN
Balance. Balance on offense and balance on defense. Speed. Duke has more speed on both sides of the ball. Duke's balance and speed will overcome Northwestern's size advantage. Adding in Duke's superior special teams play will tip the scales of balance in the Blue Devils favor.
BOTTOM LINE
The outcome will come down to speed versus size. Duke is faster, Northwestern is bigger. Both teams will look to exploit their advantage. Speed will show up big during special teams play so look for the Blue Devils to create special teams magic, and use that magic to propel them to victory on Saturday afternoon.
Moreover, look for the Duke coaching staff to open up the playbook and employ a new wrinkle or two designed to exploit Duke's speed advantage. Coach Cutcliffe will utilize sets and plays the Northwestern coaching staff have not previously seen on film.
Duke 20, Northwestern 14