After a 8-0 start to the season and most recently a victory over Wisconsin on their home court, it's clear that Duke is a national championship contender.  Since we have a break in the games, let's take a look at the Blue Devils to date.
A team that stays together, plays together
It's clear that the 2014-15 Duke Blue Devils like each other on and off the court.  So far, this season, the chemistry is solid as a rock.  Said chemistry comes in many forms but one aspect which goes unseen by most is a tight locker room.  There are no overblown egos with the talented freshman class who are mature beyond their years.  Meanwhile, the veterans know their roles and realize that winning is something which brings all notice.  One thing players must realize in the Duke system is that their day will come if they're patient.  And this years group seems to have a better grasp of that concept than some teams past.
Good coaching
During the off-season, Coach Mike Krzyzewski represented his country by once again leading Team USA to Gold.  During his absence, the Blue Devils assistants meshed together well, meeting the challenges of losing Chris Collins to Northwestern and more recently, Steve Wojciechowski to Marquette.  Jeff Capel, who has been a head coach at Oklahoma and Virginia Commonwealth has really stepped into the role as the second man in charge.  Nate James  and Jon Scheyer add to a mature, no non sense Duke staff on game day as well.  But this group has been working hard off the court as well and they blended the team wonderfully in the off-season.  While certainly leaving instructions, Krzyzweski simply had to make his tweaks upon his return and we are seeing the results.  Those results are a better defensive team, a smooth looking offense and the ability to accomplish the mission at hand.  Duke shook things up in the off-season and the staff pushed the right buttons to make sure each and every player came back better.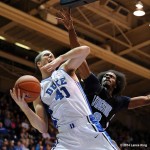 The vets have all improved
It's easy to focus in on the talented freshman class for many and for good reason.  But the veteran Duke players all made significant off season strides.  Let's start with Quinn Cook, who has matured into his role of being a leader and captain.  Over the summer, Cook made an effort to get in tip-top shape and it shows.  He's been the rock on this team to date in many ways and his outside shot will continue to open other opportunities for Duke.  Amile Jefferson has been oh-so solid on the boards.  His improved rebounding and spacing on defense is most noticeable.  Jefferson is taking his role of captain seriously and doing what it takes no matter what comes the Blue Devils way on the court.  Marshall Plumlee has been backing up Jahlil Okafor with good minutes as well.  And one of the stories of the new season is how consistent his free throws shooting has become where he is now efficient.  Matt Jones and Rasheed Sulaimon have made huge strides in the area of maturity and understanding their roles.  In the case of Jones, he moves much better off ball this season and has played some hard-nosed minutes where he defends well.  Sulaimon learned to deal with adversity and to let his time come when it presents himself.  Scoring points in bunches are what can happen when you buy into "the game will come to you when the time is right," scenario.  Let me also add, that both Jones and Sulaimon have been capable and active defenders to date.
And then there are the freshman
It's clear now just how good this years Duke class is on the court.  Having seen all of these kids while on the AAU circuit gave me an idea of what they can do.  But watching them mesh together has yielded better results  than anyone could have envisioned.  We all knew they were good and mature beyond their years, but nobody knew they'd look like a well oiled machine together this early.  Jahlil Okafor is the best big man in the country already.  He's as solid as one can get in the post and has the skill set to do it all.  Yes, he is one and done, so enjoy him while you can Duke fans.  Okafor is moving better than ever and his short-range use of the glass on the offensive end makes him one tough match up.  Krzyzewski has been masterful in keeping him fresh and Okafor is ridiculously efficient when he's on the court.  Tyus Jones has won at every level he's played on.  Now he's doing it again at the highest level of college hoops.  Jones is silky smooth and savvy and has an extra competitive gear which showed in the Blue Devils win over the Badgers.  The combination of Cook and Jones has been as good as it gets to date and that was a question going into the season.  Justise Winslow is a fan favorite for many in that he is versatile, hard nosed and tough.  Just plug Winslow into the line up and watch him produce in every aspect of the game.  These three have been rock solid and fun to watch and more importantly good teammates.  Before you think Grayson Allen is the odd man out let me speak to the big picture.  Allen will for sure be a huge contributor at Duke in the future, but don't count him out this season just yet.  Krzyzewski has a way of pushing buttons at the right time and Allen has a way of stat stuffing on the offensive end.
Resume building wins
Okay, here is a reality check for all Duke fans.  It's been an incredible season to date, but it's what you do in March and hopefully April that is most remembered.  Still, Duke has had a nice November and December with some NCAA Tournament resume building wins.  The best win was the last outing versus Wisconsin in one of the toughest places to play in America.  Duke also has wins over Stanford and Michigan State, two teams sure to be in the field of teams come March.
In closing, Duke looks as good and better than most teams in the nation in early December.  The team has been fun to watch and has likable players who seem to be having fun.  Thus far in this early college basketball season, Duke fans have little to complain about and plenty to crow about.
Next up:  We'll take a look at the road ahead for the Duke Basketball team.