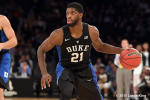 The Duke Blue Devils 2016-17 Basketball team is generating a tremendous amount of anticipation and for good reason. The team will be loaded and deep and coached by what many consider the best staff in the country.  Add to that three veteran captains and the expectations should be through the roof.
A ridiculously talented recruiting class will join some veteran holdovers to form a team that will likely be the pre season number one pick.  Three or four first year Blue Devils will play huge roles on the team, but as history often shows us, you are only as good as your veterans at crunch time.
Coach Mike Krzyzewski recently name his team captains for the coming season. There was really no mystery on which players would get the call. There will always be seniors involved and this means Texas native, Matt Jones  is one,  And then Philly product in Amile Jefferson was another natural choice.
Both Jones and Jefferson are very mature and each brings their own form of leadership to the table. Matt Jones is a young man of faith and that has allowed him to exude patience. That patience was needed after his freshman season where like many before him he hit a wall in mid-season. Jones would end up spending more time in his home state of Texas that off-season.  His soul-searching and hard work landed him a key role with the teams system moving forward.
Ask any coach and they will tell you how much they covet low maintenance player and that is what you have in Matt Jones. He caught Mike Krzyzewski's eye when Duke was recruiting his teammate Julius Randle who ultimately chose Kentucky and is now with the Los Angeles Lakers. It didn't take long for Jones to commit to Duke and his journey has led him to a leadership role in his final season wearing the royal blue.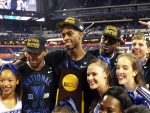 A season ago, Amile Jefferson was having a breakout year. He went down with an early season foot injury that ended his campaign. While that was certainly disturbing at the time for the program his return to help break in new big men from the incoming class.  Talk about a luxury for the staff, his leadership will be vital to the teams effortd.
Jefferson was a double-double machine when he went down to injury and while those numbers could fall off a bit, it shows he can consistently produce. Duke won over Jefferson after a late battle with N.C. State on the recruiting trail. Like many on the team, he actually always favored the Blue Devils and that  makes for spirited leaders.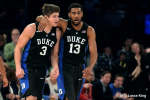 With an extra year of added maturity both physically and mentally, Jefferson could be the best leader of the bunch. He is a bit more animated or emotional than some players but it is controlled. Krzyzewski and his staff love on court communication and Jefferson has never been short for words in the locker room.
The third captain is a polarizing figure and his talent is undeniable. Grayson Allen has always wanted to play for Duke and he has that rare determination to achieve goals no matter the cost. Players with a can-do attitude are vital when it comes to winning championships and Allen has that drive.
A year ago, Allen had to pretty much do it all on a team that noticeably thin and inexperienced after the loss of Jefferson. A couple of incidents seemed to overshadow the sophomores gutsy play at times but Allen managed to grow from it even more. Allen's decision to return was partly based on wanting to lead and win another championship. He will garner plenty of deserved attention and magazine covers but he wants to leave Duke two-time champion more than anything else.
All three captains have their strengths but collectively, they pretty much check all the boxes for leadership. It's a real luxury for the staff to have these three kids who are not only good basketball but are strong in character. I've been privy to know each of these young men from their days in AAU ball to now. That said, I am objectively impressed by each of these young men's character first and foremost.
But what will be their key role or form of leadership with the many newcomers.
In Matt Jones I see a player who can share the story of patience and applying yourself to the system. Jones can also preach defense and rounding out through hard work on your game out to find a role.
Amile Jefferson will likely represent team spirit. And like Jones, that patience will present a role in time. Jefferson also has a mental toughness to his game which showed in the 2015 National Championship game.
Meanwhile, Allen is the steward of drive and effort and giving it his all. There is no loose ball that does not deserve a dive and tumble in his eyes. Always remember that Allen did not play a lot during his freshman campaign.  He would later enter the title game and help Duke win their fifth National Championship by being ready to play.
Together, these three captains display for all the epitome of the Duke Basketball system and how it works. Each has developed relationships to go with their skill sets and been in past battles that will benefit them moving forward. The Duke newcomers will have some good teachers and captains who all own a championship ring. The one most important thing that each of them will stress to the likes of Harry Giles, Jayson Tatum, Frank Jackson and the rest of the freshman is what it takes to become a part of the club of champions.