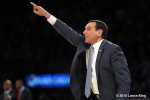 The Duke Blue Devils take to the court tonight after a long break to face Georgia Tech in a road contest.  While the Yellow Jackets are coming off some losses of their own, don't think this game will be easy,  In fact, Duke is a slight 2 point favorite and for good reason.
Like Georgia Tech, Duke has struggled of late.  So much so, that the Blue Devils fell out of the top 25 and now have some questioning if they can get to the tournament.  A loss tonight would add credence to that question, but a win would right the ship.  And let's be honest here, Duke is a big time name and program and if they are anywhere near eligible for March Madness, they'll get in.
Duke will at some point get Amile Jefferson back from a broken foot, but it will not be tonight.  Duke will face a Georgia Tech team that has played well at home and team whose losses were very, very close.    The Yellow Jackets have beaten the likes of Virginia, Arkansas and N.C. State while losing games to top-tier conference team where they were in the contest until the end.
What makes Georgia Tech most dangerous for Duke is their depth. As a team, the Yellow Jackets, are way deeper than the Blue Devils. They play ten players and to put this into perspective, their tenth man averages 13.9 minutes per game.  Meanwhile, Duke plays six players iron man minutes, but this could be a night where the Blue Devils are forced to go seven deep.
The Yellow Jackets are led by four double figure scorers.  Charles Mitchell has been a solid inside force who averages a double-double and Marcus Georges-Hunt is their leading scorer.  Where they suffer a little bit is at the point guard spot in that, like Duke, they depend on assists by committee.
Duke has three clear leaders on the offensive end in Grayson Allen, Brandon Ingram and Luke Kennard.  Anything they get from the rest of their cast of late has been a luxury on the scoring end.  In losses to Clemson, Syracuse and Miami, the offense struggled to score points.  And when the offense struggles, so does Duke.
The main reason for those struggles is that with such a short rotation, Duke has been forced to play zone defensive schemes to save their legs.  It's hard for teams to go all out on both ends of the floor when there are depth issues.  And let's not even talk about foul trouble, for that issue pretty much has doomed Duke as well in their recent losses.
Still, Duke is capable of playing good, if not better basketball than they have of late.  To do that, the offense has to get back to snapping their passes about with more certainty.  And Duke must get some sort of help defense from a player who is not Marshall Plumlee.  The player who is most capable of doing this is freshman standout Brandon Ingram.'
While just a freshman, Brandon Ingram is the one player who can cause all kinds of match up nightmares for the opposition.  He is still learning that he is as solid around the rim as he is on the perimeter. Duke needs for Ingram to take it to another level.
During the pre season media gatherings, Duke Coach Mike Krzyzewski said that an injury could derail his team.  Nobody really listened then.  What we are seeing in the Duke failures of late are mainly due to an untimely injury.  But even with Amile Jefferson, Duke is a team that must hit on all cylinders to win in a tough and unforgiving ACC.
Duke is in need of a win, but breaking out of a slump is never easy.  It's very important for Duke to get off to a good start tonight and then show they can hang on for a much-needed victory,  But like in all games, this is one of the games opponents circle on their calender.  Let's face it, there are sharks circling the water that want their chance at what at this time seems like a vulnerable Duke team.
A win won't be as easy as the fan base might like it to be,  But a win by any margin is the only thing that will stop the bleeding and breed new confidence.  Considering the time the team has had to prepare, I think Duke gets the job done.