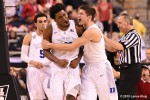 Memories were made in Indianapolis once again as a special Duke team won the National Championship with a 68-63 win over Wisconsin.  The win was Mike Krzyzewski's fifth national title which ties him for second place with Kentucky's Adolph Rupp.
The Blue Devils finished the season with a 35-4 record and they are now 10-4 in the state of Indiana.  Duke finished the season atop the world, thanks to a terrific second half effort by freshman Tyus Jones.  Jones scored 19 second half points finishing the game with 23.
He was helped by Grayson Allen who had his best game of his young life.  Allen tallied 16 points which was good for his fifth double-figure scoring game of the season.  The effort helped him to be named to the All Tournament team along with teammate Justise Winslow.  The aforementioned Jones was named the Final Four's Most Outstanding Player.
The game was close throughout with 16 lead changes but Duke took over the game after trailing by 9 points with 13:22 to go.  Duke then went on to out score the Badgers 29-15 utilizing their lock down defense which propelled them to another victory.  Every second half point was scored by a freshman and it was clear that no team used first year players better than Duke this season.
We'll have more from this game a bit later.  Until then be sure to check out our social media outlets on Twitter and our Facebook Group.