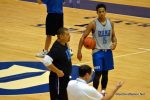 As the highly touted Duke Blue Devils prepare for the coming season, I had a chance to speak with Frank Jackson.  The prized freshman brings a solid skill set to Durham where he can play on ball defense, provide a good handle or drive and dish.  In fact, Jackson is the reigning winner of the McDonald's All American Game Dunk contest which points to his athletic prowess.  Here is a Q & A with Jackson -
Talk about the adjustment period since you arrived on campus.
Yeah, it was a big adjustment initially and I got here in summer.  I have adjusted well.  I'm comfortable with the area and comfortable with my team and the coaching staff as well, so it's been a fun time.
So, I understand you are rooming with fellow freshman Jamin DeLaurier.  He jokingly said you're crazy, so whats that about?
Laughs  He's crazy and he's dirty too.  No, he's been a great roommate and we've become really close, so...
What has been the biggest adjustment to this level.  I mean, all of sudden you're on a team that's chock full of talent.
The talent level is an adjustment itself and also the pace of the game.  It's definitely picked up.  It's not as hard in high school where it was definitely more laid back. And the workouts are a lot tougher,  It's like a full-time job for the next couple of months, so I have to be ready.
You are running the PG spot some, but that is also done by committee.  Is that a good thing in that you get to play off ball some too.
It's great.  Coach K likes versatile guys who can play multiple positions.  I am capable of doing that and whatever it takes to help the team.
How long were you in Utah?
Seven years or since I was eleven years old.  I spent all my high school and junior high years there.
Has there been an adjustment period with the humidity an adjustment coming from Utah?
Yeah, it's crazy out here.  Actually I still don;t like it.  I'm a little used to it from D.C. but it's even hotter down here.
What are your personal goals for the coming season?
For me personally, I want to be the best on ball defender and I want to be consistent, for sure and just do anything to help my teammates win.
I cover AAU ball and you were tenacious at times with your defense at the NBA Top 100 Camp when I saw you.  You have that side to you or competitive edge as well.  You kind of get in people's grill...
For sure,  I don't like to lose.  Ever since I was a  little kid I tried to win everything I tried to do,  You know, when I lose, it's not a pretty site,  So yeah, I have always had a competitive edge.
So, don't let the All American smile fool you...
Nah.
What do you do in your limited down time?
It is a lot to be honest but we still have some time where we hang out and go to football games.  But there is a lot of basketball.  I like watching movies.
Will your parents be able to see you play this season?
My family has moved to Williamsburg, Virginia.  They'll be coming down all the time.  We were originally from the east coast, I grew up in Washington, D.C..  So we have family back in D.C. and my Dad does most of his work there and they thought it would be a good time to finally move back to the east coast.
Duke opens the season with Countdown to Craziness on Saturday, October the 22nd in Cameron Indoor Stadium.  The event starts at 7 and will be carried by ACC Network Extra and the Blue Devils IMG network.