It was not that long ago that Duke Coach Mike Krzyzewski found himself in a similar position as a season ago.  Due to injuries, this years team has only recently been able to hold the kind of practices the staff desires.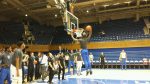 Jayson Tatum, Marques Bolden and Harry Giles have all missed significant time due to injuries.  Of course, Tatum and Bolden have recently returned, while Giles has been out since a major procedure to repair a torn ACL, the second of his young career.
The last time anyone saw Giles play was in November of 2015. Those who followed him during his high school career know what he can potentially bring to a team.  Giles is a force inside and out where he stretches the floor and makes his presence known.
It was during an early Nike EYBL event when I ventured to one of the far gyms at the  Boo Williams facility in Hampton, Virginia.  Giles was playing with the 16 year olds coming back from his first ACL surgery.  The only coach on that court as I watched was Mike Krzyzewski.
It is worth noting that Krzyzewski has had an already long relationship with Giles.  He put in the work early and often. Everywhere you go Duke fans want to see Giles playing, but nobody anymore so than the Duke coach.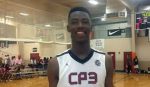 Giles knew when Krzyzewski was in the gym.  He recognized how much the Blue Devils head man wanted to coach him.  He entered the gym during a game at the Nike Peach Jam in a packed out house, but he quickly pointed out Krzyzewski to his friend.
The last time I saw Harry Gile splay was during the Peach Jam, a prestigious Nike event in North Augusta, South Carolina.  He was a beast on the court at that time leading his CP3 team to a win.
The gym was standing room only, where security was turning people away and they were all there to see the nation's top prospect.  Giles did not disappoint and after the game varying degrees of media sought his attention for interviews.
While Giles was always gracious with his answers, on this day he stopped to sign every autograph request from adoring fans.  It took Giles a good twenty minutes to make his way to an exit, finally aided by security.
Once outside the facility, it was clear that Giles had enjoyed the moment.  He assembled with family that I dubbed Team Giles in the crowed corridor.  It was as if he knew this was his swan song moment on the AAU circuit and he was sponging every second of it.  Little did he know that another set back was to come.
Giles elected to play his final season at famed Oak Hill Academy under Steve Smith,  Before his season even got started, Giles went down to his second ACL injury.
It was shortly after that time when he would announce his collegiate decision.  He chose Duke University on national television to the joy of Blue Devil fans, but that pick was no surprise to some who had followed his story.
Now, the work began, again.  Giles would move to Durham to be close to the universities rehab facilities.  It was a bonus that Duke offered a perfect situation for his recovery.
As the season began, many would speculate on his return.  Some said he would not play at all, others said it would help his stock in the draft to compete.
One thing Duke has proven to its recruits is that it will be careful with injuries.  This happened with current NBA standout Kyrie Irving.  I suppose in that sense, you cannot blame Duke fans for wanting to see the fruits of the teams recruiting efforts in that Irving would play in just ten or so games.
Take a moment to think how Giles must feel about all this.  In his young career, he has dealt with two major injuries.  It has been more than a year since he has played in an organized game.
Trust me when I say, Giles has the itch.  Watching him warm up in recent Duke games shows a player that wants to compete.  There is a look in Giles eyes, a knowing if you will of a player who is ready for the limelight he has been in before.
It is unknown if Giles will return for sure against Tennessee State or perhaps later in the week versus Elon.  But make no mistake, his time is coming and sooner rather than later.
Expect a huge sigh of relief when Giles comes into a game with the royal blue Duke letters across his chest.  It will be a relief to his Krzzyewski and his staff, his family, the fans, NBA scouts, media and more.  But most of all, it will be  relief for the talented young man himself, Harry Giles.