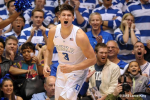 Duke sophomore Grayson Allen was named ACC Player of the Week during the very first week of the season.  While we are just two games into the season, Allen is building off his National Championship game a season ago.  Here are some facts on Grayson James Allen -
Allen's 54 points in the opening two games is one point shy of the all time highest Duke mark which was set by Johnny Dawkins.
Allen set his career high scoring mark against Byant where he tallied 28 points.
Allen set a career high mark in assists with six against Bryant.
Allen roomed with Luke Kennard over the summer but he now lives with Matt Jones, Amile Jefferson and Marshall Plumlee.
Allen was named ACC Player of the Week for the first time during the first week of the season.
Allen was picked to the 2nd Team Pre Season All Atlantic Coast Conference Team.
Allen has knocked down an impressive 17 of 18 free throw attempts to start the season.
Allen leads the Duke team in assists to date with 4.0 per contest.
Allen wore size 17 athletic shoes while in high school.
Allen sought out Duke to take a look at him on the recruiting trail while at the Peach State Classic.
The event was held at the same time as the Nike EYBL Peach Jam.  While Duke coaches were unable to get over the to the event that week, assistant coach Nate James watched him shortly thereafter.
James passed on what he saw to Mike Krzyzewski and after he had a look.
Duke set up an in home visit where Coach Krzyzewski, current Marquette Coach Steve Wojciechowski and Jeff Capel visited the Allen home in Jacksonville, Florida.
Allen told Blue Devil Nation during the NBA Top 100 Camp that he prayed after the visit, "I just had a feeling Duke was where I wanted to go and after thinking and praying on it, I made the call," stated Allen.
Allen soared in the recruiting rankings after he committed to Duke.
Allen went on to win the McDonald's All American Dunk Contest.