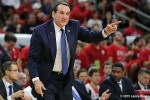 As I sit in the media room, todays result has some doubting Duke after a single loss. Joking or not it happen and that's why there are two undefeated teams left in all the land. The ACC is tough this season and Duke ran into a red-hot N.C. State team led by their shooters Ralston Turner and Trevor Lacey who combined for 37 points. Their play and the Wolfpack shooting lights out from three sent the Blue Devils to their first loss of the season by a 87-75 score.
It was just one of those games where and inspired effort was enough to knock the #2 team in the nation from the ranks of the undefeated. Any time a team goes 10 of 16 from the three point stripe they generally win and tonight, Duke got a taste of its own medicine. The loss also sends Duke to 2-1 in a now jumbled ACC race and they have little time to mope with Miami, another team built on three point shooters coming into Cameron on Tuesday evening.
Duke was led by Jahlil Okafor who tallied 23 points and grabbed 12 rebounds, but the Wolfpack defense limited his shots a key times. Duke shot their worst percentage of the season at 36.9% from the field and they knocked down just 7 of three point shots. The Blue Devils were also outscored in the paint 40-26 where the Pack managed to find open guys too many times for easy dunks.
Coach Mike Krzyzewski said his team got itself into a big hole, down too many points to rely on a comeback. He referred that chance as a snowball's chance but did say his team rolled up the best one they could late in the game but the Pack hit their free throws. He also said his team had to learn from the loss, especially the freshman while lauding the play of N.C. State. "We have freshman expected to play like upperclassman because they play for Duke," said Krzyzewski.
Duke has lost four of it's last five contests to N.C. State in Raleigh and five of their last six games in the PNC Arena counting last years NCAA loss.
Here is what Coach Mike Krzyzewski had to say about the loss post game –