The average sports fan will tell you that this is the best time of year.  Why?  Football is getting down to the nitty-gritty, basketball is about to start and the World Series is closing out the baseball season.  At no other time does the NBA, NFL, MLB and NCAA football and hoops run together like it does now.  What that all means is an extended Monday Musings where we take a look at the exciting happenings around Duke Athletics from Emmit Smith watch the Blue Devils to Jahlil Okafor being all about the movie, the Lion King.
Countdown to Craziness Showcases Duke Hoops
Basketball is in full swing now and the season kicked off with Countdown to Craziness this past Saturday.  What did we learn?  That this seasons team has pretty good chemistry at this early time.  And then there is Jahlil Okafor, the true freshman phenom whose play belies his young age.  Okafor, of course, leads yet another talented Duke freshman class on the court.  Combine the uncanny maturity of the freshman class with the likes of Amile Jefferson, Rasheed Sulaimon, Matt Jones, Marshall Plumlee and Quinn Cook and you can feel the excitement building quickly.  As usual, the fans loved the show, but come post game it was clear in the Blue Devils locker room that they were chomping at the bit to play someone besides themselves.  That finally happens on November 4th when they take on Livingston in an exhibition game.  Duke head man Mike Krzyzewski was quick to point out, that's when we'll start to really learn about this years team.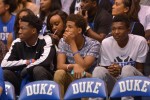 Prospects in the House
Duke entertained some key future prospects of desire during Countdown to Craziness as well.  Harry Giles is a local kid, who happens to be the top ranked player in the Class of 2016.  He has been a main stay at Cameron, being at several events.  The 6-10 power forward is at the top of the wish list for the hoops program.  Dennis Smith Jr. was there as well.  Like Giles, he is an in state young man who plays point guard in an explosive way.  Both were seen chatting with Mike Krzyzewski behind the bench as the Blue-White games took place.  Also, in attendance was big time shooting guard Tyus Battle out of the same Class of 2016.  Duke is firmly involved with all three of the aforementioned kids.  Each of them was serenaded by the Cameron Crazies of "insert name,: come to Duke.  Battle and Smith Jr. both acknowledged the love with smiles.  The Crazies also chanted for Harry Giles to "sit with us."  There were some younger prospects there as well and we talk of them on our members message board.  In another recruiting note, the remaining 2015 target, Brandon Ingram, attended UCLA this weekend.  Duke remains firmly in the thick of the race for his services and he should be making a decision beofre the early signing period.
ACC Operation Basketball
On Wednesday, media members gather in Charlotte to participate in ACC Operation Basketball.  Duke captains, Quinn Cook and Amile Jefferson will represent Duke where two players from each team attend.  We'll also be hearing from Mike Krzyzewski at length, so be sure to come back to Blue Devil Nation to read of his take.  By days end, the media will vote on the All ACC Basketball teams, pre season honors and the projected or early pecking order of the teams.  Look for Jahlil Okfor to run away with top newcomer and for Duke to be pegged either first or second in the pre season poll.  All eyes will be on North Carolina as well with concern to recent academic fraud findings.  Both the Tar Heels and the Syracuse Orange are facing NCAA investigations, so hearing what ACC commissioner John Swofford has to say on that will prove interesting.  The ACC also welcomes Louisville and Rick Pitino to the league, so it will be a crowded and spirited kickoff to the hoops season.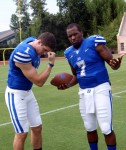 Top 25 for Duke Football
As I predicted on the Blue Devil Nation twitter account, the Duke Football team would enter the nation's top 25 coming off their bye week.  With some teams losing just ahead of them, it vaulted Duke to the 24th spot in the coaches and media polls.  Duke was ranked earlier this season, but fell out after their road loss to Miami.  The Blue Devils sport a 16-5 record since the kickoff of last season as they trend upward.
The Pitt game is a huge one
A season ago, to say Duke had trouble stopping the Pitt offense in a 58-55 loss.  The Blue Devils are in the thick of a crowded race for the top spot in the Coastal Division and that makes this game a must win.  To come away with the win, Duke will need to travel to a hostile environment with an improved defensive effort.  Like any Coastal Division game this season, you can literally throw out past results.  This game is a must win for Duke and Pitt for the winner quite simply moves ahead of the other in the standings.  The Blue Devils should be focused in after a bye week, but the Panthers will have their ears pinned back needing two victories for bowl eligibility.  The Blue Devils enter that time of the year where each game becomes bigger than the last.  The goal from seasons start was to return to Charlotte for the ACC title game and to win a bowl.  A bowl game is a sure thing, but did I mention how important and ACC match up this game is for Duke?  Lot's of anticipation for the next game permeates the fan base.  Be sure to check in tomorrow afternoon where we'll talk to the players about the match up.
The Lion King and nicknames
According to the recently released Duke media guide, Duke freshman Jahlil Okafor lists the Lion King as his favorite movie.  During my post Blue-White chat with Okafor, he listed several nicknames.  Among them was Jah, Big Jah, Jah-Jah and Smoke or Big Smoke.  According to Okafor he was tabbed "Smoke," by teammate Justise Winslow while playing overseas with USA Basketball this off-season.  FTR, Winslow is supposedly called "Little Smoke," but I have no idea as to where either nickname came from.  Also listed as a favorite TV show by four current scholarship Blue Devils was the "Fresh Prince of Belair." It makes one wonder if the DVD boxed set is passed down from year to year in that players past have listed the show as well.
A Cowboy's Connection?
Emmitt Smith attended Countdown for Craziness with his lovely wife.  This past season Dallas head honcho Jason Garrett and quarterback Tony Romo visited Cameron Indoor Stadium as well.  Dallas is 6-1 this season since that visit where they watched how Coach Mike Krzyzewski worked with his program.
Dallas Cowboys legend @EmmittSmith22 is here for the #Duke #CTC pic.twitter.com/QMFznLyter

— Blue Devil Nation (@BlueDevilNation) October 25, 2014