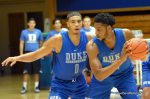 The 2016-17 Duke Basketball team to Coach K Court before several thousand people in Cameron Indoor Stadium this past Saturday.  To the average observer, there may not have been a lot of takeaways, but a closer look reveals specific plans.
As the calendar turned to October the 1st, the Blue Devils staff was able to hold full team practices.  Up to that point, the team was allowed smaller gatherings of which many were conducted while Mike Krzyzewski was winning another Gold Medal for USA Basketball.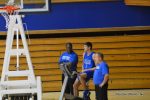 Firstly, let me speak to who did not participate in the practice.  Grayson Allen did not appear until thirty minutes or better into the activities. He strolled into Cameron to a raucous cheer in that he is indeed a true fan favorite.  Allen watched most of the practice before riding an exercise bike on the sidelines,  There is no word on what the official reason for holding Allen out, but an SID said he was just being rested.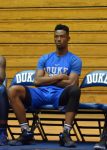 Those expecting to see Harry Giles early on, may not have read or  recent article titled ''Duke Basketball - What to expect in 2016-17.'' As I said in that article, Giles will be brought along slowly as he recovers from off-season surgery.  While he is participating some away from prying eyes, he did not compete in any drill on this day.
Unlike a season ago, Duke still had more than enough bodies to compete at a high level in practice.  You have to think Mike Krzyzewski and his staff are enjoying this luxury.  The main reason being that Duke can now go all out and do the things they really want to with concern to strategy.
What fans were seeing was a return to man to man defense on the practice floor.  You have heard the saying the defense is ahead of the offense and vice versa.  Well, it is clear to those who have followed the program closely that there is an intense effort on said defense.
The practice was a bit jagged, due to many whistles being blown by Krzyzewski.  That may have bored some but it was a teaching moment each time.  During the breaks in play, Krzyzewski told players where they needed to be on the court defensively.  This included switching off and spacing as well positioning and getting into passing lanes.
What we saw from the players during the practice was very aggressive play.  Several players handled the ball and it was clear that many have the green light to bring the ball up.  There were no uncontested moments when this happened for Duke players were more or less in each others grill.  In fact, it was fun to see how contested each attempt to get to the basket became.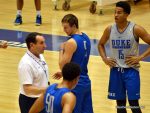 This kind of aggressive play is tiring.  By the end of practice some tongues were wagging.  The younger players are especially affected in that they have to learn not just the physical aspects but the mental part of the system as well.  In closing on the talk of Duke playing much more man to man defense this coming season, I can say a clear foundation is in play.
There were no scrimmages on this day and the defense made the offense look stagnant.  That is by design and there are no worries. Every shot was contested and pride was taken in defensive play but there is no shortage of firepower on this years team.  Instead of discussing this on the whole, I will instead give some mini player blurbs below.
Amile Jefferson - He's back.  Jefferson enjoyed his best season to date statistically a year ago before injury.  He moved well and seems one hundred percent recovered.
Matt Jones - Steady, heady play best describes Jones in my opinion. He does the things Coach K likes,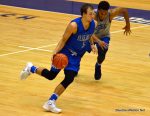 Luke Kennard - More mature and muscular physically.  Improved handle and is still a scorer.  Played with his usual tenacity and confident.
Antonio Vrankovic - He battled hard in the paint and knows how to get his body on defenders.
Justin Robinson - He's enjoying his role on the pre season's best basketball team.
Chase Jeter - Showed he is going to fight hard for burn.  He looks stronger and more comfortable within the system.
Nick Pagliuca - The walk on hit the buzzer beater in the final drill which you will hear more of below.
For the freshman, I will add a little more depth to my comments in that most have never seen them play or wear Duke Blue.
Jayson Tatum - He was outside oriented during the drills, unafraid of taking any shot.  He shows early signs of being a go-to guy.  He also played good defense.  He seemed a bit winded after practice in that the realization is there are not easy shots in a Duke practice or on the college level.  In short, he had to work hard for his shots.
Frank Jackson - Handled the ball well and had a player in his face at all times. He reciprocated .  What people will see from Jackson is that he likes to get after it and despite his All American smile, has a very competitive side to his game.  He struggled a bit getting to the rack on a day where solid defense was the being played and is learning nothing comes easy.
Jack White - The first thing I noticed about White is that he has a very mature body for a freshman.  He's thick and is learning to play against different, more athletic positions  and players.
Javin DeLaurier - At the end of practice, DeLaurier still looked fresh. The young man has a motor and length and he plays hard.  He's a very nice addition that will fit in well at some point in time.
Marques Bolden - He had the most dunks on the day and he gets off his feet well.  Bolden is solid with his back to the basket and that will be where Duke needs him to play.  A very talented and coachable young man will be  factor early on.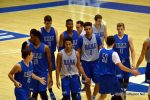 Duke ran what they call a 4;15 drill where the entire team runs full court on both ends with the goal of making 120 shots.  After two days of hard practice it is no surprise that the team started slowly.  With about 35 seconds left, Duke seemed destined to come up way short, but they got hot down the stretch and hit their goal at the buzzer.  The team did this to raucous cheers from what was a sold crowd in Cameron Indoor Stadium.  It is worth noting that a tired team seemed energized by the cheering.  The drill could not have been scripted better and sent fans off wanting more.
Sidebar - There were many moments when the staff could be seen coaching guys on an individual basis.  The floor on Coach K Court features a more traditional brighter wood look this season.  It has had a bit if a yellow hue in the past where some of the more professional photographers had to adjust accordingly.  Duke Basketball will hold media day this Tuesday where Krzyzewski and players will discuss the season to come.