The Duke versus North Carolina rivalry continues this week when the Blue Devils entertain the Tar Heels in Cameron Indoor Stadium. The Tar Heels come into the game atop the Atlantic Coast Conference standings, while Duke seeks to play their way into the top four teams by years end.  The reason for the importance of being a top four seeds is a doubl- bye in the fast approaching conference tournament.
Nothing would be sweeter than 501
When Duke defeated the Pittsburgh Panthers in their last outing there was not one question about Mike Krzyzewski's 500th win in Cameron.  When you think about it, it seems odd that it dawned on most people later that this was another Krzyzewski milestone.  Anyhow, nothing would be sweeter than his 501st win in that it would come against North Carolina.
ESPN Gameday
ESPN Gameday will be hosting a rare weekday event.  The deal is that only ticket holders can attend and the students will be in their seats before the start of the event.  You can count on plenty of antics if not veiled shots at the media who still brings along a Grayson Cam to every event.   Doors for regular season ticket holders will open just one hour prior to game time.  As usual, the event features Duke alums in Jay Bilas and Jay Williams.
A new role for Tatum
Duke has to like that Jayson Tatum is playing a different and better role on the team.  Tatum has been asked to hit the boards more and he has been a key rebounder for the team.  Tatum is a lock for the All ACC Rookie team and has at times played like a veteran.  He will face his stiffest challenge to date against an aggressive Tar Heels team on the glass.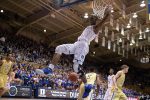 Harry Giles is closing in on prime time
Giles is still getting back into game shape, but his minutes have been productive overall this season.  Like any freshman, he wrestles with consistency.  Duke needs for Giles to become aggressive around the rim, especially against a veteran front court that the Tar Heels employ.  Giles seems close to being ready for another step and his first game in the rivalry will be a good measuring stick.
UNC success comes from knowing their roles
Roy Williams has a veteran bunch where many of his starters were key components in playing for a national championship.  He has a tight bunch that knows their roles.  Duke is still in the process of defining team roles, mainly due to slowly but steadily budding chemistry.
On thing to watch for with concern to UNC
This team can rebound and they're emphatic about emphasis ocrashing the boards.  The Tar Heels hold a 13.5 rebound edge in league games.  Duke has to keep a body in front of Kennedy Meeks in that he averages just under 4 offensive rebounds in games.
Another thing...
Duke needs to get back on defense and fast.  The Tar Heels love to push the ball after rebounding.  There have been times this season where Duke has been out of position defensively which have created easy drives to the rim for the opposition.
Luke Kennard, turn him loose
Kennard is having a great season to date.  He has been the best shooter in the league and look for Krzyzewski to give him the green light.  Kennard is currently a lock for All ACC and has started to trickle into to first round talk for the NBA Draft.
Veterans are always the key
Amile Jefferson has been as steady as they come for two seasons.  Yes, he got hurt last year, but his numbers have picked up where he left off.  His leadership in the rivalry game will be a key as will staying out of foul trouble.  You never know what crew of officials you will draw in a game but Duke has played in some almost comically hyper called foul type games this season.  Then there is the question of Matt Jones health.  Krzyzewski will speak with the media tomorrow and we should find out more about the situation at that time.
Key visitors coming in
Duke hopes to make an impression on Trevon Duval, considered one of the nations two best point guard prospects.  He has a little bit of shake to his game like Kyrie Irving.  You can bet that Wendell Carter and Gary Trent will be working Duvall for they'll be visiting as well.
Coming tomorrow...Coach K speaks.