It is not unusual for there to be emotion on and off the court on Senior Night.  Afterall, fans have gotten to know these players over the years in countless ways.  And the players have many memories of their careers at Duke.
When Amile Jefferson and Matt Jones take the court tonight, it will be their last game in Cameron Indoor Stadium.  Each of the players have seen the joy of a national championship in 2015.  And they have also been through some tough times as well.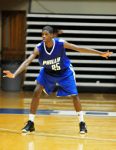 Duke recruited Amile Jefferson as a junior and the battle for his service would in time come down to the Blue Devils and N.C. State.  In hindsight, Jefferson chose Duke at a time when they really needed a boost and a front court player.
Jefferson has always been a fan favorite.  He is never short for words in the locker room and his smile lights up a room.  The young man is now a mature leader and he has been on quite a journey.  The first time Jefferson saw Cameron was his junior season in high school.  Back then, recruiting or shoe camp events were allowed on campus.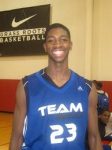 The Philadelphia native always wanted the Blue Devils to take notice but there was a time when that was in doubt .  For a short time, Duke had concentrated on other prospects and had to get back into the race late for Jefferson.  Needless to say, they are glad they did.
Jefferson was having the season of his life when he went down a year ago.  He was a double-double machine.  He was a national champion that had waited his turn to make his mark on the team.  He will leave Cameron tonight having made his mark on and off the court.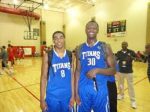 Duke was recruiting current Los Angeles Laker, Julian Randle a few years back.  But it was another young man who caught Mike Krzyzewski's eye.  Matt Jones was their leader then and a lot of Randle exploits came from his assists..
Jones would later visit Cameron on a recruiting visit where he was entertained by then assistant coaches Chris Collins and Steve Wojciechowski.  I will never forget him playing a game of 'Horse' with fellow Texan Rasheed Sulaimon at said visit.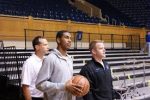 Duke would fail to get Randle on board, but they would get the always humble and down to earth Jones. Many times over, the staff has praised Jones defense.  The young man has become a staff favorite in that he is low maintenance and does what is asked of him.
These two young men deserve a nice exit tonight and nothing would be better than a win over a tough Florida State team.  The year has not gone as expected for the captains but there is still time to right the ship and make a run this season.
Despite what happens tonight and in the near future, Jefferson and Jones have represented the royal blue in a most outstanding way. Good character is an understatement when mentioning it with these two young men.
Amile Jefferson and Matt Jones will always be Duke Blue Devils and champions.