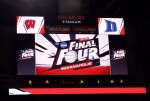 Back in 2010, I had one of the most wonderful experiences in my life.  At that time I witnessed Duke win its last National Title up close and personal.  Now, I return to the same Lucas Oil Stadium where I anxiously another golden opportunity for the Duke Blue Devils.
Magic seasons are few and far between.  It takes luck, it takes fortitude and in the Blue Devils case togetherness.  I've covered many a Mike Krzyzewski coached  team in the past, but this one is special.  Win or lose, they are special.
I have watched as a fabulous freshman class jelled into a cohesive unit.  I have been a witness to Krzyzewski using freshman better than any other coach in the country, always making adjustments.  I have seen these young men grow on the AAU trail into young men who have a chance to make golden memories.
Just as I did in 2010, I took time to go to the top of Lucas Oil Stadium where I could get a view of my surroundings.  I like to do so when the stadium is empty in that it allows me to reflect on the moment in solitude without interruption.  In those moments, I realize how lucky I have been to cover Duke Basketball and go along for the ride.
While the ride is always different with each team, Duke Basketball always has class kids, but this years group is special to me.  Having been up close and personal with them for so long, I have developed a bad case of homer media love for them.  This team just handles themselves in the very best way possible on and off the court.
Despite their youth, they stay grounded, focused and never get to high or too low.  They are business like and wise beyond their years.  But it also takes a leader and they have one on senior Quinn Cook.  I covered Cook when he was fifteen years old and playing for DeMatha and I have watched him grow.
Cook is currently in the midst of a fabulous, dream like senior season.  And he will be playing for his mom and deceased Dad who left the world too early this evening.  Somewhere in heaven, I get the impression he has a ring side seat and he will be proud of his son win or lost, just as his mom will be.
Everything is working out for Duke.  They are in the title game and that in itself is a herculean effort and what every team plays for.  But they want more and the team they face is seasoned, hungry and hell bent on revenge.
Wisconsin comes into this game red-hot, downing the highest seeds along the way, including the former monster known as Kentucky.  They are playing great basketball  and like Duke, they are a likable bunch.  Unlike Kentucky fans who were quick to berate opposing fans when walking around Indianapolis, Badger fans are glad to be here and more humble.  And they will outnumber Duke fans greatly if the red we all see in the streets makes it in the arena.
Duke on the other hand is winning with defense.  For Duke to shut down or slow the Badgers it will take an effort for the aforementioned are averaging over 70 points per game over their last ten outings.  There will be a bit of a sideshow, with National Player of the Year Frank Kaminsky will face runner up Jahlil Okafor.
But intangibles loom large in a game on this stage.  If Okafor tries to go one on one to prove himself that may or may not work out.  If Cook tried to take on too big of a role or force things, that too could be detrimental.  On the other hand, if Duke plays as they have been it will mean a trophy and the big one.
The line on this game is Wisconsin by a single point and they will start the game strong.  Duke needs to match that.  This is not a game where either team can afford to give up a large lead and it's a contest that will almost certainly go to the wire in nail-biting fashion.
In closing, I will say a loss will be devastating, and a win glorious.  But this team has achieved a lot and they are winners either way.
Here is to hoping Blue Devil Nation will be happy by nights end and that you will come here for some good old-fashioned homer coverage.