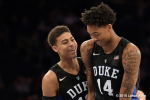 Let's face it, a season ago Duke had perhaps it's vest freshman class  of all time under Mike Krzyzewski.  One of the reasons was that they played together a lot with USA Basketball.  It was a situation where they all fit perfectly together which created a perfect storm that resulted in a hard to achieve National title.
This years freshman class had instances where they played together but the experiences were nothing like the group before them.  As they progress, so will Duke and the staff will bring the group along at their own pace.
The Duke staff wasted no time in establishing a firm rotation coming into the season.  Newcomer Brandon Ingram has been in the starting lineup while fellow freshman Luke Kennard and Derryck Thornton are the first two players off the bench.  As for the eight man in the rotation, Chase Jeter has filled that role.
This group has had to learn as much on the court as off.  In fact, their main learning curve now comes with in-game action due to the untimely injury to senior captain Amile Jefferson.  Duke was already a bit thin in practice where they do not have a lot of depth at the guard spots, but now they face an even larger challenge.
Success in the coming ACC season will be a direct reflection of how the freshman progress.  The Duke staff is asking a lot of them as they make up fifty percent of the rotation.  With that said, let's take a look at the four freshman playing key minutes for Duke.
Luke Kennard - Kennard started the season in a shooting slump which defies the player he can be.  Kennard roomed with Grayson Allen during the summer and he surely gained some mentoring there even though there is but a years difference in age.  Kennard is currently rooming with Chase Jeter and the two knew each other from the same situation while playing for USA Basketball over the summer.  The last outing for Kennard was his best and Duke has challenged him to maintain a high level of play.  Kennard is in the midst of finding consistency with his game.  He's a deadly free throw shooter and has the ability to knock down the three or mix it up.  Knowing how competitive Kennard is from AAU interviews, I think it's say that he will get better in a noticeable way during ACC play.  Kennard is learning how to play without the ball in his hands and the need to be cocked and ready to take the shot.  His main adjustment is on the defensive end where he is guarding much quicker and older players than he did in high school.
Chase Jeter -  Jeter met the aforementioned Kennard on their visit to Duke for the UNC game during their junior seasons.  The chemistry between the two and with other freshman is still forming.  Jeter faces a more difficult challenge of adjustment in that he plays in the post.  His main adjustment will be with the physicality inside and the strength of older players he faces.  Jeter needs to learn how to use his body and he will in time.  Despite not playing major minutes, Jeter has maintained a solid upbeat attitude.  That goes a long ways in having your mind right for learning and he is talented enough to where the light will go off in due time.
Derryck Thornton - Thornton would have been a senior in high school this year.  Instead he is rocking the Duke uniform against the nations best and that begs for a time of adjustment.  Unlike some of the Duke freshman, Thornton was the last to hit campus in that he was fulfilling academic obligations to come to Duke  year early. In fact, Thornton missed out on six weeks of playing with his future teammates due to the aforementioned duties.  Thornton has shown flashes of his immense talent, but he has been very inconsistent. Thornton can be a force if he harnesses the fact that he will need to make his teammates better on offense first and that means more assists.  What he has done well is find ways to score but he has to make his shots and more importantly possessions count.. Thornton will get better and he will be a factor for Duke that needs him to command the offense.
Brandon Ingram - The knock on Ingram has always been his size or weight, but with the way they are calling the college game, his length is an asset. Ingram has the ability to weave in and out on the offensive end near the basket and its hard to get to his shot when he does so for defenders.  As Ingram learns how to better use his body and take advantage of his reach he will make a living at the free throw stripe.  What he needs to work on is knocking those shots down and he'll see his scoring average soar.  Ingram is a match up nightmare and he is starting to fill the passing lanes well on defense.  After starting the season off slow, Ingram has been a spark for Duke when they most needed that from him.  Ingram can knock down the three but his role has changed a bit with Jefferson out.  That means he needs to mix it up more in the paint and in my opinion, he's at his best when he does so.  Ingram has a soft touch and the silky moves to get off shots around the rim.  When he mixes it up on offense he is as good as they come.  Ingram is becoming a leader, despite his youth.  He's getting tougher with every learning experience.
Duke also features Antonio Vrakovic and Justin Robinson who are players learning the system as well.
It will be fun for Duke fans to watch as this group of core freshman players develop.  The best is yet to come and the staff is looking forward to the day when they become a smooth running unit. It takes time, patience and growing pains for that to happen, but the process is underway.