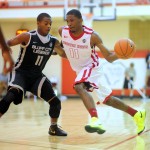 No player in the country has been playing better basketball than Justise Winslow of late and the hot prospect definitely benefitted from his recent play with Team USA.  During the Nike Peach Jam, Winslow showed off his skills set and now sports  as complete a game as any prospect on the Nike EYBL circuit.  In short, Winslow has very few weaknesses.
The Texan can take you off the dribble, post up smaller and larger players, crash the boards, step back for a smooth mid range jump shot or nail the three on offense alone. And did I mention he brings the ball up court like a point guard and can hit the open man with his passes.  And Winslow can defend as well, having the ability to guard up to four positions if needed.
It doesn't take long to appreciate Winslows on the court exploits, but he's just as impressive off the court where he fires back answers that are clear and concise to reporters, many of whom seem in awe at how articulate his retorts can be.  Winslow after all, goes to one of the top schools in Houston and as you will see in the following interview, he is a competitor in the class room just as he is on the hardwood.
I've seen Winslow play in well over twenty games on the AAU circuit and what you look for over the years is for a player improve and Winslow is flat-out playing his best basketball ever and in my eyes is a top ten player in his class.  Which ever team gains his services at the collegiate level will get a solid citizen and as good a wing as one could want.
Check out the latest on Justise Winslow with our interview where we discuss the schools on his list, his timeline, Team USA Basketball and more.
I know Arizona, Duke and other schools have been on you hard, but what it your current list of schools? [private]
Well, right now I'm still at ten schools and there are no leaders or anything like that. North Carolina, Duke Florida, Texas A & M, Baylor, Houston, Arizona and Stanford. And there are some new schools trying to talk to me like UCLA, Indiana and Michigan.
Yeah, I don't know when I will sign for sure but want to do so by November. I just want to make sure I am signed by then.
Coming back from playing with Team USA overseas has to be tough on the body.  You didn't have long to prep for the Peach Jam.
Yeah, it was tough and that's why I sat out the first game of the Peach Jam. I learned a lot by the experience and I'm just looking to take all the knowledge gained and just look forward to try to display it out here and be the best I can be. It was tough adjusting to the time zone again but that's no excuse. I've got to know my body and do what's best for it. So, yes, it was tough and I'm adjusting.
Can you talk of  your experience?
It's just a big difference playing with those guys because most of them have been to college other than the three of us, so the speed of the game and they're just stronger and bigger I got a lot out of the practices and the coaches helped me understand the game and how to defend ball screens off the ball. It was a great time.
At this point in the process are you starting to feel the pressure knowing a decision is looming? You have all these coaches looking at you and probably texting you before you get off the court. Are you feeling the pressure.
I was feeling the pressure at first but my family told ,e to just forget about it and play basketball. One day it will come to me where I want to go to school and ,y family told me not to force it but just go out and be a kid and have fun.
Who will play important roles in your final decision. Your parents? I know you're close to your brother as well ...
Yeah. Just my immediate family. My coaches will play a little part, but mainly my family.
I know you've been asked of a package deal with Tyus Jones and Jahlil Okafor ...
I don't know how big of a factor, but it is a factor and being able to go to school with those guys and make that program elite. I want to go to school with them but all three of us have to do what is best for our families. If it happens that all three of us go to school together, that would be the best. So, I'm really excited and if it does hold up, I will be very happy.
And which teams were all three of you considering from your list?
I think Baylor, Duke, Kansas. I think that's it.
What is it like playing in front of all the major college coaches?
Umm. You know it's kind of exciting at first but you just have to be yourself. You can't go out there and just try to please those coaches but be yourself.
What are your plans moving forward?
I may take time off and the last event will be Orlando for me.
Will you take some time off in the near future?
Yes, definitely a time. I wish I had more time to spend with my family and relax at home but my team needed me, so I thought taking off the first game in North August was the best thing I could do for my body. In August or September I will keep working on my game and will take some time then for my family.
I know your family is big on education.  Have you thought about what you might take in school?
I like math and physics so numbers are my thing. So, maybe something in business or engineering. My family is really big on academics and I go to one of the top schools in Houston. So, I pride myself on that ... being a competitor on the court and in the class room I think I do a lot of things good and some things great, but I think my versatility and all around game is what upgrades me from other guys.  [/private]