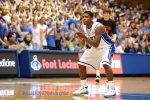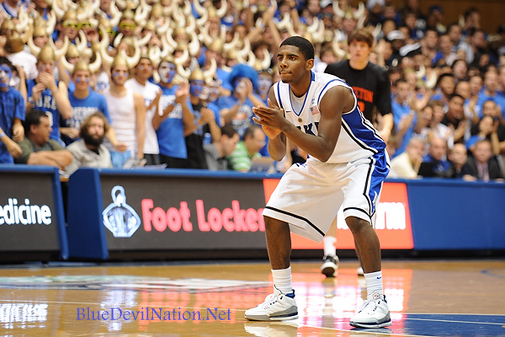 Everybody witnessed how cool under pressure Kyrie Irving can be as he sank a three-point shot over Steph Curry in last evenings NBA Finals.  In a game where the teams combined to go 1-17 down the stretch, Irving found the mark for what would be the game winning points.  While everyone will adore LeBron James and they should, the Cleveland Cavaliers are NBA Champions just as much on the play of Irving.
Heroics is Nothing New for Kyrie Irving
I have been covering Duke Basketball recruiting for a long, long time. That means I have seen NBA legends when they were young including LeBron James.  In all honesty, there have been several Duke players to be that were special during their shoe camp or AAU Basketball days.  I could tell tales of many of them, but nobody excited more than watching Kyrie Irving.  I was in Orlando for the AAU Nationals during a talent packed event in 2009.  That's when I really got see how ridiculously good Irving was on the court.
Back then he played for a little known New Jersey Roadrunners team that was not at many major events.  In fact, his faithfulness to their program probably hurt his exposure before he broke out.  Duke was recruiting Irving hard, where current Northwestern head coach Chris Collins was the lead assistant.  But Mike Krzyzewski was also heavily involved and loved the skill set Irving displayed.  The three were at every single Irving performance on the Disneyland courts.
Irving was so special that he would end up playing some games for the New Jersey Celtics  and the Roadrunners.   He quickly became the show that was not to be missed,  Irving would show off his ridiculous moves as Krzyzewski munched on the unusually tasty and infamous Disney popcorn.  Irving would lead his team to a win over the uber talented Michael Gilchrist led Team Final  in a game where he was a one man wrecking crew.  That performance is now legendary as were many of his games in Orlando that year.  Irving flat out put on a show of dazzling moves average players simply cannot manage.
Earlier that AAU season, Irving struggled a little bit against competition in the NBA Top 100 Camp. By years end he was the top point guard in his class.  He simply adjusted to the better AAU competition quickly after going against lesser talent when playing for the Roadrunners. In a span of two hours, Irving helped his team knock off the two best teams that season in All Ohio Red and Team Final who both were loaded with college players to be.
What Kyrie Irving told me post game in Orlando after his performance -
''Aw, it was great I enjoyed it!  I put on a show and it was just great to have him here.  He's coached so many great guys like LeBron and Kobe and seeing him here ... he's like a celebrity there watching me so it was great.  Just to know that he took time out and came in from Vegas to see me ... it's an honor.  I mean, he didn't have to come in here with everything he had going on, but he did.''
Irving went 20 for 20 from the free throw stripe in the game I witnessed at the AAU Nationals in Orlando ended the game with 37 points.  A legend was born on that day and he showed the world last night a little more of that magic as he drained a three.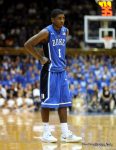 Irving at Duke
I doubt Mike Krzyzewski had looked forward to another player any more than he did Kyrie Irving playing for Duke.  As I said, he was special and made those who saw him drool with anticipation.  As it turns out Irving played in just eleven games for Duke after a foot injury against Butler where he scored 17 of his 21 points in the second half to lead his team to a win.  Irving was to be out the rest of the season until  the NCAA Tournament.
During that time, Kyrie's foot took on a life of its own as fans could not get past they could not see the player destined to be the top freshman in the land play. For those who may not know or remember, Irving had been named ACC Rookie of the Week three times in ten games.  He was also ESPN's National Player of the Week after a 31 point outburst against Michigan State in a Duke won during the ACC/Big10 Challenge.
How good was Irving at Duke?  He was in the top ten in six statistical categories in the Atlantic Coast Conference when he went down. Irving also led the entire nation among freshman in scoring.  Duke was also undefeated and ranked number one in the land before said injury.  He had the most assists in NCAA history for a freshman debuting in a game with nine against Colgate.  He never scored in anything other than double digits in a Duke uniform.
More Knowledge Bombs on Irving
Kyrie committed to Duke October 22nd, 2009 where his decision was aired on ESPNU.  He joined Tyler Thornton and Josh Hairston who had made their intent known earlier.  As in many situations of late, Irving chose Duke over Kentucky.
He transferred from Montclair Kimberly Academy to St. Patrick's where he played for Kevin Boyle.
He was the high school teammate of Dexter Strickland who went to UNC where he stayed all four years.  There was a time when people debated who was the best of the backcourt duo but there is no longer any question.
Kyrie's Dad played for Boston University and was 6-4.  His Uncle also had some influence on Irving when he was making his college decision.  They once told Duke that Irving was not signing for a year but sixty years.  This is interesting in all the critics who say Irving barely played for Duke do not realize the two made life long commitments.  The cold hard facts are that he loves Duke to this day. He was always on the sideline cheering on teammates when rehabbing his injury and is quick to mention is a school alum.
Duke cooled on Brandon Knight who ended up at Kentucky once it was clear they were the leader for Irving who they prefered . Here is an excerpt from an update I did at that time -
''The visit went very well with Kyrie Irving this past week.  How good?  Well, Duke canceled their in home visit with Brandon Knight which was scheduled for tomorrow.  Duke is hoping that Irving pulls the trigger in the next month or earlier.  Duke will stay on Irving big time, so much so that they will visit an open gym on Tuesday of this week.''
Irving and Nolan Smith could have  been the best backcourt in Duke history had they played the whole year together.
I bet you did you know that Irving was coached by current Duke assistant Jeff Capel.  That happened when Capel and Irving won Gold for the Team USA U-18 team in July of 2010.
The shot Irving made over Seth Curry will live in history.  He helped lead Cleveland back from the dead and a 3-1 deficit for the first time in NBA history.  According to ad metrics his stock rose to the tune of a few more million bucks last evening.
Mike Krzyzewski will now have to recruit Irving again, this time to play for Team USA in the Rio Olympics.
In Closing -
It will be fun to watch as Kyrie continues to progress.  Here is one last trip down memory lane from when he played in the N.C. Pro Am. No matter the event, Kyrie Irving always came to play.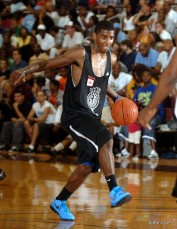 Kyrie Irving- It's as if we got a sneak peek at Kyrie during the Pro Am where he created quite the buzz with his effortless moves which dazzled the audience.  It was no surprise to me for I have seen him do some amazing things on the AAU trail where I witnessed at least 20 games he played in.  Go down the checklist ... ball handling, shooting, penetrating, playing the passing lanes, finishing and KI draws a straight A report card.
What he can get better at is defense and once K works on that a bit more there will be no stopping him from achieving his goals.  No if's ands or but's about the fact that a backcourt of Smith and Irving will be the nations best and Irving brings mad skills to the table.  He will make everybody on a talented team better with his ability to break people down off the dribble and he should dish for a lot of dunks to his teammates.  Irving didn't play down the stretch in the Pro Am and that is probably all by design but his 30 plus point efforts had Duke fans grinning and opposing fans looking forward to hearing his name be called one day by the NBA commish in New York./2010
 Kryie Irving.  Once a Dukie always a Dukie and an NBA All Star and legend to boot.