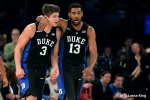 Here is my answers to your twitter questions about the Duke Basketball team after their loss to Syracuse.
@BlueDevilNation what is chase jeters status? I'd healthy is he ahead of Bolden?

— david goldsmith (@dgoldsmith22) February 23, 2017
Unlike football ACC teams do not have to share injury information on a player's status.  Duke is especially plays it  close to the vest on these kind of issues.  What I can share is that Chase Jeter is dressing out for games and warming up and looks as if he could play if needed.  Coach Kyryzewski is known to play a shorter bench towards the end of the season.  Whether Jeter is actually available to play or not is only known by the player himself who has not shared information on his recovery and or the staff.
@BlueDevilNation #weneedmoreGiles
Why does Matt Jones get so much playing time?
Why didn't K go back to the hot hand(Tatum)in the 2nd half?

— Anterio Kittrell (@OnlyTheFactsPlz) February 23, 2017
What many miss is the fact that Matt Jones is a great defender and being that has earned him immense trust from the staff.  Duke has three players on the roster with National Championship rings with Jones being one og them.  While he is streaky with his three-point shot, he knows the Duke system and where to be on the court,  That allows for less easy buckets.  If one single player had a breakdown on defense an easy basket generally happens.
As for Tatum, part of his lack of touches was that Syracuse was defending him with much more attention.  Still, I get that anyone would want the ball in his hands more as hot as he has been of late. Duke had a really bad final few seconds with concern to execution versus the Orange which cost them the game.
@BlueDevilNation is K saving Bolden and Giles legs for tournament time or are they that far behind? 6 man rotation is wearing us out

— Nate Smith (@what_a_Nate) February 23, 2017
Not at all.  Some of the reasons for certain easy lineups are matchups. We all want to see the Bolden that played against Miami, especially going down south in short time after being far north at Syracuse.  The short rotation has more to do with trust and injuries,  One must also realize Syracuse played just seven players in their win with four players playing almost the whole game.  We tend to reach for things that are happening elsewhere after losses in that it is in our nature.  I do think Duke will need one of those players to step up really soon or they could be going home earlier than wanted come March.  It is critical that Duke has a second big man in place if something should happen with Amile Jefferson be it a dreaded injury or foul trouble.
@BlueDevilNation Why not play two bigs plus Tatum once in a while when teams are driving to the hoop with reckless abandon?

— Argos (@Argos5USA) February 23, 2017
Many fans feel your pain with those easy drives to the hoop.  The way Duke plays defense they depend on some help defense or rotating players and that has not been a smooth transition for much of the season.  The problem with playing two bigs is staying in front of their man.  On the other hand, having two in could help in a zone at times. It wilzonel be interesting to see if Duke starts to play a little more junk zone the rest of the way just to change things up.  Another reason for not playing two bigs is a combination of health and readiness.  The bottom line is it takes freshman the most time to adjust on defense.  And Bolden and Giles are indeed freshman.
@BlueDevilNation what must duke do in the remaining part of the schedule to play in Greenville for the NCAA tournament

— Mark Dakermandji (@dakermandji) February 23, 2017
Win.  For what it's worth ESPN currently has Duke playing in Greenville.  Duke must close out the regular season strong, maybe 2-1 or better.  Or they will have to win the ACC Tournament.  If Duke fails to get a two game bye with a top four finish the odds go down.  I think they have a pretty good shot still, but they need on the court success.  The one game that haunts Duke the most is their loss at home to N.C. State.  That made for a situation where Duke had to win some difficult road games to finish atop the ACC this season. They have also been hampered by having to play at Louisville, Florida State, Virginia, Virginia Tech. Syracuse, Miami, Notre Dame and North Carolina.  Not many ACC teams have to go to all those places.  Duke also got most of the cellar teams one time with the leagues unbalanced schedule.
We will be periodically taking random questions from twitter at times for the rest of the season.  Thanks to our followers.