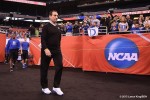 The Duke Blue Devils will take to the court at 6:09 today for a chance to advance to the coveted national championship game.
First things, first
The Blue Devils cannot afford to look ahead for Michigan State is not the same team they defeated on November the 18th.  The Spartans share the ball with the best of them.  In fact, they are fourth in the country in assists and the rebound well, coming in at 36th.   They're scrappy and much older than Duke.  Trust me, they are a solid team and I think Duke knows this.  It's almost insulting to see how many have penciled the Blue Devils in, as if to tempt fate or the Basketball God's.  Those who follow Duke should know better but some would love nothing more than to see this team stumble.  The Spartans have lost just one of their last nine games, that being an overtime loss to Wisconsin.  To come out of this game alive, Duke quite simply needs a huge effort from Jahlil Okafor.  They would also bode well if they can keep their nerves in check for as experience as the freshman may be, they are still 19 years old and younger.  When you get this far in the tournament, every game is a war, not only on the court, but mentally.  If Duke shows the focus, togetherness and toughness they have to date, they will advance.  If not, Myrtle Beach will be calling.
It'll be an away game
There are plenty of Duke faithful here, but they pale in comparison to Kentucky fans.  And Kentucky fans will pull against Duke.  No matter where you go in Indianapolis, Kentucky fans are many for they are just south of the event.  They are loud, boisterous and some are downright taunting and arrogant.  Duke will also likely face jeers tonight from Badger fans as well, so three quarters of the venue will be against them.
Indy is built for tournaments
When you walk around Indianapolis, it's like being in a village.  Everything is connected within a short distance from Lucas Oil Stadium.  Washington Street is hopping with it's many bars and restaurants there and on off streets.  The Fan Fest Music Festival is right across the street from the media motel.  I have a room with a view of the stage acts like Weezer, Imagine Dragons, Rihanna, Lady Antebellum and the Zac Brown Band are among 19 performing for free.  Folks are friendly with the exception of a few drunken fans and the atmosphere is as good as it gets.  This is my second Final Four here, the first being the 2010 National Championship and this place always provides memories.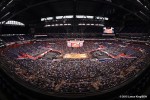 Bottom line stats
Duke is 8-2 in tournament play in the state of Indiana.  Coach K is 8-2 in semi final games.  Duke has limited it's four NCAA opponents to 53.5 ppg.  Duke is shooting 50% from the field in the tournament.   Duke is 49-9 as a number one seed in the NCAA Tournament.
What happens if they win
More coverage, post game videos and photos to come at Blue Devil Nation.  This will include Sunday up close and personal chat with players and Coach Mike Krzyzewski.  We'll be in the Duke locker room after tonight's game, so check back often into the evening.