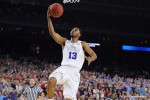 Welcome to the first edition of the Duke Basketball Notebook for the 2015-16 season.  In the coming weeks we will talk of all things Duke Hoops as the season unfolds.  Last year, the Blue Devils won the National Championship behind the best freshman class in the programs history.  But it's time to put that memory behind us for we all know Duke Basketball never stops.
Let's take a look at Duke Basketball by the numbers this week.
2 - Only two players on this seasons roster led the team in scoring a year ago.  The first of those two players would be  Senior Amile Jefferson who tallied 19 points in the Blue Devils big win over Louisville.  The second is Grayson Allen who tallied 27 points in a win over Wake Forest at home.  What does this number say?  It's pretty obvious that Duke must find new players to put the ball in the hoop this season.  Both of the aforementioned players should see their opportunities increase and are likely to be in the starting lineup.
4 - Duke will take on four opponents for the first time in the programs history.  Those four teams are Sienna, Bryant, Yale and Utah State.  But a more interesting note on the number four is the fact that Duke will play said total of  Saturday-Monday turnarounds.  One of the more challenging slots on ACC teams schedules is the quick turnabout.  The first go round will be when Duke takes on Utah in Madison Square Garden only to play Elon shortly thereafter on Monday in Cameron.  Next comes Notre Dame followed by Syracuse, but at least both games are played at home.  The third time is a week later on January 23rd and 25th when Duke plays N.C. State in Raleigh and then goes south to Miami which basically gives the team mere hours of rest in between the contests.  The last go round will be home games versus N.C. State and Louisville.  The reason I mention this is that quick turnarounds can be challenging, especially so for a young team and Duke is a very young team this season.  What some may not realize is that Duke doesn't just go straight to restful periods  once  a game ends.  There is a wind down time, school work and normal life challenges which takes a toll even on youngsters.  This will make for a challenge where the staff must find ways to keep their players fresh.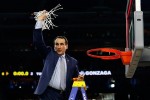 5 - Duke Coach Mike Krzyzewski became the NCAA's all time wins leader a season ago which was somewhat lost in that the team won the title.  The Duke Coach now owns five National Championship rings to go along with five Gold Medals where he has helped to resurrect USA Basketball.  Perhaps this fact should have come under the number ten?  Either way, the numbers are impressive and Duke fans are present for history in the making.
8 - Perhaps no number reflects better on the fact that this years edition of Duke Basketball will not look anything like they did a season ago.  Freshman newcomers Antonio Vrankovic, Brandon Ingram, Chase Jeter, Derryck Thornton, Justin Robinson and Luke Kennard join transfer Sean Obi and new walk on Brennan Besser give the Devils eight new players on this seasons roster.  While I expect we could see a possible redshirt or two, the turnover is significant for a team while talented, could need time to come together as a cohesive unit.
9 - Speaking of departed players for the NBA, Duke fans will pay close attention to the exploits of Jahlil Okafor, Justise Winslow and Tyus Jones.  The aforementioned give Duke nine one and done players under Mike Krzyzewski, who seems to have mastered the art of a trend that will not soon go away.
11 - Last seasons 35-4 finish gives Duke it's eleventh thirty win season under Mike Krzyzewski.
31 - That is the gaudy number for the amount of first round NBA draft picks under Krzyzewski, the most of any active coach in the game today. The Blue Devils sport twenty lottery picks within said number as well.
98 - Duke is about much more than just one and done players.  The Blue Devils hold an impressive 98% graduation rate during the Coach K era.
In closing we take a look at another interesting numbers fact.  Three of this seasons players on the Duke roster will wear the former numbers of the three assistant coaches on staff.  Brandon Ingram will rock #14 also worn by Nate James.  Antonio Vrankovic will don #30 which also belonged to Jon Scheyer and lastly, Luke Kennard will be draped with #5 worn by Jeff Capel.  I wonder is he has one of those almost half court shots that will rattle the rafters of Cameron as did Capel against UNC?  We'll find out soon for the 2015-16 season is upon us.