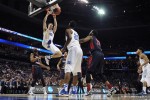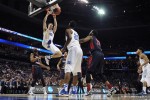 The Duke Blue Devils have found their way to Indianapolis through having a great season.  Four freshman and four upper classmen have helped Mike Krzyzewski go to another Final Four where they will take on Michigan State this Saturday.
While it is true that Duke defeated the Spartans in an early season contest, that game will have little bearing on the game at hand.  Since their last encounter, the Spartans are much improved and riding a hot streak.
Many will be quick to think back on the road to date as a familiar one.  In 2010 the Blue Devils won the national title by defeating Butler in the same venue, Lucas Oil Arena.  In fact, they had to travel through Houston to do so.
Current assistant coach Jon Scheyer was a player on that team and only Nate James remains as a then assistant.  Both of these former Blue Devils know that getting here is but part of the battle, but to make magic truly happen, it takes focus.
Without said focus, the Blue Devils could be caught looking ahead and that would mean the end of the road.  While Duke is slated as a 5 point favorite, make no mistake that the coming game will be a war.
Intangibles come into play more often than some realize.  At some point Tom Izzo may very well halt the success Mike Krzyzewski holds over him and upsets do happen.  Interestingly, both of these teams were in the 2010 Final Four and both coaches are quite familiar with one another.
For the Blue Devils to advance and fend off the law of averages, it will take a solid effort from the start.  Duke nor any other team is wise to play from behind when the games have the immense meaning they do now,.  Momentum can make teams tight when the contest is do or die and you just don't want to dig a hole nor let up when you have a lead.
Most recently, Duke has leaned heavily on Justise Winslow to lead them forward, but to get past the Spartans, other players need to show up.  Namely, Jahlil Okafor, who by his lofty standards has not been on the top of his game.
Duke needs Okafor to be a beast in the paint, for Michigan State rebounds at all positions.  And it's only a matter of time before teams try to expose the one weakness of his game, which is free throw shooting.
Doing the little things and doing it as you have to date has been the message from Mike Krzyzewski this week.  And the team would fare best to listen.  Duke played nervous in their first game against Utah in Houston.  If the freshman have a slow start against a veteran Michigan State team that could spell doom.
Another thing the Blue Devils are battling are media expectations.  Michigan State likely feels disrespected that so many talking heads have penciled Duke in versus Kentucky.  As ridiculous as that notion might be, the media doesn't care.  Yet that kind of thing can end up on bulletin boards as a form of motivation.
I don't think Duke overlooks Michigan State, for if they if they do, the players will be at Myrtle Beach before Monday nights tip off to crown a champion.  But it surely will not be from experience, for this is indeed one of the youngest Duke teams Krzyzewski has coached.
For Duke to advance, they have to block out the vast amounts of attention.  Young freshman, as talented as they are have to play like grown men.  To win and advance, it will take what got Duke here.  Toughness, togetherness, resilience and heart have given Duke the opportunity to make some new memories.
Special memories are what Mike Krzyzewski is hoping for in Indianapolis.  But it's not easy.  Nothing is easy when you get this far, nor should it be.
The Blue Devils are capable of moving on to the national title game, but first things first.  A tough minded, Michigan State team stands in the way to play for it all and Duke would be well served to take them very seriously.