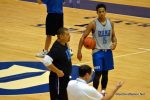 In 1995 Duke Basketball Coach Mike Krzyzewski went to the sidelines for the remainder of the season.  His then head assistant Pete Gaudet found himself overwhelmed by his duties which were suddenly thrust upon him.  To his credit, he had never coached a division one basketball team as the main man.
We recently have news that Duke's Hall of Fame Coach, Mike Krzyzewski will again miss time.  While he is expected back this season there are some big shoes to fill during his absence.  But this time Duke is better prepared for such a situation and it was Krzyzewski himself who made sure of that.
Krzyzewski hired nothing but former Duke players of late and for a reason.  He wants his staff to know the system.  When Jeff Caple came aboard he immediately became a solid guy whom his former coach could lean on.
If you have been around the Duke program as long as I have, you realize the immense respect Jeff Capel receives.  He is the top recruiter on the staff and the man Krzyzewski goes to for alternative views.  And that is who will replace the legendary coach as he attempts to relieve his back pain and return to the helm.
Pardon the pun here, but Capel is more than Capel-ble or capable. Capel had huge success at Virginia Commonweath and he later took his talents to Oklahoma.  Capel had a trial run a season ago when he took over and helped guide Duke to a road win when Krzyzewski went through medical tests.
Duke is fortunate enough to have had a head coach on the bench sharpening his wares under Krzyzewski.  And he will certainly be helped by long time assistant, Nate James and Jon Scheyer. Together these guys, along with Nolan Smith will help Duke circle the wagons and be ready for battle.
At no other time in the Blue Devils history have they faced more adversity than this season.  If it were not bad enough that they missed three of their five freshman to open the season, they have also dealt with player suspensions.  And even some of those suspended players, like Grayson Allen have been injured as well.
Add to this a team coming off a loss at Virginia Tech where they were out of the game in the first two minutes of play and nothing but ACC games coming and you have a challenge.
Nobody is going to feel sorry for these Blue Devils and Krzyzewski himself said it's time they come together.  They'll have to do so with minimal contact from Krzyzewski, at least for the forseeable future.
Duke has yet to have a full contingent of healthy players to have the practice they desire.  Even now, Harry Giles and Marques Bolden are far from the players they can be and need to be.
While Keryzewski may not be on the sidelines the rest of January, his shadow will be.  Duke Basketball is a brand of play and he has fathered said brand.  His assistants will not be blowing in the wind as they bring this team together.
I  would expect Krzyzewski to challenge his team to come together during his absence.  Honestly, they have too much talent not to do so and no excuses worth hearing.  As he said, it is time for them to play as one and become cohesive.
That cohesiveness has always been there with the staff and now they will all be expected to take it up a notch.  The Blue Devil Nation is saddened for the temporary loss of Krzyzewski.  But at the same time, it will there should be excitement to give Jeff Capel a good look, for he could be the man on the sidelines for good one day.