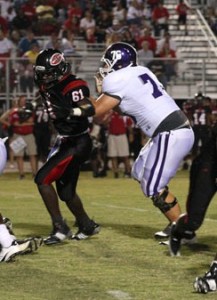 Brett Steverson is a 6'4" 300 pound offensive tackle from Fitzgerald, Georgia. After a slow start, his recruitment is picking up this spring, and he now holds scholarship offers from Duke and Troy, with strong interest from several others. The Blue Devils have Steverson near the top of their recruiting board for offensive lineman, and hosted the top junior on a recent visit. Steverson came away impressed and updated BDN on his recruitment.
[private]
BDN: How would you describe your strengths as a player?
As far as being a player, I think that, we're a run-oriented offense, we run the ball a lot, that's not to say that I can't pass block, I'm pretty good at that too. I'm a dominant run blocker, and I think I'm underrated. I think if I match up with anybody in the state, head to head, up front, it doesn't matter if I'm a two-star or a three-star, it doesn't matter what they rate me, if I'm going up against a 5-star, All-American, I think I can go head to head with them in run blocking and pass blocking. I love run blocking because I'm physical and I finish all my blocks. As far as pass blocking, I've got pretty quick feet for a big guy, but I'd be fine run blocking all game. I can also, in our offense, last year we didn't pull our tackles as much, but this year we're supposed to pull our tackles more, so I'll get a chance to do that. In practice when they pulled them last year, I did a good job and the year before that I actually played guard, so I can pull and move and stuff.
BDN: What are you working on this offseason as you prepare for your senior year?
I think the main thing I'm trying to do is just, I'm a strong kid in the weight room, most people call me the gym rat because every time somebody comes to the weight room, it seems like I'm up there. But, just getting stronger, faster, and quicker, and more explosive. Trying to work on football explosiveness through power cleans and stuff like that so I can be more explosive on the field, it all ties together. That's the main things I've been working on, and also some pass blocking, doing some more one-on-ones so that when I get to combines it's not such a big thing because we never get in the two-point stance, so just working on my pass blocks and stuff we don't do that much.
BDN: As you approach your college decision, what are the most important things you are looking for in a school?
I think education is going to play a big role. Another thing that will play a big role is how much of a family atmosphere there is, how the coaches and players get along, how their relationship is. Of course, a relationship between a coach and a player is going to be intense at times, but I also want to have that security where the coach is going to care about you and be like your dad when you're at college and away from your family. That's one thing that I really liked about Duke, Coach Cutcliffe is such a great guy, and those guys up there are top notch academically.
BDN: You mentioned Duke as one of the schools that has stood out to you. Where do you stand with offers and interest from schools now?
Duke and Troy are my two offers right now, but our high school coach has been talking a lot to Coach McCollum up at Georgia Tech and Coach Brattan at Maryland, they might offer at any time. People say that Georgia…people say things, that stuff, all the articles and reporters and stuff, until it's legit, you don't really know. I did really like Duke and I think Coach Cutcliffe and them are doing a great job up there. I haven't been to Troy yet. I know that people say Duke's football is not on the map, but Coach Cutcliffe has done a great job there trying to develop a program, building new facilities. Even though they only won 3 games last year, they lost 5 games by a combined 14 points, so that shows they're right on the brink of being a bowl team and an ACC contender. That's a credit to Coach Cut and the players and all the assistants.
BDN: You mentioned Troy as a school that you have some interest in; do you have any plans for any visits this spring or summer?
Miami wants me to come down, I'll go down there in the summer probably. I've been to Georgia three times before I got offered by Duke. It was nice, but I didn't like the atmosphere, I didn't take in as much as I did at Duke, even though they're a top school every year, it just didn't seem like as friendly of an atmosphere. I plan to go to Troy, but I'm not going to lock down any visits until I get some more offers, which will probably come this spring. I'm not going to really plan anything, I'll probably go to some places over the summer, but right now I don't know where I'm going to go. I want to take my mom back up to Duke, because she didn't get to see it. I have three players from our school, well two are already there and one is going there this fall, to play football at Troy, so it will be cool to catch up with those guys, but I haven't planned to go there yet.
BDN: Do you have a timeline in mind for when you plan to narrow things down or make your final decision?
That's a tough questions, because I think I'll get some more offers this spring and hopefully get an offer from a SEC school, a big SEC school, because it seems when that happens everybody starts to jump on board and pay attention. It would be nice to get an offer from someplace like that so I can see what all my offers and options are going to be. I really would like to make a decision either in very early football season or before football season, because I don't want my football season to overlap with questions not surrounding the team but surrounding me and my decision. I would rather get that out of the way so it's less of a distraction for me any my team.
BDN: Thanks a lot, Brett, and best of luck.
Thanks, I appreciate it.
[/private]