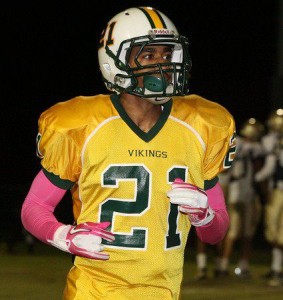 Ja, Part Eine. As in part eine von zwei. Go ahead, Google Translate it. It means there's even more coming, but only if you're a BDN Premium Member.
"I love Duke Football, but it's impossible to keep up with recruiting. There's just too many players, too many camps, too many rankings. Basketball recruiting is so much easier to follow."
We hear that a lot, and it's time somebody did something about it. #dukegang is off to a great start in the class of 2013, so there's no better time to start following Duke Football recruiting. Read on for the first installment of our BDN Premium Football Recruiting update.
[private]
I don't actually speak German, by the way. Maybe we'll do a Football Friday in a foreign language one day. That would be something. Ok, so football recruiting is all over the place (kind of like my writing) and impossible to follow, right? Well, let's simplify it, for all of us. Yes, there are hundreds of prospects interested in and visiting Duke; yes, there are hundreds of prospects that Duke is interested in or evaluating. The key, my friends, is to find where those two groups overlap. Since we know the Blue Devils have some work to do on the defensive side of the ball, let's start there. Here's an educated guess as to the top of Duke's defensive recruiting board:
Defensive Linemen
None in the truck so far, here, but a promising start with a couple of big-time players.
Devin Washington is a 6'2" 225 pound defensive end prospect from Orlando, FL. He took a visit to Duke a few weeks ago and came away impressed. "Duke was amazing, left a lasting impression on me. It was extraordinary! So blessed to have the opportunity to be able to have this experience." One of the highlights of his trip was being able to take his father, a big Duke fan, out onto Coach K court in Cameron Indoor Stadium. The staff remains in regular contact with him, led by Coach Cutcliffe and Coach Collins. But, before you go out and start buying Washington Duke jerseys (puns are fun!), the Blue Devils have quite a bit of competition, which should come as no surprise for a player who has four stars after his name and recently took home DL MVP honors at the Nike camp in Orlando. Devin picked up his 25th offer today, from Purdue. Washington is expected to put together a list of his top schools after he wraps up spring practice, and there's a good chance that Duke will make that cut, but they're likely to be joined by several others, most likely NC State, South Carolina, and UCF.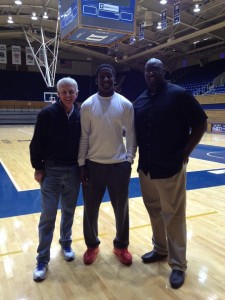 Maurice Hurst is a 6'2" 275 pound defensive tackle prospect from Westwood, MA. He recently wrapped up a whirlwind college tour, and included a stop in Durham. In all likelihood, the Blue Devils have some ground to make up, but Hurst is a top-notch student and would fill a huge need in the middle of Duke's defensive line.
Jaylen Miller and Jay Woods are two more of the Blue Devils' top DL targets, with Miller likely projecting as a DE and Woods a DT at the college level. BDN caught up with both earlier this spring, and the Duke staff is looking forward to hosting both prospects on unofficial visits soon. For Miller, Duke will face stiff competition from Florida and in-state Clemson and South Carolina, as well as rival UNC. Coach Jones, a South Carolina native, heads up Miller's recruitment for the Blue Devils. Woods' list of suitors continues to grow and includes national powers like USC and Nebraska, but the Blue Devils will have their shot, led by Coach Middleton.
Linebacker
I still say Jim Collins is under appreciated for the job he has done with the linebacking corps in Durham. Year after year, he puts out All-ACC caliber players, and landed a very good one this past recruiting year in Keilin Rayner. The Blue Devils are looking to add more playmakers to their linebackers, and have targeted a few of the nation's elite so far.
Michael Deeb is a 6'2" 235 pound linebacker from Davie, Florida. Deeb played his first year at linebacker as a junior, racking up 92 tackles, after starting his career as a defensive end. He is cut from a similar mold as Duke's Kelby and Kyler Brown - a big, physical specimen with deceptive speed and great instincts. Boasting a 3.8 GPA, he's earned a host of suitors, which include programs like Penn State, Vanderbilt, and West Virginia. Deeb is planning a college tour this summer, which will hopefully include a stop in Durham.
Oren Burks, a Virginia native, is the other top target at linebacker, a player the Blue Devils offered a couple weeks ago on his unofficial visit to Durham. At 6'3" and 200 pounds, Burks delivers a punishing hit and is being courted by a number of programs. His HS, South County, recently produced a pair of Virginia Tech LBs, and the Hokies are among the schools to have offered the standout junior.
Cornerback
With three of the five CBs on campus as upperclassmen, the Blue Devils will need to reload at cornerback in the class of 2013, and reloading they are. With two cornerbacks committed, Duke is still looking for more.
Evrett Edwards is a stud. Sure, the Blue Devils have brought in some athletic cornerbacks in recent classes, but none have the potential to become an All-ACC shutdown cornerback like Edwards. While Duke was one of the first to discover this diamond in the rough, playing for a 6-4 Woodbridge team, they are certainly not the last. Edwards recently cracked the double-digit offer threshold and shows no signs of slowing down. Several schools have stopped by to take in his spring practice, including ACC power Florida State. After his commitment to Duke, Edwards took unofficial visits to Illinois and Northwestern, which he had scheduled prior to his decision. Luckily for Blue Devils' fans, Edwards appears to be a man of his word, and his commitment to Duke remains solid.
Dequavais Mann is a hard first name to spell, but a very nice in-state sleeper prospect (another player on a not-so-great HS team). A player with good natural speed and athleticism, he's impressed on the spring circuit and is one of #dukegang's most vocal supporters on Twitter. He's a solid addition to the program and a firm commitment at this point.
Malik Rucker is another impressive athlete who projects at  either the cornerback or safety position, and a player that the Duke staff has been in on early. At 5'11" and 175 pounds from Minneapolis, MN, Rucker comes from the heart of Big 10 country, but has interest in the ACC. His cousin played wide receiver at Boston College, and another cousin played running back at Iowa State; but, with 16 scholarship offers, he's wide open at this point. Expect Rucker to take some weekend visits over the next few months and look to make a decision in the fall.
Godwin Igwebuike is another athlete from Big 10 country (Pickerington, Ohio) near the top of the Blue Devils' recruiting board. With the potential to play on either side of the ball, Igwebuike has amassed over a dozen scholarship offers and is drawing interest from regional powers Michigan, Notre Dame, and Ohio State. Duke was on Igwebuike early, as Derek Jones extended an offer on a recruiting visit last December. The Blue Devils hope to get the powerful athlete on campus later this year.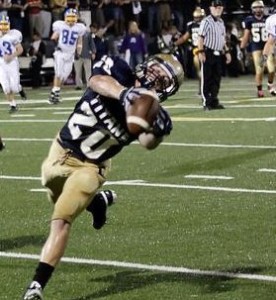 Safety
With one commitment already on board at safety, Duke is looking to find another player or two to help fill the void left by now departed All-ACC safety Matt Daniels. With several upperclassmen poised to graduate in 2013, the Blue Devils can offer early playing time for impact players at the safety position in their 4-2-5 scheme.
Jake Kite is as good as his highlight film, by all accounts. He plays smart, he plays mean, and he hits hard. This was a very good pickup early in the recruiting season for the Blue Devils, and he's a solid commitment, though plenty of other schools will come calling.
Speaking of poaching recruits, two can play that game. Duke remains in pursuit of Durham's own Korrin Wiggins, a safety from Hillside HS, alma mater of Duke's Desmond Scott, Corey Gattis, and Brandon Watkins. Wiggins, of course, committed to the boys in Columbia blue in February after watching Austin Rivers bury the Tar Heels in Chapel Hill. It may be too little, too late, but Coach Middleton is leading the charge to try and persuade Wiggins to a different shade of blue.
Austin Logan is a good-looking safety prospect from Tallahassee, Florida. An outstanding student-athlete, his list includes the usual suspects for a player of his caliber - Stanford, Northwestern, Vanderbilt, and Duke. Of course, there are plenty of others, but expect those four schools to be in the running for 6'1" 180 pound prospect.
For the superstitious among you, that's the lucky 13 at the top of Duke's defensive recruiting board in the class of 2013. Now, I ask, was that still too overwhelming? Can't you spare a few of those brain cells you use to memorize Bachelorette contestants? Ugh, well, we tried. More to come, as we break down the top of the offensive recruiting board sometime soon. And yes, I'll work on a Football Friday, too. Spoiled rotten, all of you.
[/private]