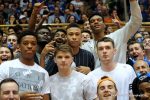 The Duke Men's Basketball staff is once again on the recruiting trail in full force as the open period begins.  The Blue Devils have been active with many players of late, extending new offers and setting a list for future prospects while trying to close on current ones.
The staff is busy in more ways than one.  With the Canadian trip fast approaching, this is a time when everyone must take their vitamins.  A demanding schedule means time management, yet that seems to be something a Mike Krzyzewski led program thrives on.
Duke is fortunate to have four assistant  coaches, if you count Nolan Smith that have all won national championships.  That knowledge combined with individual experiences offers them communication skills and knowing what kind of team they need to build for future success.
So far, Duke has yet to land a single player for next seasons class, but it is just a matter of time.  Duke is not hurt in the least by players waiting in that they can see firsthand starting in August of how they blend high school players into roles with the team.
With the one and done rule in effect, Duke is still looking at young men who can jump straight to the league.  The Blue Devils also realize that current players on the team will play a role in who comes next if they turn pro early.
That makes for a mixed bag in how to fill the roster, but it is an envious situation for the program.  Duke has zeroed in on several players, so we now have a good idea who will possibly fill the 2019-2020 roster.
It makes sense that Duke could lose all of their starters for a second year in a row, if the team has success and especially if they are lucky enough to win it all.  Many things play a role in when the best time for some players to go pro is at hand.   Others are destined to go already despite not dribbling a ball in an actual game in Duke uniform.
Duke will spend a lot of time in the many tournaments in Las Vegas this week.  While there, they will try to close on some guys in this class while hanging in with others who will make late or next Fall decisions.
Among the players which have standing offers are Cole Anthony (PSA Cardinals/Nike) who is hands down the best guard in his class and the son of former UNLV standout, Greg Anthony.  Anthony is on the cover of the latest Slam magazine and sure to garner more hype but he will not pick a team until the Fall of 2019 when all the fallout has occurred.
A player who will make an earlier selection which holds an offer is Bryan Antoine (Team Rio/Under Armor).  The shooting guard has long had Duke at the top of his list and will visit campus on September the 29th.  It helps that he is friends with current Duke freshman Joey Baker who continues to help the staff recruit.  He is also a very likable player on the shoe camp circuit who may players want to play with.
Vernon Carey (E1T1/Nike) has long been near the top of the high school rated players.  He is top three on every list and he has included Duke in his final teams.  Carey will visit Duke during Countdown to Craziness in October and he will likely have some company in the stands at that time.  Duke has been all in on Carey for some time now and he will be a center of focus for them this week.
Another player Duke is heavily recruiting is Wendell Moore (CP-3/Nike).  Duke most recently visited Greensboro to see him play where they had multiple staff members at all of his games.  Moore is their wing of choice but he is being heavily recruited by other schools as well.  He will visit the Duke campus on September the 21st and through the weekend.
A player Coach K loves for his non stop motor is big man Isaiah Stewart (City Rocks/Nike).  Stewart is the real deal and he is slated to visit Duke for the UNC game in Cameron but those plans could be changed and he may visit earlier.  Duke is considered one of the leaders for this young man and they've seen enough.  And it is good they've seen enough for Stewart has elected to sit out this week and will another Duke target in guard, Josiah James.  Duke has been on the 6-6 PG for a while now and they will likely seek a visit in the coming months.  The  guard situation is a bit more complicated which I speak openly about on the message board for members.  In fact, I go into much more than just the general list in this article for Blue Devil Nation members.  There will be an extended update tomorrow which goes into more details on the targets and new offers which will go out soon. So, consider joining Blue Devil Nation Premium where you can currently get two years for the price of one during our BOGO special.
Okay, back to subject at hand.  Duke loves Matthew Hurt (D-1 Minnesota).  Coach K himself is running front on this one and that is a good thing for Kansas and others covet this talented player and Self was able to recently coach him.    Duke will check him out this week and our members know the details from past updates.  Hurt is a Duke kind of player and one they will push for until the end.  It won't be an easy road for his service in that it is so competitive but it would be a rewarding one and a great match.
Say hello to Nico Mannion (West Coast Elite/Under Armor).  Okay, so you knew about him from past updates, but he has recently reclassified to the class of 2019 and Duke has an offer out and will scout him even heavier in the coming week.  For those who do not know, Mannion is a USA PG which is the kind of player a Krzyzewski coached team covets in that he loves those who have represented the country.  Of course, Mannion was not originally from the US which you can see in past updates, but he will continue his ascent to his dreams at a college in 2019-2020.
Duke has also done more than kick the wheels on Armando Bacot who was very impressive with his team in Nike play.  Duke wants three front court players and that could include him if two aforementioned players look elsewhere, so there remains consistent contact.
I expect we'll see another front court player offered once the evaluation period ends, if not two.  Duke has and will scout Jaden McDaniels, Jaiden Delaire and Drew Timme.  They also have some names in place if things get tight with Moore.
The players which Duke may get early from our last update has not changed.  BDN will cover that again tomorrow along with the new players which are becoming fixtures for the future.