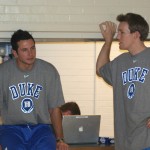 There will be a new home for several NBA Blue Devils this coming season including one of the all time Duke favorites JJ Redick. In case you missed it, Redick was part of a three team trade and deal which landed him with the Los Angeles Clippers. Redick joins the "hot." team in L.A. in the Clippers who look to be one of the better teams in the west this season. The Lakers which recently lost Dwight Howard to free agency will take a step back and the window is open for success for the Clippers who now have Glenn "Doc," RIvers running the team. As for Rivers, he actually mentioned Redick as a shooter in a conversation I had with him when Duke was recruiting his son Austin. In short, Redick has a good new home and with an aging Chancey Billups at the SG spot, he has a chance to start or play a major role this coming season.
Also on the move is former Duke standout and national champion Mike Dunleavy who will now suit up for Chicago Bulls. Dunleavy joins two other former Blue Devils in Luol Deng and Carlos boozer provide there are no further moves in Chi-town.
Another Blue Devil who will have a new home is Nolan Smith who was to play with the Boston Celtics in the NBA Summer league but he just suffered a lower leg injury and is now in a boot.
Mason Plumlee dropped a dunk during day one of the NBA Summer League that is drawing raves and supposedly yelled "Get some," as he ran back down court. Mason has a bit of a chip on his shoulder for those who thinks he is an older rookie with less upside. I think folks will change their tune over time about kids remaining until their senior year hurting their chances.

Meanwhile, the Blue Devil who never was, Shaun Livingston will be a teammate of Plumlee in Jersey where the Nets have signed the former high school standout. For those who have not followed Duke recruiting over the years, Livingston was a high school prodigy who gave Duke a verbal only to bolt for the NBA late the game before he ever played a game at Duke. His departure coincided with Luol Deng leaving after his freshman season after he had told the Devils he would return leaving Coach K's Dukies in a bit of a lurch. Sadly, Livingston suffered a major injury which has effected his career and many felt he needed a year in college for his body to catch up. Anyhow, Livingston was the original point of frustration for Duke fans in that they never got to see the top rated PG in the class and until that guy named Kyrie Irving came along. Irving, of course, got injured where he played in just over ten games for Duke leaving fans and the staff to wonder what it would be like had he had a full year in Durham. Those who remember Livingston realize he could have been one of the greats and it took a player of Irvings' stature to wrestle away the top "what if," spot in the K era.
Another player who will join Redick in Los Angeles will be incoming rookie Ryan Kelly. The two will be rivals though, in that Kelly will be a Laker. That means when Kelly gets burn he'll be closer to the Hollywood stars than he probably ever dreamed with the A-list straddling courtside seats. Kelly and his soon to be wife, Lindsey Cowher, daughter of former Steelers coach Bill Cowher will now have state of the art theaters at their disposal. The two are notorious movie goers where Kelly came clean that his favorites were romantic comedies. Anyhow, Hollywood is getting two character young men in the aforementioned Redick and Kelly who both make faith in Christ a big part of their lives.
Lastly, it was good to see Kyrie Irving get some help in Cleveland during the most recent NBA Draft and yes, Duke fans are still wondering aloud what a full season of Kyrie would have been like in Durham. I followed Irving closely on the recruiting trail when the Blue Devils were chasing him and to this day, no player was more exciting to the senses in that he simply did things on the court I have never seen since. Irving was special. He was worth the price of admission on the AAU trail, much less the league and he will now be able to play for Coach Mike Krzyzewski again for Team USA. I, for one, am excited to see that.