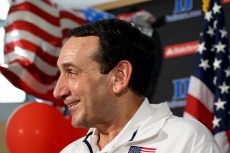 What an exciting time of year this has been for Duke fans. Coach K has returned from London with his blokes in tow -- that's assistants Chris Collins and Steve Wojciechowski, mate --  and with Gold. And football is just two weeks away from kickoff ...
You need a map and compass to keep up with the various appearances Mike Krzyzewski has been making since he returned from the other side of the pond. Amazingly, Coach was the first one in the Duke Basketball offices the day after he got back, which is a testament to his dedication and hard work. Here at BDN, we're still trying to figure out ways of saying thanks for all that he does.
Meet the Devils goes off tomorrow at the Paschall Field House at around 6:00 PM. Paschal is the new facility in the end zone of Wallace Wade, and once you see it you will know that Duke Football is making the necessary moves to compete in the increasingly difficult ACC. This is a serious facility. Free posters, refreshments, drawings for prizes and such will take place. It's a great time to meet the football team in an "up close and personal" environment, and you'll be able to take pictures with your favorite players as well.  Come on out if you can!
Staying with the pigskin, check out this in-depth question and answer feature on the ACC Sports Journal web site, where BDN Football Analyst Patrick Cacchio chats with Jim Young about the Duke program and this year's team. Jim made no bones about putting Patrick on the hot seat, and our man predicts a 5-7 season against a pretty dern tough schedule, both in and out of conference.  For instance, Duke has to face Florida State and Clemson from the other division, while UNC gets Maryland and Wake Forest.
The pressure is already building  for the opener against Florida International, who returns 18 starters from a season ago, when they went to the Beef O'Brady's Bowl.  The Panthers dominate the Phil Steele Preview Magazine's All-Sun Belt pre-season team, with 10 players on first or second team.  In last season's meeting down in Miami, the Panthers badly outgained Duke in total yardage, but the Blue Devils prevailed because they did not turn the ball over and they capitalized on FIU's only turnover to pull it out late by the score of 31-27.  Undoubtedly seeking revenge, the Panthers will have their ears pinned back and be ready to rumble; in many circles FIU will be considered the favorite.  It will be a heck of an early test for the Devils, and they'll need Wallace Wade to be packed and ready.
Patrick also has an interview up where he recaps the latest Duke verbal commitment, California running back  Joseph Ageigbe.  This is verbal number fifteen for the program, which really does seem headed in the right direction.
With all of that going on, Andrew Slater's latest interviews have been flying a bit under the radar at BDN Premium. Slater has set the gold standard when it comes to getting to know these hoops prospects.  One recent post profiles The Rockwell Rifleman, Austin Grandstaff who is a young combo guard out of the Dallas area that we talked to at the Nike Peach Jam and then followed up with in Las Vegas.  Then there's the Rebel with a Future, KavonLooney, a good-looking prospect from Milwaukee who has been catching the eyes of many scouts.  There is also Explosive Potential-An interview with Robert Hubbs focussing on the Tennessee wing who continues his rise in the rankings, and finally the star wing out of Houston is profiled in And Justise for All-The Justise Winslow interview.  As a paying subscriber you have full access to all of these articles and can talk recruiting and more on our members-only message board, where you will get all the latest scoop.
BDN will cover today's closed session football scrimmage and we'll have photos galore. Be sure to check out the previous pictures from Photo Day here and we will be adding more as time allows.