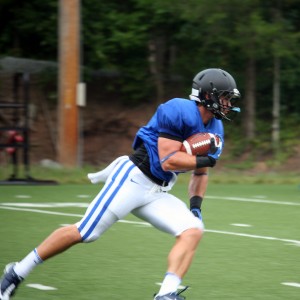 DURHAM - We'll start where we did on Monday. Health. On Friday, the Blue Devils were not nearly as fortunate as they were on Monday, seeing several key players go down with injuries throughout practice. Three safeties went down during warm-ups, LB David Helton was injured on the opening kickoff, and during the scrimmage, Kenny Anunike, Jamal Wallace, Sydney Sarmiento, and others, were banged up. Fortunately, after practice, Coach Cutcliffe felt all the injuries were minor and does not expect anyone to miss significant time at this point. Among players who have been sidelined with injuries, DE Jordan DeWalt-Ondijo appears closest to returning. LB Britton Grier continues to play with a cast on his arm. LB Kelby Brown continues to participate in drills, but remains non-contact.
Now, to what we saw on the field. While each scrimmage this week was just a snapshot in time, taking the two together gives a better idea to the development of this Duke team. For example, Brandon Connette and Desmond Scott, both playing new positions this fall, looked much more confident on Friday than on Monday. Connette finished the day with 2 touchdowns, a 15-yard reception and a 36-yard run. Scott hauled in 6 catches for 39 yards. Perhaps the biggest story of the night was the newest Blue Devil to transition to WR, former CB Garett Patterson. Patterson, whom BDN spoke to after the game, is playing WR for the first time since high school and hauled in 5 catches for 80 yards, including a 49 yard touchdown.
Looking at the two scrimmages together, there is no question that Duke's defense was much improved from Monday to Friday, and senior CB Lee Butler agreed after the game. At times on Friday, the defense was nearly dominant, forcing three and outs, forcing a fumble, and coming away with 2 interceptions. The contributions came from all over the field. Butler made another acrobatic interception. Freshman LB Deion Williams looks like a player who is ready to contribute this fall. CB Tony Foster came away with the second interception. Redshirt-freshman LB Kyler Brown was again a force in the middle of the Blue Devil defense, especially with Helton going down early.
Some of the young players are still learning the ropes. Freshman WR Anthony Nash fumbled on a reverse and struggled to get open all night. Freshmen RB Jela Duncan and Shaq Powell were both good, but unable to break the big run expected from them. Up front, Carlos Wray, Keilin Rayner, and Michael Mann all looked like they could be playmakers down the road, but will have to be more consistent. After a big game on Monday, TE Issac Blakeney was a non-factor on Friday; conversely, TE David Reeves looked better overall on Friday night.
Special teams continue to look special. Ross Martin was perfect, connecting from 43 and 48 yards. Will Monday was able to punt the ball where he wanted in drills and game simulations. After a bobble, Tim Burton broke off a kick return for a touchdown, showing off his tremendous speed once he found a seam. Of course, the success in the return game could indicate that kick coverage might be an issue, but given that Duke has been a pretty good coverage team in recent years, I think the credit goes to the return men. They have to prove they can do it under game pressure, but the special teams unit looks like a group that could win Duke a game or two this fall.
In the least important category, Duke wore their black helmets in the scrimmage, paired with blue and white practice jerseys. The scrimmage on Friday was much more of a game atmosphere, with a small crowd of parents in the stands, the team rushing onto the field at the start, and even an abbreviated halftime. The Blue Devils' final scrimmage of training camp will be next Tuesday evening and is closed to the public.
Duke hosts their annual Meet the Blue Devils day in Pascal Field House today at 6:00 PM. Free posters and autographs are available to all who attend, as well as the opportunity for photographs with the 2012 Blue Devils.
Coach Cutcliffe comments