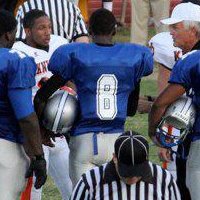 After a short lull, Duke football picked up another early commitment in the class of 2013 on Thursday. Statesville CB Breon Borders gave his verbal pledge to the Blue Devils, joining fellow in-state CB Dequavais Mann and Virginia CBs Evrett Edwards and Jake Kite in the future Duke secondary. The 6'1" 170 pound prospect helped lead Statesville to the state playoffs and a 7-5-1 overall record as a junior; he finished the season with 48 tackles, 5 interceptions, and 6 pass break-ups. Borders picked up his first scholarship offer on a February unofficial visit to Durham, which he described as a dream come true, and declared Duke his early leader. He made his decision official on Thursday by informing the Duke coaches, and ultimately chose Duke over an offer from Georgia State and strong interest from Clemson, ECU, UNC, and Wake Forest.
Borders caught up with BDN after his high school track meet this afternoon.
BDN: What led to your decision to commit to Duke today?
I've wanted to go to Duke ever since freshman year, plus I am ready to get recruiting out of the way so I can focus on my senior year and football.
BDN: How did you inform the coaches of your decision and what did they have to say?
I just called up Coach Cutcliffe and I told him that, "Coach, I'm ready to commit." And he was just so excited, he was so excited, I was excited. It was just amazing, it was amazing!
BDN: I know we spoke after you took a visit to Durham earlier this spring and you've had some other schools recruiting you as well. What was it about that  Duke that made it the school for you?
I just really connected with the coaches and I really liked the vibe around campus. I think I could come and play within my second year at Duke.
BDN: I'm sure Duke fans will be excited to hear about your commitment. Is there anything you want to let them know?
I just want them to know that they got a good athlete, a long athlete, and they got a corner that's going to come to work every day.
BDN: Congratulations on your commitment, Breon, and best of luck this fall!
Yes sir, thank you!
Join BDN Premium to discuss the newest Blue Devil and Duke Football happenings year round.