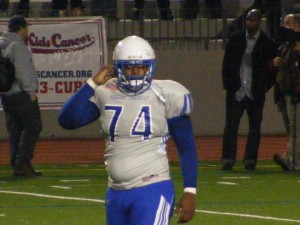 Duke Head Coach David Cutcliffe has stated publicly that the quickest way to improve a football team is to find a dominant defensive tackle to man the inside of a defense. Out on the recruiting trail, the Blue Devils have found just that type of player in big Georgia DT Jay Woods. Woods is a 6'3" 275 pound prospect from Jackson HS. As a junior, Woods starred on both sides of the ball, earning a selection in the AT&T Risingseniors.com Georgia Junior Bowl. In addition to his on-field accomplishments, Woods also gets it done in the classroom, boasting a 3.9 GPA and memberships in the National Honor Society and Health Occupation Students of America. His combination of talents might make him an ideal fit in Duke blue, but the Blue Devils have plenty of competition for the Georgia star, who already holds 15 scholarship offers. BDN caught up with Jay for an update on his recruiting process. [private]
BDN: How would you describe your strengths as a player?
My strength as a player is that I feel like I have a good pass rush on the quarterback and I'm a downhill, get off the line kind of player.
BDN: What are you working on this offseason as you prepare for your senior year?
Things I'm working on - my body weight and everything. My weaknesses I feel I need to improve on is against the double teams and the run block.
BDN: As you approach your college decision, what are the most important things you are looking for in a school?
The major thing is the education, this is my first priority, I tell all the coaches, wherever I'm going I have to have a good education.
BDN: That's great that you're emphasizing your education; is there a particular field you want to study?
Yes, my major is pharmacy and my minor is physical therapy.
BDN: Where do you stand with offers and interest from schools now?
I have 15 offers right now. The schools that are recruiting me the hardest is in between Georgia Tech and Ole Miss, even though all colleges contact me, I feel like they send me email every day of the week.
BDN: Which schools have you had a chance to visit or do you have plans to take any visits later this spring or summer?
Right now the schools that I've visited are Auburn, Georgia, Georgia Tech, Alabama, South Florida, and I'm planning on visiting the colleges that have offered me like Missouri, Duke, Vandy, Ole Miss, and I'm trying to get out to USC for like an official visit.
BDN: Living in the Southeast, are there any schools or conferences that you are particularly interested in, or followed closely growing up?
Right now I'm open to trying to go anywhere. Growing up, I loved Georgia and everything, but right now I'm open to everywhere. All the colleges that have offered me, I want to go through the process and see the pros and cons of each school.
BDN: Are there any schools that have stood out to you at this point, either on your visits or your conversations with coaches?
Right at this point, no sir, all the schools are neutral in my mind. I don't have a favorite. I don't have a top 5. I'm thinking of making my top 5 during the summer and picking a school during my football season.
BDN: You have several ACC schools that are interested in you and you've had a chance to visit Georgia Tech already. Can you talk a little bit about your interest in the ACC schools that have offered you, like Georgia Tech, Duke, and Virginia?
The ACC is close by, it's close to home and everything, it's not that far it's just down the East Coast and everything. Each team that's recruiting me from the ACC, I love the defense they run. Each team I looked at their defense that they run and I think that they would fit me. Duke, Virginia, Georgia Tech, and there's more that I can't remember right now. But, the ACC is a big possibility, I feel like they have some of the top schools in the country going into next year, that's how I feel right now.
BDN: You mentioned you hope to have a top 5 over the summer; where would you say you are in the recruiting process right now and what is the timeline for making your final decision?
Right now in my recruiting process I'm talking to coaches, making my visits to schools and everything. In summertime, mid-summer, I'm going to come up with my top 5 and then in the season I'll take my official visits to schools and by the end of the season, or signing day, I'll make my decision.
BDN: Thanks a lot, Jay, and best of luck.
Thank you.
[/private]