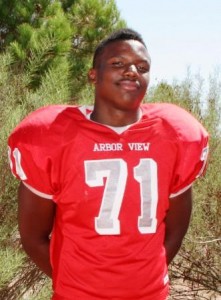 In the class of 2012, the Blue Devils gained a big commitment from the state of Nevada in RB Shaquille Powell. Coach Cutcliffe and the Duke staff are hoping to add another player to the program from the Las Vegas area in OL Elijah George. George is a 6'5" 245 pound lineman from Arbor View HS in Las Vegas. Playing on both sides of the ball, George helped to lead Arbor View to the Sunset Region semifinals and a 9-3 overall record as a junior, earning himself 1st Team All-Northwest Division and 2nd Team All-State honors. Not surprisingly, he has seen his recruitment heat up this spring. The Blue Devils were among the first to offer and have made a strong early impression on the big offensive line prospect. BDN caught up with the hard-working lineman over the weekend to get an update on his recruitment. [private]
 BDN: How would you describe your strengths as a player?
Well, I think that the thing that attracts colleges is my height, and how they see that I adapt to what they're trying to accomplish on the college level. My strength on the field is that I don't give up, I don't care if they're 8 feet tall or 600 pounds, no game is unbeatable, that's how I look at it, that's how my teammates look at it.
BDN: What are you working on this offseason as you prepare for your senior year?
In the offseason, I went to a Nike camp recently, I've been working on my footwork and my hand placement, and my speed, just finding ways to get better each day. I definitely hope to accomplish going to state, I want to leave my mark on my high school, just want to help put the best team out there, that's how I look at it.
BDN: As you approach your college decision, what are the most important things you are looking for in a school?
I'm looking for most in a college is education, that's what my family is strong about, most of my family went to college. Education will get me farther than football. I'm looking for the best education that colleges can offer me.
BDN: Where do you stand with offers and interest from schools now?
I have three from UNLV, SMU and Duke. BYU is coming to see me and I'm talking to Nebraska. But at this point, Duke is probably where I'm headed.
BDN: Which schools have you had a chance to visit or do you have plans to take any visits later this spring or summer?
I think I'm going to go see some sometime in the spring. I don't know about Nebraska yet, my family is talking about a visit to Duke and some other colleges.
BDN: You mentioned that Duke was a school that stands out to you; what is about the Duke program that interests you?
The coaches that came to see me, I like their plans for the future about, well they're not really known as a football school, but their mindset about making football be as big as the basketball team. I've been looking up their program, it just seems like they have a plan and I like where they're going.
BDN: Are there any schools that you haven't heard from that you are interested in, or grew up following?
Well, I grew up in LA and always wanted to go to USC, or maybe Oregon, but you know, those were just childhood dreams.
BDN: Do you have a timeline in mind for when you plan to narrow things down or make your final decision?
I don't know, sometime around my senior year, definitely after football season, but before signing day, like a month or two before signing day.
BDN: Thanks a lot, Elijah, and best of luck.
Thank you. [/private]
Highlights from Elijah George at the Nike SPARQ Combine in Long Beach can be seen here.