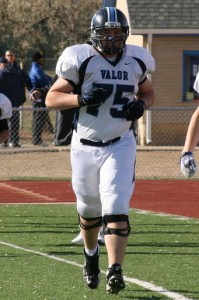 In their three-plus years in Durham, Head Coach David Cutcliffe and Offensive Line Coach Matt Luke have built the Duke offensive line into what is expected to be a position of strength in 2011. The past two recruiting classes have brought in a very good group of young offensive linemen, and the Blue Devils hope to continue that trend with the class of 2012. Alex Kozan, a 6'4" 295 pound prospect from Valor Christian in Colorado, is one of the most highly recruited offensive linemen in the country, and the Blue Devils are among the long list of schools he is considering.
BDN: Can you start off by describing your strengths for fans who haven't had a chance to see you play?
As a player, I'm smart, I never forget my assignments, I've got good quick feet that allows me to stay in good position. Explosiveness off the ball, hand contact, hip movement, that kind of stuff, that'd be my strength.
BDN: What are some of the things you have been working on this spring?
Pretty much everything, you know, you just work on technique, you've always got to work on technique when you've been off the game for six months, so you just work on pass technique, run technique, that kind of stuff.
BDN: Coming off back-to-back state championships, is a three-peat your goal for your senior year?
Definitely, you know we've got a strong senior class, we've got probably 25 seniors this year. A lot of us have been with the program since our freshman year, our first varsity year when we went 4-6 that year and then won two back-to-back championships, so we're just trying to get it done for a three-peat this year.
BDN: As you look at your college decision, what are the most important factors you are looking for in a school?
Five things. Number one, business program, that's going to be my major in college, so a good business program. Number two would be coaching staff that I get along with and is going to develop me as a player, send guys to the NFL and send guys to be All-Conference players. Number three is going to be the strength and conditioning program of the team, does it have a good strength and conditioning program? Will they develop me physically, get me bigger, faster, stronger? Number four is whether it's a place where I can compete, both as a player to start earlier and where I can compete as a team for conference championships, BCS bowl games and national titles. Number five is that I have a strong faith in God, so a place where I can grow that faith and they're going to be supportive of that.
BDN: What schools have you been in contact with the most?
On the East Coast, for your region, I'd say North Carolina, Duke, Wake Forest, South Carolina, would kind of be in that area. Up more Northeast would be Pitt, Syracuse and Connecticut.
BDN: Have any schools stopped by your practices this spring?
We've had Syracuse, UConn, I don't think Duke came out, Wake came out, North Carolina is supposed to come out, I don't know if they're still coming. Those are the schools that have come out from the East Coast.
BDN: Do you have any visits planned for this spring or summer?
I'm still looking at it. I'm going to narrow it down to 7 or 5 by July or August and I'm going to try to visit as many of those schools as I can unofficially, and then a couple of them on official visits if they're farther away, like schools on the East Coast, to get a better feel for the program.
BDN: It sounds like you have a good idea for when you want to narrow things down; do you have an idea for when you would like to make your final decision?
I want to take a couple officials, so I'd probably say October.
BDN: Is there anything else you think is important for college football fans to know about you?
You know, just off the field, I'm going to be a great person, a strong character for the team, I'm going to help the team off the field, I'm not a guy who will get in trouble or anything like that. On the field, I'll give 110% and people will see that in my game.
BDN: Thanks a lot, Alex, and best of luck to you.
Alright, thanks.