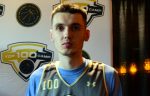 This past weekend ended a quiet period where Duke was able to contact prospects by phone.  The staff wasted little time and here is a short list of some prospects which heard from them during the NBA Top 100 Camp.
Cole Swider and David McCormack - We have already discussed these two guys with interviews.  The two played on the same Bucks team.  McCormack visited this past weekend and Swider will be in on Friday.
Byran Antoine is a 6-5 guard from Ramsey School in Trenton, NJ and is a part of the class of 2019.  Duke put in time on the phones with him and the interest here might stick in that it is reciprocal.
Armando Bacot is a 2019 PF who plays for Trinity Episcopal in Richmond, Virginia. He stands 6-9 and is considered a team player. Duke made the calls and will likely continue to stay in close touch.
Cole Anthony was the best 2019 PG I saw and he is still open to many schools.  But Duke is one of them and they were in touch with his father, Greg Anthony who played against Duke when at UNLV.  Anthony keeps things close to the vest but would say Duke was in it for his services late in the camp.  We will have an interview up soon with him.  He plays for Archbishop Molloy, stands 6-3 and has a feel for the game via lineage.
Matthew Hurt is a 2019 PF who plays for Rochester John Marshall in Minnesota.  Duke has had their eyes on him and made the calls,  His Dad quickly re-tweeted that Duke was showing interest when I sent one out.  He is 6-8 and active.
Simisola Shitu is a 2018 PF that got a call for Duke after being a stat stuffer at the camp.  A 6-10 PF from Vermont will be recruited if he shows interest in that Duke needs lots of bodies in this years class.  Stay tuned.
Quentin Grimes is another 2018 prospect Duke is showing interest in. The Texan native is a tall swing guard type who plays at Woodlands.  See, Duke needs bodies above.
Scottie Lewis, a 6-6 SG from Trinton Falls, NJ got a call as well to be informed he was on the watch list.
Duke has also checked out Joey Baler a 2019 SF and Kofi Cockburn who from what I gathered will not work out but still talked with him which I will mention in time.
The Blue Devils have many more calls into players not listed here as well and they will use the rest of the summer to zero in on the guys they feel can help them.  They are gauging interest while learning more about kids.
I chatted up all of these guys but may just list the highlights of those conversations instead of the whole interview. If there are some you want to see what they said in its entirety, let me know.  Anyhow, this is just a list of some of the new names to watch.