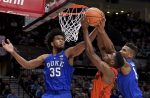 There is something about this years Duke Basketball team that allows them to stage epic comebacks against good teams.  After an overtime victory over Texas on Friday, the Blue Devils gained an even more impressive win over a top ten team in the Florida Gators.
Florida held the lead for more than 34 minutes of the game and they built a 16 point advantage over Duke in the 2nd half.  But these Blue Devils did not fold and played through fatigue to go on a 15-2 run over the last 4:04 of the game for a 87-84 win.
Duke has a way of wearing teams down and hanging around just close enough to make a comeback.  But they were playing high level competition against a Gators team that will contend in the SEC all season long, so valuable lessons were learned.
After a painfully slow offensive start the 2nd half, Duke warmed up as did their defense.  The Blue Devils would go back to man to man and that held the highest scoring team in the nation in Florida to just 31 points.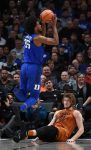 Duke put game pressure on the Gators as they  did the Longhorns and much of that is from the play of their outstanding freshman, Marvin Bagley III.  The soon to be first pick in the coming NBA Draft scored 30 points while pulling down 15 rebounds.
Bagley was named the PK80 MVP after scoring 82 points and pulling down 45 rebounds in 3 games.   The young man is a match up nightmare while remaining a good team player.
The Florida defense held Grayson Allen and Gary Trent Jr. scoreless for most of the 2nd half.  But when the two players came alive it was during some of the games biggest moments.
Allen (14 points, 7 assists) would knock down back to back 3 pointers during the comeback.  Trent (17 points, 2 blocked shots) knocked down two free throws to give Duke an 85-84 lead with 1:12 to go, then made a steal with 11 seconds left and sank two more free throws to seal the win.
All of the Duke players who played contributed.  Duke got good minutes from Javin DeLaurier, Wendell Carter Jr., Marques Bolden, Alex O'Connell and Trevon Duval.
The Gators held the edge on the boards for much of the contest, but Duke was tough on the glass during their 8-0 run to end the game.  They ended up holding a 43-36 rebound advantage when the dust cleared.
Two key factors played a role for Duke.  Firstly, going 19-20 from the free throw stripe was their best showing of the season in that department.  Secondly, Duke was hot from beyond the three-point stripe hitting 10 of 23 attempts.
Duke also shared the ball well with 20 team assists.  More importantly, they remained poised even when they were not playing well.  When you have a knack for continually chipping away at teams, good things will happen.
The Blue Devils celebrated the victory at mid court where Phil Knight awarded them their trophy.  The Duke team is likely heading for their flight as I type and will arrive in Durham mind morning.
Duke will soon have played 9 games in 20 days during a brutal scheduling stretch.  They will go to class on Tuesday afternoon before heading to Bloomington, Indiana to take on the Hoosiers in a game that tips off this Wednesday on ESPN at 9:40.
With tonight's win, Duke moves to an impressive 8-0 on the season and will remain the nation's top ranked team.  Duke Coach Mike Krzyzewski continues to build on his record as having coached the most games as the top ranked team in the land.
All in all, it was a great learning experience for a young team as they played three game opponents and varying styles of play in four days.  Duke is far from a perfect team but they are certainly a special team which has plenty of upside moving forward.