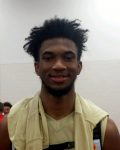 While his Nike Phamily team struggled  as they opened up the Nike EY BL season, Marvin Bagley III put up his usual stellar numbers. There are times when he does difficult things effortlessly on the court and that has the prospect ranked in the top five by every service.
Bagley would average 25,5 ppg and grab just under 15 rebounds per contest.  There was little help from his teammates where there is not another double figure scorer on the team.  That meant a 0-4 record and the strong possibility that his team will not make it to the Peach Jam come July.
The talented young man also averaged 2 steals per contests to go with 3 blocks a game.  The aforementioned stats show that he is a monstrously talented young player who will in tine flourish at every level.
Bagley plays under the watchful eye of his father who critiques him and strives to keep him level-headed.  A season ago, he would be in on every question and answer session but this year Bagley III is handling the situations on his own.
I caught up to the sure fire star to be during this past weekends NYBL session in Hampton, Virginia.  Here is what he had to say -
How can you help your team turn things around after a slow start to the season?
We just have to play better, man.  We came out slow like it was going to be easy as if every game was going to go our way.  If we are going to make it far in this thing, we can't play like that.  We are working too hard right now to play like we are just cruising through and it is not going to be handed to us.  We have got to come out ready and instead be ready too hit somebody else in their mouth instead of them doing it to us,
What do you personally want to improve upon the most the rest of the NYBL season?
I want to be a leader.  That's on thing I am focussing on.  I am working on everything, but one thing is being a leader.  So with the losses, I put it on my back and have to find a way to communicate better.  We'll get it straight.  I'm really excited about the future and we have got a long way to go.  We have to get over this hump and play better.
Are you training with anybody...like beyond you Dad when you have some little down time front his?
I work out with my Dad and a man named Earl Ramsey.  So I work on my body with sit ups and stuff and the game itself.
Everybody is coming after you college wise.  Who are some of the teams which are most aggressive with their contact?
You know, I can't really tell you right now.  Right now I am just focussed on winning games but when it gets down to the end of the year I will know more.  After that, I will figure everything out.
Have you discussed with your Dad when you will get a little more serious on that or do you kind of leave some of the communication up to him?
Yeah, I mean we are worried about the same thing so we are on the same page there.  But he is talking to some coaches.  We'll sit down and talk about it more as things move along.
Do you think you'll take the route of using all five of your official visits?
I don't know, I really don't know.  I have visited some schools unofficially already but there are some schools I have not looked at so they might get an official visit.
Which schools have you visited already?
I visited UCLA, USC, Arizona, Duke and I have got to visit Kentucky and Kansas.
A lot of my readers are from the southeast.  What do you think of Duke and Kentucky.  What do you think about Duke first?
Duke is a great program.  I mean  when you mention Duke everybody knows the great history and about Coach K and he has had a lot of great players come through that program.  Duke is a great place, it pretty much speaks for itself.
Have they talked to you or your Dad...I mean what is their message to you?
They tell me to just play my game and they'll put me into a position to do what I do best.
What about Kentucky?
Same thing. It's a lot of success when you speak about Kentucky and Coach Cal, Davis and all the great players that have come through Kentucky and are in the league right now, so thee is a lot of success and that is a good place.
Those two schools have the most players in the NBA right now.  Is that an advantage for them to have had success in getting guys into the league, especially with the way they work with one and done players of late?
It is a plus.  You know, the competition they play at and getting to the tournament and the atmosphere...I went to Cameron Indoor and the atmosphere when I went there was great and I want to be a part of something like that.  So, whenever I sit down with my parents and figure out where I want to go, I want to be a part of something with atmosphere like that.
You guys are west coast folks, so what about location or would it be an advantage to stay west or close to home like at Arizona?
I will go wherever I can get better and to a place that can get me to where I want to be in the long run.  So wherever that may be, east coast or west coast.
What are some of the things that help you stay grounded in life.  I am sure everybody wants to come at you from hanger ons to girls and such.  I see a guy just came up to you with a folder full of pictures seeking autographs and your Dad had to intervene after you signed one.
I keep my circle small with people who have been there with me from day one.  My circle has gotten a bit smaller and so I am careful not to let too many people come in.  So, I am just a quiet guy who lets his game speak for itself.
Quiet and laid back...can you elaborate on that a little bit?
Off the court I just like to play a little and work out, I am just a regular kid who hangs out with his teammates on the road and classmates when at home.  I just like to have a little fun.
That is really all you have time for.  I mean you ball pretty much year round.  Will you be going to the same high school this year or do you know?
Umm, as of right now I am but you never know what might happen in the future.
Obviously, you are looking to get to the NBA.  That means you will  be a one and done like kid, everyone is labeling you for that.  And you're okay with that, right?
Yeah  I mean, whatever helps me to ge where I want to be.  I can't look too far ahead though and get caught up with what some say I am as a player.  Some days they say I am number one other days I am top 100 so...  Rankings don't make you who you are.  No matter what people say, I know how hard I work and what kind of person I am and give it everything I have.
You seem like you have matured a lot on and off the court since last season.  Would you say that it true?
Yeah, man. I have been hanging around older kids my whole life and always playing up in age groups. So I am learning a lot on how to be a leader and it's working out for me.  I just try to sit back and learn what I can along the way.
So, there is no animosity or the feeling you have lost some childhood along the way?
No, you know I understand it is sometimes a sacrifice.  You have to sacrifice a lot when you want to be good.
So, you are focussed on the big goal?
Yeah. you gotta put away some things that other kids do, but that's the way it is.
Additional notes
Bagley is consistently ranked in the top three players in the country which rotates.  He is clearly one of the four best players I have seen play and that list includes Cameron Reddish. Romeo Langford and Zion Williamson
He is a very well spoken young man where his answers float off his tongue with sincerity.  He is upbeat off the court and clearly grounded mentally for his age.
I will have more comments from his Dad at a later date.
Coach Krzyzewski watched his entire game on Saturday and it is clear that despite what some are reporting that he is on the radar.
It is clear that he is one and done and that his decision will come about in a slow manner, but he said good things about Duke with me not exactly pulling it out from him.
His teammates stand around too much waiting to see what Marvin does per his father who films his son a lot while actively coaching him from near the bench.  His mom is always very close by as well.